Industry Events
Let's Talk: Introducing the Duo Community
To cultivate a common ground for customers, security experts, and IT professionals, we are excited to announce the launch of the Duo Community. This public forum is now live at community.duo.com.
To join the conversation, you only need to complete a simple sign-up process. We want the forum to be accessible to customers, potential customers, and people working or interested in the security industry.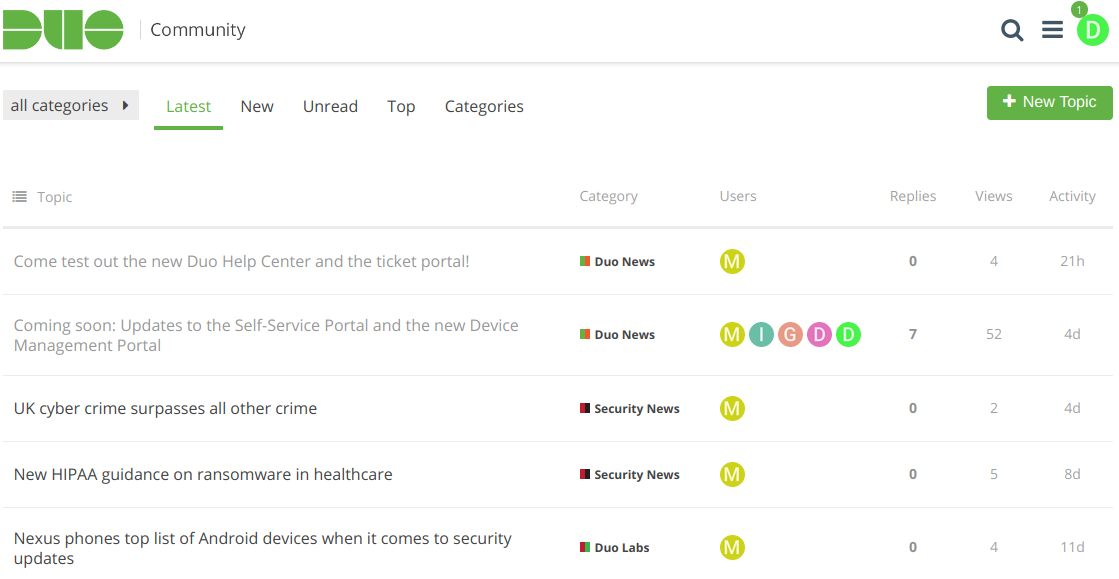 Our goal for the Community is to provide customers and security experts with a hub to interact with one another. We want to foster conversations about making the most of Duo as well as broader topics such as security news and events that involve the industry as a whole.
We're very excited to provide this open place where end users, admins, Duo Labs' security research team, and the general public can engage with each other. Duo-made content, such as product updates, blog posts, and Labs research, will also be shared in the community for feedback and discussion.
Our new forum provides a simple solution to discuss this wide range of possible topics. You can use this tool to generate conversations, respond to user- and Duo-created topics, and learn more about digital security as a whole.
Have questions? Hopefully the following brief FAQs will answer them for you. If not, please feel free to reach out to our community team by posting Site Feedback on the forum itself or email us at communityhelp@duo.com.
Duo Community FAQs
Is this a support tool?
Due to the highly sensitive nature of Duo's product and security in general, we will not allow advanced troubleshooting (such as posting of configuration files, logs, etc.) of issues within the forums. While we love our helpful user community, those issues should be resolved by referencing our documentation and knowledge base, or by contacting our Support Team.
Will the forum be moderated?
Yes, a combination of Duo and community-sourced moderations will make sure the forum's conversation stays civilized and meaningful. Our moderation team will also ensure that sensitive conversations around security can take place without becoming potential breach vectors of their own.
What software is the Duo Community built on?
The forum is built on the thoughtfully-designed and easy-to-use Discourse platform. Users can create a unique login for the Community or utilize social sign-in with Google, GitHub, Twitter, or Facebook.