Product & Engineering
Announcing Two-Factor Authentication for Third-Party Accounts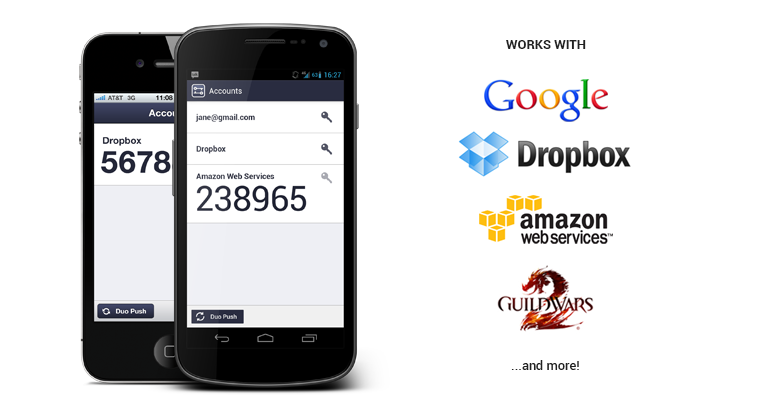 It's fair to say that 2012 has been a big year for two-factor authentication. Businesses have been using two-factor authentication to protect access to their networks and data for decades, but in the past few years this technique has become more widely adopted by websites that we all use everyday. Gmail, Dropbox, and a number of online games have added support for two-factor authentication and made it available to their users, typically for free.
We think this is a huge step forward. Everyone benefits from greater account security, and it helps make the web a more trustworthy place to share and store information. Duo Security was founded to address account takeover and online fraud. We think these are some of the largest problems in computer security today. Over the past few years we've changed that way organizations of all sizes deploy, manage, and support two-factor authentication. End-users, system administrators, and security professionals have thanked us for making this important technology easier to use and afford.
While we still have quite a bit in store for our corporate customers, today we're announcing the beginning of our plan to make Duo Security useful for everyone on the web. Duo Mobile for iOS now supports third-party accounts. Android update coming soon! The same Duo Mobile app that you've been using to securely authenticate to your company's VPN or SSH server can now be used to protect your Gmail and Dropbox accounts.
» Read more about Duo Mobile's third-party accounts support
Any website, service, or app that supports the Time-based One Time Password (TOTP) algorithm [RFC 6238] will work with Duo Mobile. There's no need to download a separate mobile app and barcode scanner. Duo Mobile has been optimized to make enrollment and passcode generation for third-party accounts as easy as possible. The team here has been using it for over a month with Gmail, Dropbox, Amazon Web Services, LastPass, and GuildWars 2.
Go update your Duo Mobile app, or if you're a first time user, download it and secure your accounts today.

Update: Duo Mobile for Android now supports third-party accounts.