Industry Events
Duo Brings Trusted Access to InfoSecurity Europe in London
Duo Security will be attending and exhibiting our Trusted Access solution at InfoSecurity Europe from June 7-9 this year, hosted at the Olympia conference center in London. This is Europe's largest information security event, drawing in 12,000 visitors with over 315 exhibitors and over 260 industry speakers.

Keynote session speakers include security professionals from Intel, Uber, LinkedIn, National Trust, PwC, Microsoft, Cisco, IBM, Gartner, Vodafone, Barclays and many others. The sessions cover a range of topics, including application security, business continuity/incident response, compliance, encryption, the human factor, identity access management, mobile security, payment security and more.
One particular speaker is The Right Honourable Lord Hague of Richmond, former leader of the Conservative Party and former Foreign Secretary; he will give a keynote address on the challenge of balancing personal privacy, information security and national security.
Similarly, the well-known Bruce Schneier will give a keynote, Privacy, Trust and the Internet of Things, discussing the privacy implications of connected devices and who is responsible for protecting associated data, as well as the role of the information security community in tackling this challenge.
Duo Security Secures King.com
Another session that should not be missed is a talk given by King.com and Duo Security. Get the full details below:
Title: How the Makers of Candy Crush, King.com Upped Their Game in Breach Prevention
When: 08 Jun 2016, 16:40 - 17:05 Tech Talks
Speakers: Duo Security's VP of EMEA, Henry Seddon and King.com's Director of Information Security, Giacomo Collini
Description: The Director of Information Security at King.com, makers of Candy Crush will talk about how he deployed a hardware and software-free two-factor authentication solution in just days. He'll also discuss the reaction of his users to a system that allowed them to set up their own accounts and prompts them to update software on their own devices that could expose them to the increased risk of an attack. In this session, you'll:
Learn from a fellow security professional on how a leading gaming company met compliance guidelines for 2FA
Understand the differences between deploying a traditional RSA token-based authentication to using a cloud-based approach
Get the real-life experience of a leading security professional on authenticating access to on-premises and cloud based apps, as well as VPN users
Learn how to tackle the challenge of BYOD and securing access to a disparate range of different end devices
Discover how users reacted to moving from a single-factor, password-only to a 2FA solution
And that solution is Duo's Trusted Access platform - the powerful combination of two-factor authentication and endpoint security. Read Duo's press release announcing our partnership with King.com.
Visit Duo Security at InfoSecurity Europe
We'll be exhibiting our solutions at stand B240, doing the fastest product demos and giving away lots of great swag, including soccer balls and Yubikeys, so stop by if you're planning to attend. Registration for the conference is free if you sign up in advance!
More About Trusted Access
Duo combines two methods of verifying both the trust of your users and devices, including:
Two-Factor Authentication - A lightweight, cloud-based solution that adds another layer of security to your logins to protect against stolen passwords and a potential data breach. Use Duo's intuitive Duo Mobile authentication app to approve two-factor push notifications to quickly gain access to your accounts.
Endpoint Visibility - Duo's Device Insight feature collects detailed data on the devices that authenticate to your apps, without the use of an agent, giving you insight into which devices are running out-of-date software, plugins and browsers. Duo's Endpoint Remediation feature allows you to create informed policies and controls to warn, notify and block users from accessing your apps with outdated devices.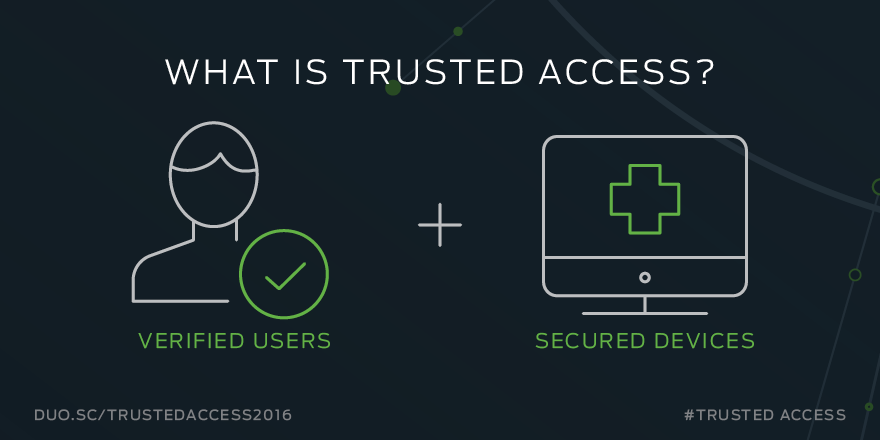 Duo for the European Union
Duo has partnered with Amazon to host and deliver our security solution from Amazon's data centers located in Germany and Ireland. We will store all data collected from German customers in Germany, and data from all other EU customers within Ireland.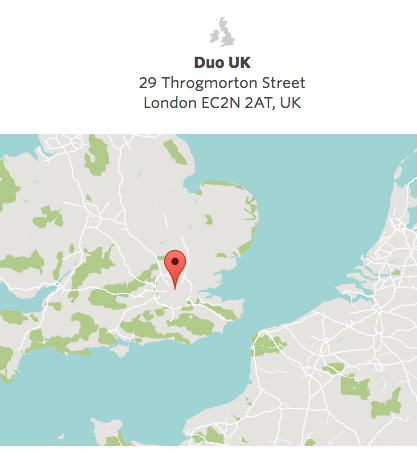 Duo's London, U.K. location provides all EU customers with sales and technical support. We've also translated our Duo Mobile app, authentication and self-enrollment process to German and French languages to make it easier for Duo users in those regions.
Duo supports over 1000+ customers in Europe, such as Bolton NHS Foundation, University of York and King Digital. Visit our Customer Stories to learn more.