Industry Events
Duo Exhibits Healthcare Security Solutions at 2016 HIMSS
Duo Security is heading to the largest health IT conference hosted at the Sands Expo in Las Vegas from Feb. 29 - March 4, the Healthcare Information and Management Systems Society (HIMSS) 2016.
Bringing together more than 40k health IT professionals, clinicians, executives and vendors around the world, the conference also features more than 300 education programs featuring keynotes, thought-leader sessions, roundtable discussions and workshops.
If you're attending, stop by our booth #11129 to see a demo of Duo's two-factor authentication and endpoint security solutions for healthcare organizations, including hospitals, healthcare systems, university health systems and many more.
Our exhibition hours are:
Tuesday, March 1 from 9:30 a.m. - 6:30 p.m.
Wednesday, March 2 from 9:30 a.m. - 6:30 p.m.
Thursday, March 3 from 9:30 a.m. - 4 p.m.
Come by to get your security questions answered and pick up some free swag!
Protecting Patient Data With Two-Factor Authentication
We provide information security solutions that integrate with electronic healthcare record systems (EHRs) to protect patient data from unauthorized access. Duo offers secure two-factor authentication that's quick and easy for busy healthcare professionals to use. Choose from a variety of authentication methods:
Duo Push - Send a push notification to a smartphone, then tap 'Approve' to log in.
Phone Callback - Call a phone, log in by answering and pressing a key.
SMS Passcode - Get an SMS message with a code, type it in and log in.
The HIPAA Security Rule guidance on accessing electronic protected health information (ePHI) recommends using two-factor authentication to mitigate the risk of lost or stolen usernames and passwords that could result in unauthorized access to ePHI.
Two-factor authentication is also required by the Drug Enforcement Agency's mandates for securing e-prescriptions. Practitioners must use two forms of identification for identity-proofing, to sign and verify digital prescriptions.
Duo also offers comprehensive endpoint visibility, tracking outdated or vulnerable devices that attempt to authenticate into your environment, and offering your users and admins the ability to update those devices.
With customizable policy and controls, you can block vulnerable devices from connecting to your network, reducing the risk of transferring malware or allowing an external attacker to exploit a vulnerability to breach your company. Learn more about Duo's solutions for Healthcare.
Guide to Protecting Patient Data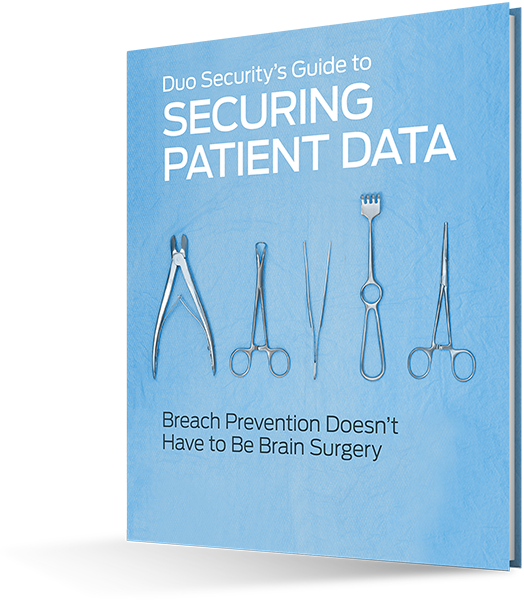 Duo has put together a guide that discusses some of the ways that patient data becomes vulnerable and how to protect it - for more about patient data security, download Duo Security's Guide to Securing Patient Data: Breach Prevention Doesn't Have to Be Brain Surgery.
To help you navigate patient data security, our guide will:
Summarize relevant health IT security legislation, including federal and state
Provide information security guidelines on remote access risks and solutions
Provide extensive security resources and a real hospital customer story
Explain how to protect against modern attacks and meet regulatory compliance with two-factor authentication
Ideal for CISOs, security, compliance and risk management officers, IT administrators and other professionals concerned with information security, this guide is for IT decision-makers that need to implement strong authentication security, as well as those evaluating two-factor authentication solutions for organizations in the healthcare industry.