Industry Events
Duo's 'Security Without Fear' Approach Nets Top Honors at RSA
This year some of our best and brightest teammates were recognized by their security peers for their contributions and achievements to the security industry and we could not be more proud.
From humble beginnings at Duo's first RSA Conference in 2013 to this year's expansive multi-booth presence sharing space with Cisco, Duo Security has grown. Blink and you can see how far we have come - just look at our first year booth photo versus this year's booth photo in a side by side comparison! Duo's ''security without fear' approach to infosec was recognized by the security community at the pre-conference awards handed out by SC Magazine, Security Boulevard and The Cybersecurity Go To Market Dojo.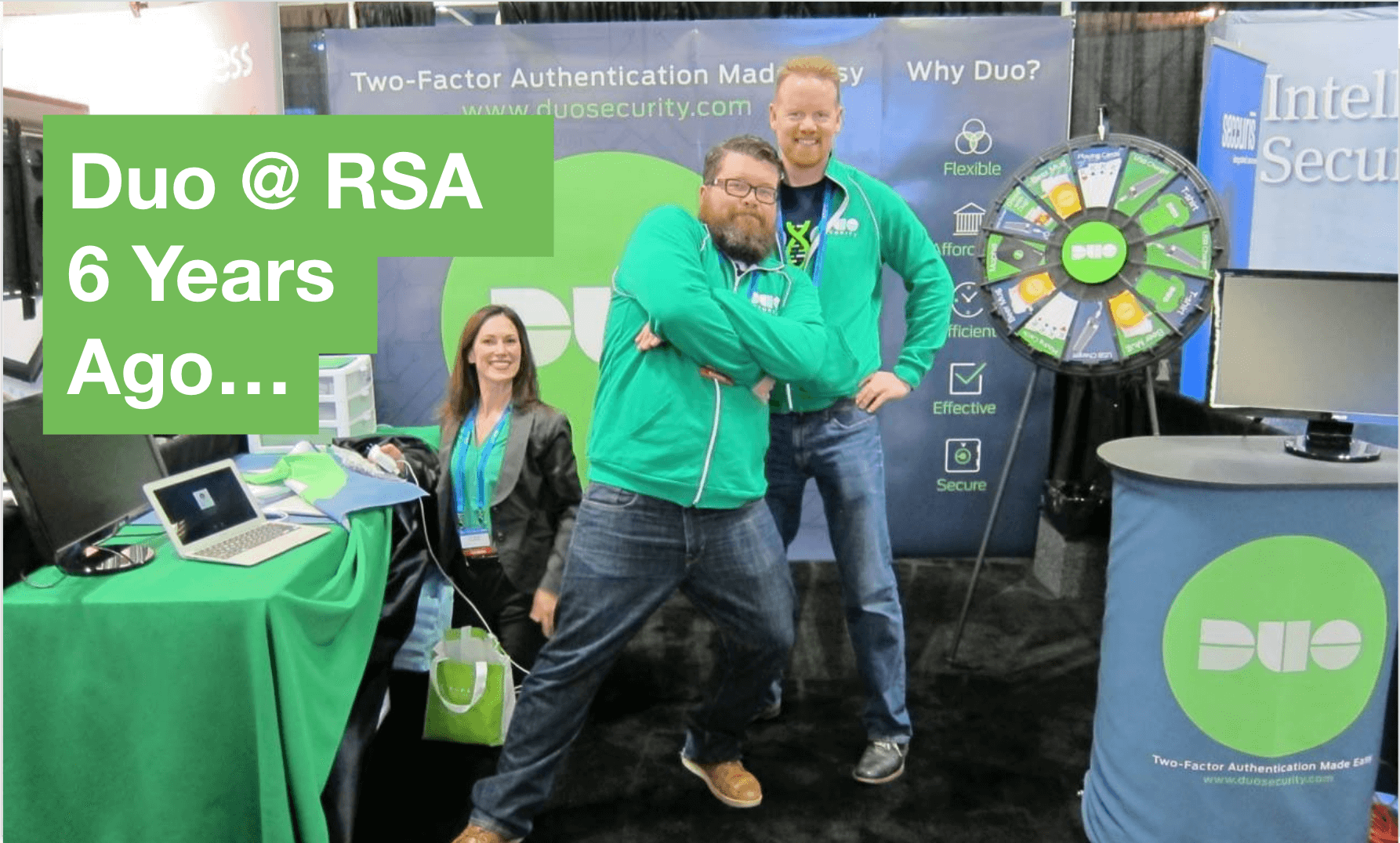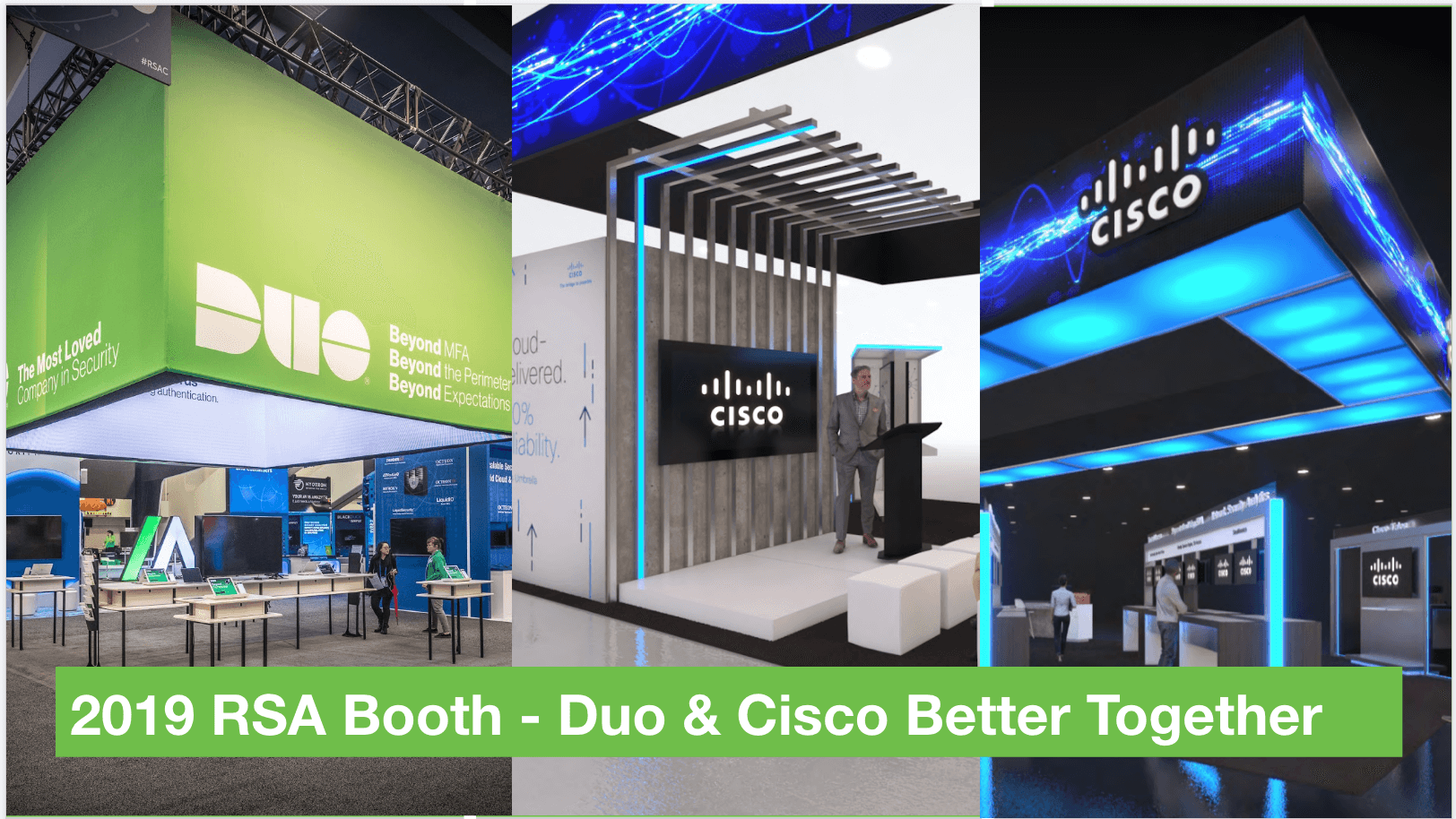 We thought it would be great to hear more from our winners on their accomplishments.
The Winners
Duo's Blog won "Best Corporate Blog" by Security Boulevard

Decipher won "Best New Security Blog and Podcast" by Security Boulevard

Meredith Corley, Head of Corporate Communications, was named "Cybersecurity Marketer of the Year, Private Company" by The Cybersecurity Go To Market Dojo

Dug Song, Founder of Duo and General Manager of Cisco, was named by SC Awards one of the top "Cybersecurity Visionaries of the Last 30 Years" by SC Magazine
Duo Blog - "Best Corporate Blog"
If there is one thing Thu Pham is passionate about, it is security. That passion is the secret sauce behind the Duo Blog. From the very early days of the company, Thu developed the voice of Duo by delivering complex and compelling stories in easy to understand language. She built the Duo blog from scratch and turned it into the winning blog it is today by recruiting top security leaders to regularly contribute to content, research and share opinions. Pham credits Duo's high-quality team of passionate human beings to the blog's success.
"It takes an entire network of people behind the scenes to create successful, timely, updated and relevant content. I've worked with teams of web developers and web designers to continuously evolve the user interface, design and backend to keep innovating with industry standards to ensure our content and brand are always at the forefront," said Pham.
The entire Creative team at Duo also creates videos, animations, graphics and great content to populate the blog. You can read more about Thu's winning approach to the blog redesign and content strategy in the blog post "New Duo Blog Who Dis."
Decipher - "Best New Security Blog and Podcast"
With vibrant graphics and a fresh new perspective on security, Dennis Fisher and Fahmida Y. Rashid set out to democratize security news with the launch of Decipher. They felt there was more to security news than fire drills of impending doom and breaches. They set out to demystify the security space with practical advice, lessons learned, cool tools and stories of successful security.
"Our editorial goals were clear from the start: Security without fear means being straightforward and taking the time to explain the difficult concepts so that we don't throw up even more obstacles for people trying to be more involved in security," they said.
"The award tells us that what we are doing resonates with the industry, and that we are meeting a need. We appreciate the vote of confidence, and will keep on plugging away because there is still so much left to do," they added.
Meredith Corley, Head of Corporate Communications, was named "Cybersecurity Marketer of the Year, Private Company"
Meredith has been busy. Her corporate communications team has overseen the external public relations efforts as well as internal employee engagement communications during Duo's most rapid period of growth. This includes the full communications lifecycle for the $2.35 billion acquisition by Cisco in October 2018. She is one of those people who loves her job. She smiles with her eyes and loves to talk about Duo and her amazing team.
"I think what is so special about working at Duo is that doing things differently is encouraged," said Corley.
It's a pay-it-forward cycle of helpfulness to customers, team members and partners that helps Duo stand out. That and a culture of empathy.
"One area we do things differently is working from a place of empathy. This is a core value for how we conduct ourselves across Duo. This means that our corporate communications and marketing teams do not use fear, uncertainty and doubt (FUD) to sell stories and products. We will never comment on a company's breach on day one for quick clicks, or place stories focused on berating or scaring the user. Being anti-FUD sells just as well...while offering a better nights sleep," said Corley.
Dug Song was named one of the top "Cybersecurity Visionaries of the Last 30 Years" by SC Magazine
Dug Song cut his teeth in the business working as a system administrator at the University of Michigan. He worked in a variety of roles in security from consultant to security architect before he pinpointed the gap in security that soon became two-factor authentication known as Duo Security.
"All of the attacks were going after people, not systems. The rise of targeted malware was the primary route successful hackers had into organizations," Song told CRN UK.
Song believes excellent cybersecurity should be accessible to all people and Duo aims to "democratize security" so that every device is protected on every platform. Song dismisses the notion that cybersecurity should be intimidating, complicated or difficult and he designed Duo Security to be powerful, simple and easy to use for everyone.
For decades the security industry has relied on fear to sell security horror stories. Duo's approach of "security without fear" is not only a better approach to solving security problems, it is also officially award-winning. Congratulations to our winners!