Industry Events
Duo Security Is Heading to HIMSS 2019
Get ready for this year's HIMSS Conference & Exhibition, starting Monday, Feb. 11! This week-long event will take place in Orlando, Fla. and highlights information and technology in the healthcare industry.
Join Duo Security and more than 45,000 professionals from around the world at the Orange County Convention Center to network during the evening receptions and the Awards Gala, visit with 1,300-plus vendors on the exhibit floor, and choose from over 300 educational sessions throughout the week.
We'd love to see you at HIMSS - come find us at booth #1407 and learn how our trusted access security solutions can help your organization improve productivity and streamline EPCS workflows with quick and easy two-factor authentication. We'll be in the exhibit area during the following hours:
Tuesday, Feb. 12 from 10 a.m. to 6 p.m. EST

Wednesday, Feb. 13 from 9:30 a.m. to 6 p.m. EST

Thursday, Feb. 14 from 9:30 a.m. to 4 p.m. EST
For a more in-depth look at Duo's trusted access solution, visit us in the Cybersecurity Command Center at booth #400, kiosk #86. Join us for a demo of our endpoint visibility, adaptive authentication and policy enforcement, and remote access and single sign-on features.
If you're looking for a conversation away from the crowd, we'd be happy to schedule a 1:1 meeting. Please stop by suite #248 at the Rosen Centre Hotel, adjacent to the Convention Center, to chat with a Duo representative.
We'll also host a speaking session at 4:45 p.m. Wednesday, Feb. 13 in Cybersecurity Theater A. Duo Product Marketing Manager, Amanda Rogerson, will present "A Security Solution to Simplify Patient Care." Amanda will cover how Duo provides one unified security solution to keep patient care simple while still allowing you to meet compliance regulations, streamline workflows and consolidate security to reduce cost and complexity with our strong multi-factor authentication, adaptive authentication, endpoint visibility and remote access capabilities.
How Duo Helps Healthcare
Duo provides security solutions that enable healthcare organizations to consolidate security vendors with solutions for multi-factor authentication, adaptive authentication, endpoint visibility and remote access/SSO. With Duo's step-by-step enrollment, flexible authentication and user self-service options, you can reduce help desk burdens and overall deployment costs.
Healthcare admins can quickly secure all apps and reduce their time-to-security with Duo's flexible solutions.
Duo users can choose from a variety of authentication methods:
Duo Push sends a push notification to your device for approval

Phone Callback prompts users to call a phone and then log in by answering and pressing a key

Hardware token and U2F token support
With Duo's remote access and secure single sign-on (SSO), users experience a consistent, simplified login workflow to access critical applications used by healthcare institutions, which can eliminate complexity in the clinician workflow ensuring that they can focus on patient health.
Duo's strong multi-factor authentication can help meet the access control requirements of the HIPAA Security Rule and HITECH Act, mitigating the risk of lost or stolen credentials, which could compromise electronic personal health information (ePHI). Duo also empowers organizations to meet the Drug Enforcement Agency's (DEA) mandates for issuing e-prescriptions.
Under the DEA mandate, practitioners must use two forms of identification for identity-proofing to sign and verify digital prescriptions. Luckily, verifying individual doctors' identities has never been easier. Duo partnered with Identity.com to streamline the process and meet regulatory guidelines for identity proofing. Duo Mobile for authentication is a FIPS 140-2 token, and a DEA-accredited auditor, Drummond Group, LLC, has confirmed that Duo Push satisfies the Electronic Prescription of Controlled Substance (EPCS) regulation.
It is equally important to ensure the health of the devices that are accessing sensitive resources. To help healthcare organizations get insights into such devices, Duo Access offers endpoint visibility, providing data into who and what types of devices are accessing your systems and applications, and the health of those devices. Duo also never collects users' personal information, but does provide administrators with valuable device security data, without invading users' privacy on their personal devices.
Through risk-based and adaptive access policies, you can track and block any outdated devices from accessing your environment, in addition to protecting your users and company from stolen passwords and account takeovers.
Duo enables healthcare institutions to move towards a zero-trust security model through our trusted access solution. With the solutions that Duo offers, you can verify users and devices and ensure secure access to protected applications through easy to implement risk-based controls that won't impact users, providing a balance between security and usability.
To learn more about the path to zero trust, take a look at our guide, An Enterprise Healthcare CISO's Journey to Zero Trust.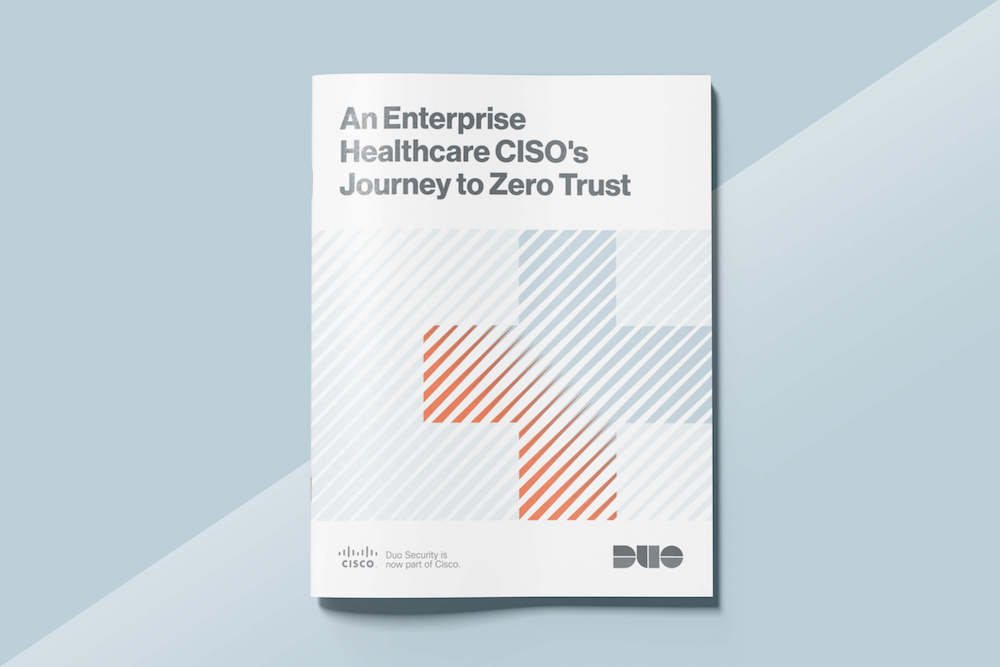 This guide provides:

A detailed account of one healthcare CISO's experience with a zero-trust security model

An overview of the needs of his hybrid, mobile and cloud environment, as well as the need to meet HIPAA compliance

An account of how he balanced usability and security and fit Duo Beyond into his existing network architecture

Insight into the hefty number of shadow devices that surprised him after they gained device insight with Duo