Industry Events
Explore Duo's Hospitality Security Solutions at 2016 HITEC
Duo Security is heading to New Orleans to attend the 2016 Hospitality Industry Technology Exposition & Conference (HITEC) from June 20-23 at the Ernest N. Morial Convention Center.
As the world's largest hospitality technology show, HITEC features a slate of technology education sessions by industry peers and experts, as well as a trade show presenting the newest products and services from more than 300 companies.
Some information security-related sessions at 2016 HITEC include:
Boot Camp: Security
Monday, June 20, 8 – 11 a.m.
This session provides a crash course on hacking, helping you recognize your network's security weaknesses and demonstrating how to effectively strengthen your security. Get a thorough review of the range of hacking threats, from low concern "script kiddies" to advanced social engineering tricks.
How to Make Your Hotel 100% PCI Compliant
Tuesday, June 21, 2:15 – 2:45 p.m.
This tutorial explains how the remainder of hotel operations can be easily removed from PCI scope whilst significantly increasing operational efficiency. Topics covered include the removal of email, fax, front desk and banqueting operations from PCI scope.
Super Session: Top Scams in Hotels
Wednesday, June 22, 8:30 – 10 a.m.
In this presentation, a cyber threat analyst will share his experience with over 2,500 breach investigations and provide valuable intelligence on how to deflect, detect and react to the onslaught of attacks faced in the hotel industry every day.
This year's keynote speakers include Jer Thorp, co-founder of the Office for Creative Research, with "Making Data More Human;" Josh Linker, tech entrepreneur and CEO, with "Entrepreneurial Fire: Think & Act Like a Startup (Even if You're Not);" and Johnny Earle, Branding Guru & CEO of Johnny's Cupcakes, with "Viral Business: Inspiring Customer Loyalty."
Meanwhile, on the expo floor, visit Duo at booth 1959 to see a demo of our two-factor authentication and endpoint security solutions for retail, supporting e-commerce websites, restaurants, clothing companies and more.
The expo portion of HITEC runs June 21-23:
Tuesday, June 21 10 a.m. – 4 p.m.
Wednesday, June 22 10 a.m. – 3 p.m.
Thursday, June 23 10 a.m. – 2 p.m.
Stop by to learn more about how Duo can benefit your hospitality organization, and grab some free swag!
Strong Access and Endpoint Security Protects Customer Data
Duo offers advanced security solutions that protect customer cardholder data and meet PCI DSS compliance:
Learn more about Duo's solutions for retail.
Etsy Customer Story
With well over 600 users spanning 4 different continents and nearly a dozen countries, Etsy uses Duo's two-factor authentication to protect their remote access solution, log viewing systems, SSH and custom-developed internal systems, used by everyone at the company.
Etsy used the bulk enroll option offered by Duo Security. According to Ben, this was the best option for Etsy as it sends an enrollment email to each user, allowing them to provision new users without even needing to know their phone number.
For their users, it was incredibly easy - they simply get an email to enroll on their first day of work, walk through the easy prompts to get signed up, and then they're done.
We've had nothing but good experiences with Duo. It's one of those rare security companies that actually has great UX and it's fair to say that our userbase finds it extremely easy and that makes my life easier. If people find it easy to use then they'll actually use it and that means that I sleep a little bit better at night. — Rich Smith, Director of Security
Read the full Etsy customer story, and check out our other customer stories.
Guide to Retail Data Risks
Duo has compiled a guide that gives an overview of the current state of security in the retail industry, examining the importance of implementing strong access and endpoint security to keep customer data safe - for more about how to prevent a potential attack on financial data, download Duo Security's A Modern Guide to Retail Data Risks.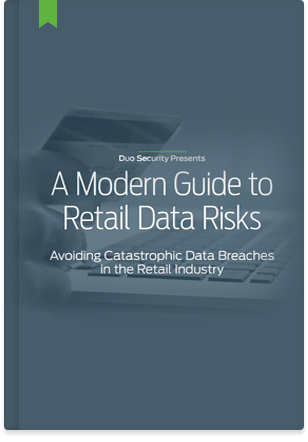 In this guide, you'll learn about:
New risks to the retail industry presented by cloud, mobile and Bring Your Own Device (BYOD)
Business and compliance drivers for strengthening authentication security
How outdated security solutions can no longer effectively protect retailers and consumers alike
How implementing a modern two-factor authentication solution can work to protect the new IT model
Ideal for CISOs, security, compliance and risk management officers, IT administrators and other professionals concerned with information security, this guide is for IT decision-makers that need to implement strong authentication security, as well as those evaluating two-factor authentication solutions for organizations in the retail industry.
Download our free guide today for a detailed overview of the retail industry's current state of security, and recommendations on safeguarding customer financial information.
Photo by duncan_idaho_2007 / CC BY-SA 2.0