industry news
Just Launched: Security Conference Calendar
We just launched a new resource for the security community - a Security Conference Calendar to help you create your own schedule of great networking and educational conferences, complete with call for proposal (CFP) deadlines (most already passed for events in 2014, but check sites for 2015).

Our Security Evangelist, Mark Stanislav, hand-picked only the best events for 2014, and highlighted the events that Duo Security will be attending in green. Here's our schedule for the year: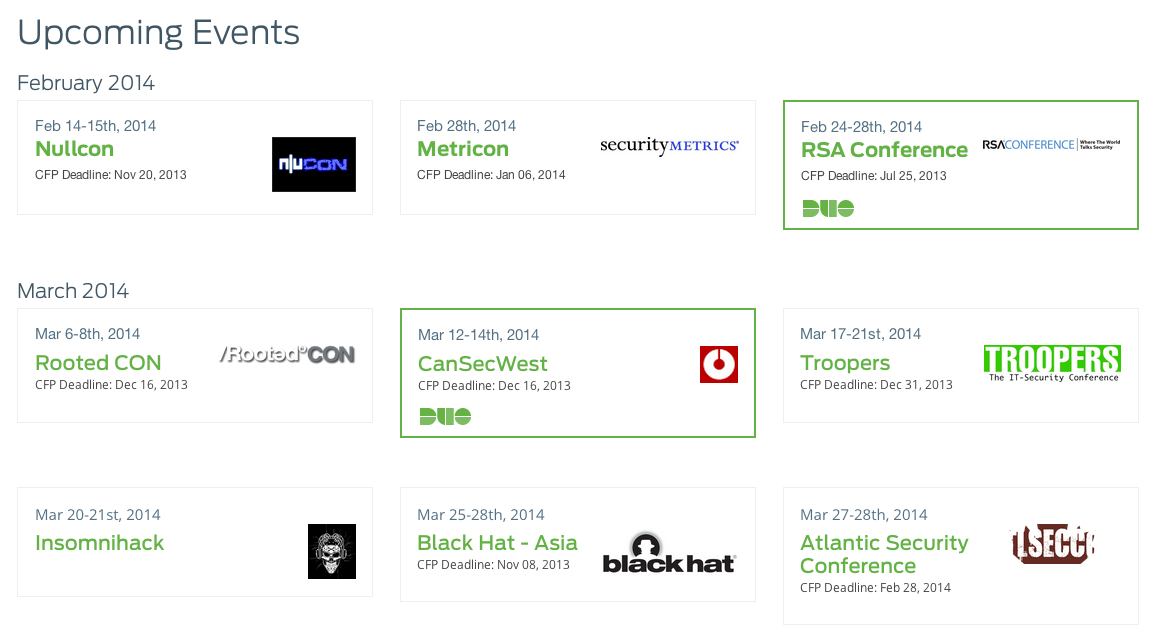 San Francisco, CA, United States
Feb 24-28th, 2014
http://www.rsaconference.com
The RSA Conference is one of the largest information security conferences in the world. Duo Security will be attending the weeklong conference this month, as well as exhibiting at booth #2518.
Don't miss Duo's own Security Evangelist, Mark Stanislav, who will present his research on IP camera security on Friday, February 28th at 11:40 in Room 3006 (West).
###CanSecWest
Vancouver, BC, Canada
Mar 12-14th, 2014
http://cansecwest.com
CanSecWest is a three-day conference focused on applied digital security, featuring a single track of sessions on new and innovative material, highlighting important, emergent technologies, techniques, or best industry practices.
Boston, MA, United States
Apr 8-10th, 2014
http://www.sourceconference.com/boston
SOURCE Conference is designed for computer security experts, senior executives, advanced security professionals and academics. SOURCE provides a forum to discuss published advanced research and provide networking job opportunities. Sessions include security and technology, business of security and application security.
###Thotcon
Chicago, IL, United States
Apr 25th, 2014
https://www.thotcon.org
Thotcon is a non-profit, non-commercial, small-venue hacking conference. Held on a single day with one track of speakers, the conference features talks on various information security and hacking topics.
Indianapolis, IN, United States
Jun 13-15th, 2014
http://circlecitycon.com
CircleCityCon is a small to medium-sized security conference featuring talks on agile defensive technologies, digital attacks, professional infosec communications, penetration testing, IP camera security (featuring Duo's Mark Stanislav), hybrid security for the enterprise, web application vulnerabilities and more.
Las Vegas, NV, United States
Aug 2-7th, 2014
https://www.blackhat.com
Black Hat USA is an information security conference bringing together thought leaders from all facets of the infosec world, including corporate, government, academic and even undergroudn researchers. As a vendor-neutral event, Black Hat brings together the brightest in the world for six days of learning, networking and skill building. It is also a premiere venue for elite security researchers and the best security trainers to find their audience.
###DEFCON
Las Vegas, NV, United States
Aug 7-10th, 2014
http://defcon.org
DEFCON is one of the world's largest annual hacker conventions, originating in 1993. DEFCON attendees include computer security professionals, government employees, security researchers, hackers and more. The event includes session tracks, social events and contents on a variety of tasks, including lockpicking, robotics, scavenger hunts and more. Capture the Flag (CTF) is one of the best-known contests - featuring a hacking competition in which teams of crackers attempt to attack and defend computers and networks using certain software and network structures.
If you don't see one of your favorite events or feel that some of this information is inaccurate, please reach out to Mark Stanislav, who is maintaining this resource.