Product & Engineering
Protect Employee Access to Cloud Apps with Duo
Does your company use Google Apps, Office 365, Salesforce or Box? Protecting access to these cloud applications with only a username and password is insufficient for today's user targeted attacks. We can try to train employees to use different passwords everywhere, but password reuse is inevitable.
Combined with phishing attacks and malware threats, it's no surprise that one in five U.S. Internet users report that they've had an online account compromised. [1]
Two-Factor for Cloud Apps
Two-factor authentication stops attacks against user credentials. By requiring each user to approve unrecognized login attempts with their phone, attackers are blocked from gaining access. Thousands of organizations have deployed Duo's solution to prevent account compromise.
Duo Security's two-factor authentication service now protects some of the most popular cloud applications in use by organizations of all sizes.
Watch this video for a quick overview:
We surveyed a number of businesses to learn how they're embracing cloud apps and infrastructure as a service (IaaS) to improve employee productivity while reducing IT cost and complexity. It's no surprise that cloud adoption is on the rise, but for many organizations cloud is only a part of their IT apps and infrastructure mix.
Streamlining Salesforce Integration
One example is New World Systems, a software company with over 400 employees that has been a Duo customer for years. They use Duo's two-factor authentication with their Juniper VPNs (Virtual Private Networks) to protect remote access to their data center, intranet apps, email and data.
Recently, they added Salesforce to enable their mobile sales team, and to make it more secure they required employees to first authenticate with their VPN before they could access the application.
Requiring the sales team to authenticate with the VPN and then with Salesforce was not efficient, but it was necessary to leverage the same two-factor authentication solution for all remotely accessible resources.
Now New World Systems is using Duo directly with Salesforce by taking advantage of our Microsoft ADFS integration.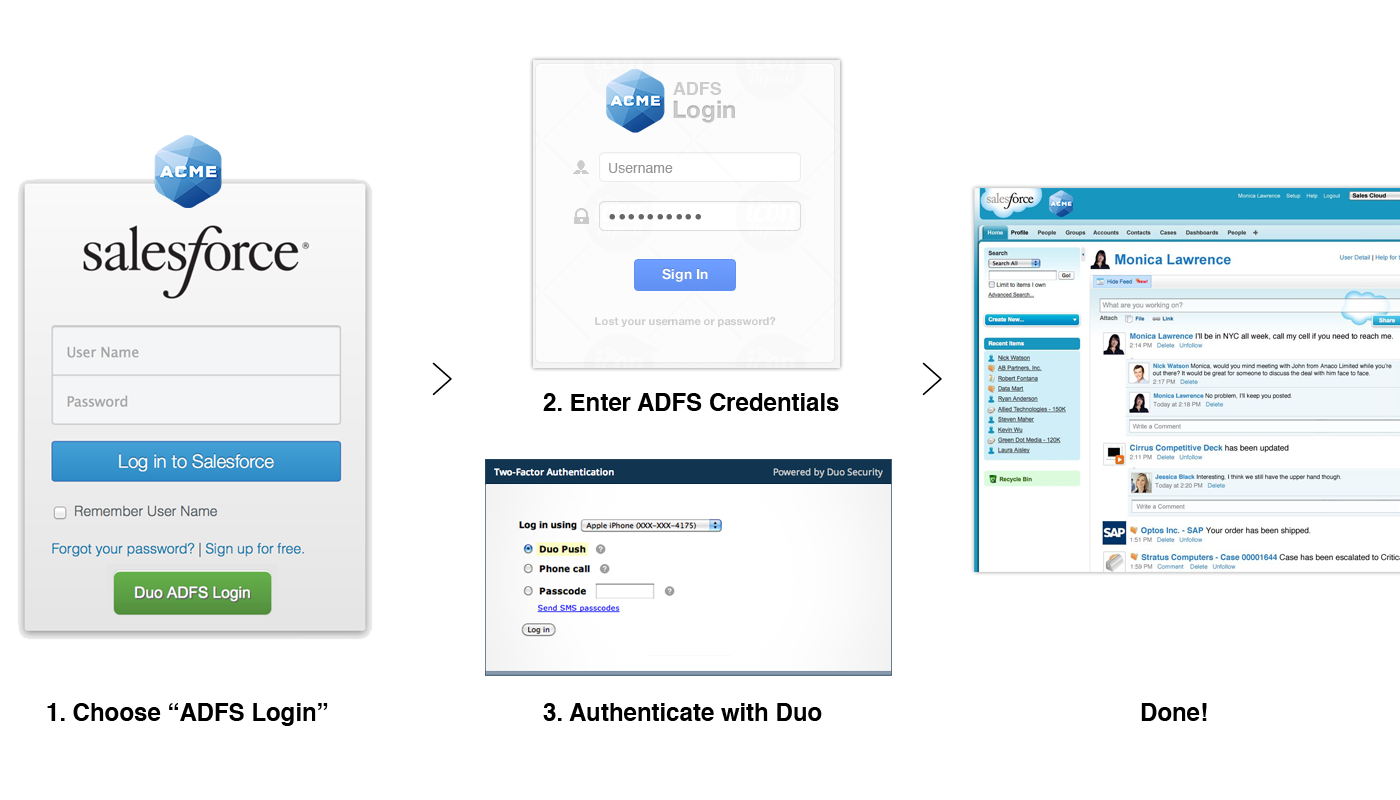 Available for Duo Enterprise
Cloud app support will be available to all Duo Enterprise customers in March (let us know if you'd like early access). Most applications that support SAML should work with Duo's two-factor and Microsoft ADFS. It has been officially tested and approved with the following cloud apps.
Google Apps
Microsoft Office 365
Salesforce
Box
We view this extension of Duo's two-factor platform as a way to better support the increase in hybrid IT models. Now you can use a single security solution to protect data hosted both on-premises and in the cloud. Duo Security's Enterprise Edition minimizes time-to-security for large and complex deployments with a high volume of users, quickly delivering value for organizations - no matter where their IT assets are hosted.
Find out more in Two-Factor Authentication for Cloud Apps, and sign up for an account today.
[1] Elie Bursztein, Google, 18.4% of US Internet users got at least one of their account compromised (Jan 2013)
Note: Duo's Enterprise Edition is now known as Duo MFA. Please visit our Pricing page to view our latest editions.