Industry Events
The Latest Duo Solutions for Healthcare Security at HIMSS 2018
Duo is excited to attend the HIMSS Annual Conference & Exhibition, hosted by the Healthcare Information and Management Systems Society (HIMSS), for its third year in a row! This year, the conference will be held Mar. 5-9 at the Sands Expo in Las Vegas.
Joining us there are more than 40,000 health IT professionals, clinicians, executives and vendors from around the world, for the conference's more than 300 programs spanning keynotes, thought leader sessions, roundtable discussions and workshops.
We hope you'll join us, too — at least for a visit at booth #12649 (level 1, hall G) or kiosk #8500-14 (level 2 Veronese in the Cyber Command Center) — we'll be showing off features of the Duo Beyond edition — two-factor authentication, endpoint security, secure single sign-on, and remote identity-proofing solutions for improving and enabling security in the healthcare industry.
You can find us at either the booth or kiosk during these hours:
Tuesday, March 6 from 9:30 a.m. - 6 p.m. PST
Wednesday, March 7 from 9:30 a.m. - 6 p.m. PST
Thursday, March 8 from 9:30 a.m. - 4 p.m.
Stop by for a hello, answers to your burning security questions, and for some sweet free swag!
In addition to our booth and kiosk hours, Duo will host a talk on BeyondCorp for Healthcare on Thursday, March 8 from noon to 12:20 p.m. at the Cyber Command Center.
The talk will focus on how BeyondCorp fits into the security framework of healthcare organizations, why hundreds of healthcare organizations choose Duo as their top three key security tools, and how Duo helps healthcare organizations meet their HIPAA and EPCS authentication compliance requirements.
Compliance and Protecting Patient Data With Duo
To help reduce the risk of unauthorized access to patient data and streamline authentication for healthcare professionals, Duo provides information security solutions that integrate with electronic healthcare record systems (EHRs) and offers secure two-factor authentication that's quick and easy for busy healthcare professionals to use. Duo users can choose from a variety of authentication methods, such as:
Single Sign-On - Securely access all enterprise cloud applications by logging into a web portal once.
Duo Push - Send a push notification to your device, and log in by taping 'Approve.'
Phone Callback - Call a phone, then log in by answering and pressing a key.
The HIPAA Security Rule guidelines on accessing electronic protected health information (ePHI) recommend using two-factor authentication to mitigate the risk of lost or stolen credentials that could result in unauthorized access to ePHI.
Two-factor authentication is also required by the Drug Enforcement Agency's mandates for issuing e-prescriptions. Practitioners must use two forms of identification for identity-proofing, to sign and verify digital prescriptions.
Unfortunately, verifying doctors' identities can be a tedious process and can take weeks or months. Duo now makes remote identity-proofing easier - we've partnered with Identity.com to conform with Electronic Prescription of Controlled Substance (EPCS) compliance requirements for identity (ID) proofing within minutes.
Duo also offers comprehensive endpoint visibility, providing data into who and what type of devices are accessing your systems and applications, enabling you to establish more granular access controls. With these customizable policy and controls, you can notify users to update their devices or block at-risk devices from connecting to your network, reducing the risk of transferring malware or allowing external attackers to exploit vulnerabilities to breach your company. Learn more about Duo's solutions for Healthcare.
Healthcare Information Security Guide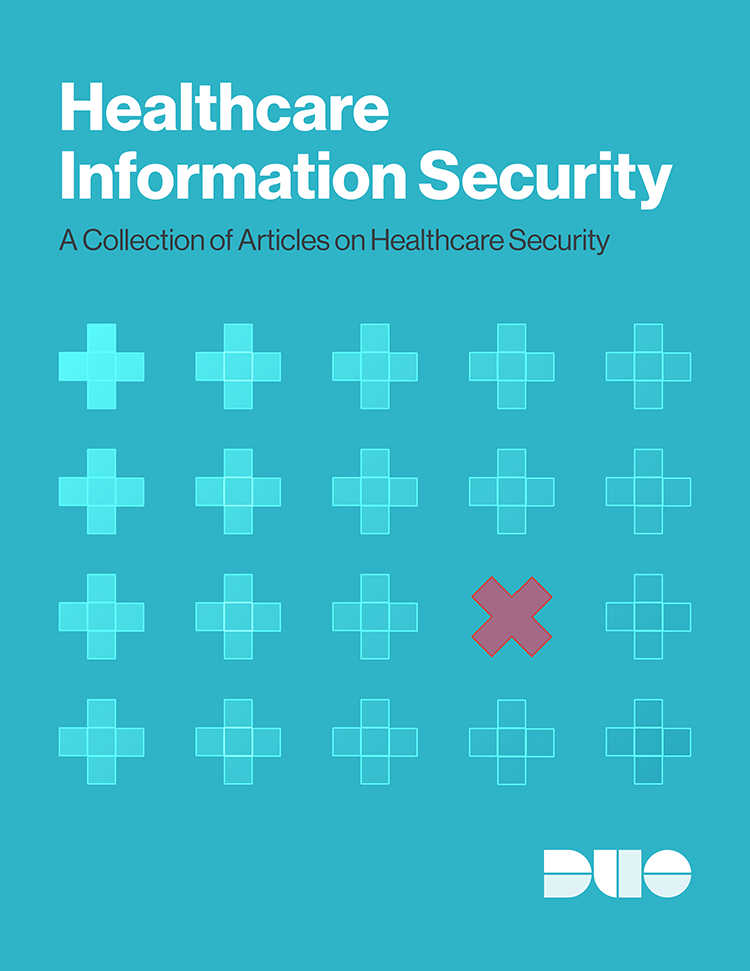 New security risks may pose a threat to the privacy and security of patient data. To get an understanding of the latest themes and issues in healthcare information security today, Duo's put together this Healthcare Information Security Guide.
In this guide, you'll find:
a collection of the most relevant articles on healthcare security
a summary of the HHS's guide to preventing ransomware
information security basics to reduce threats to patient data
Download the free guide today.
Guide to Securing Patient Data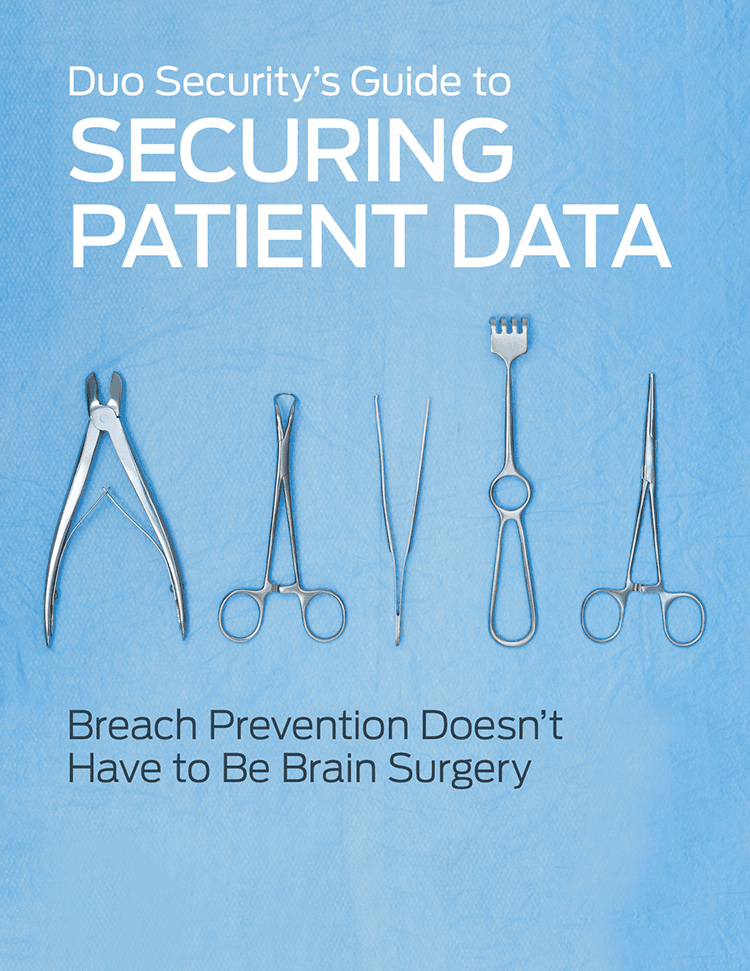 Duo developed this guide to examine some of the ways that patient data can be vulnerable and how you can protect it. To learn more about patient data security, download Duo Security's Guide to Securing Patient Data: Breach Prevention Doesn't Have to Be Brain Surgery.
To help you navigate patient data security, our guide will:
summarize relevant health IT security legislation, including federal and state
provide information security guidelines on remote access risks and solutions
provide extensive security resources and a real hospital customer story
explain how to protect against modern attacks and meet regulatory compliance with two-factor authentication
Ideal for CISOs, security, compliance and risk management officers, IT administrators and other professionals concerned with information security, this guide is for IT decision-makers that need to implement strong authentication security, as well as those evaluating two-factor authentication solutions for organizations in the healthcare industry.