This event is now full!

Everyone knows exactly how they like their coffee, their cup of Joe. But can you tell the difference between a good cup and a great coffee experience? With some simple tasting skills and knowledge of the journey coffee makes from the field to your home or your favorite coffee shop, you will become a discerning coffee drinker and master Barista.
As we compare several coffees for aroma, color, and grind, we move to brewing a precise cup of coffee in a classic pour over drip style. We will taste several cups side by side, aerating and sniffing our way to expertise.
A great Barista prepares numerous coffee beverages with finesse and flair and Michael will teach us some delicious preparations using brewed coffee and a few simple twists to spice up your coffee life.
Know your coffee and find your inner barista with us and be on your way to becoming a master taster and coffee expert.
This event is invitation only, so please make sure to request an invitation via The Barista Files form linked above. You will then receive a confirmation email with more information.
We look forward to seeing you there!
Details
Date:

Wednesday, April 27, 2022

Time:

10:00am – 11:00am Pacific Standard Time

Venue:

This is a virtual event
Presenter Info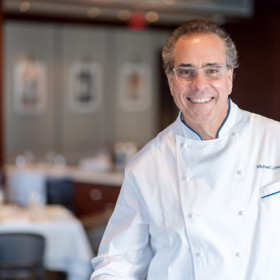 Chef Michael Lomonaco
Widely Regarded as a Chef's Chef, Michael is one of America's Most Recognizable Culinary Leaders. He led the World-Famous Restaurants at Windows on the World as well as the famed '21' Club. He is currently Chef/Partner of NYC's Finest Steakhouse, Porter House Bar and Grill, Center Bar & Hudson Yards Grill.