Thank you for your interest, but this event is fully booked.
Join Duo, along with Simon Ford, founder of Ford's Gin and Mikey Enright, proprietor of acclaimed gin bar at The Barber Shop bar and winner of Australia's best Gin bar 4 years in a row, for a one-of-a-kind virtual gin tasting experience!
These two gin experts will walk you through a tasting of a selection of some of Australia's most notable gins For this event:
Duo will send a sampling of gin based cocktails and glassware straight to your home
You'll tune into WebEx for a live, interactive tasting and pairing lesson
You'll have the opportunity to simply relax and enjoy the delicious snacks and drinks and take in your new found knowledge of gin
Join us on June 16 from 3:00-4:00 pm AEST
The day of, we will dive into Simon and Mikey's tasting and pairing lesson. Attendees of this fantastic event will be able to engage and interact with our experts along with your peers as you enjoy some classic gin cocktails.
To attend this distinctive digital happy hour, we'll need a confirmation of your attendance and address to send the items! Please register above and fill out the form in the confirmation email by Tuesday, 1 June to provide your details.
Details
Date:

Wednesday, June 16, 2021

Time:

3:00pm – 4:00pm Australian Eastern Standard Time
Presenter Info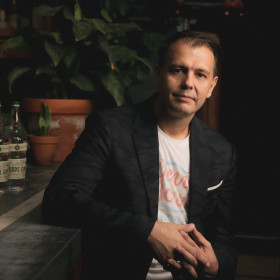 Simon Ford
When it comes to the spirits industry, there is little Simon Ford hasn't done. For the past 15 years, Simon has traveled the globe as one of the cocktail industry's leading voices working with & learning from the best brands, bars, and professionals. He has led numerous educational programs, judged global cocktail competitions, and delivered seminars at international conferences such as the NY Food & Wine Festival, the Sydney Bar Show, London Cocktail week and Tales of the Cocktail to name a few, making him one of the industry's most sought-after professionals and a household name within the community. Simon is the co-founder and president of The 86 Co. Wanting to utilize his years of experience in the spirits world, Simon set out to create a true bartenders' portfolio of brands and launched The 86 Co with renowned bartenders and Employees Only founders Jason Kosmas & Dushan Zaric. Their shared passion for the bartending community and dedication to making high-quality mixed drinks led them to develop distinct formulas that were inspired by and made for the professional bartender. In 2012, along with his fellow principal founders, Simon debuted their now award-winning spirits line: Caña Brava rum, Fords Gin, Tequila Cabeza and Aylesbury Duck vodka, and in 2015 an aged rum Caña Brava 7. Simon began his career working in wine; he ran one of England's most successful fine wine shops and earned a diploma from the Wine and Spirits Education Trust. He then went on to open Brighton's first high-end cocktail bar, Koba, with friend Jake Kempston, which earned numerous awards, including Theme Magazine's "Best New Bar" in 2002 and "Best Cocktail List" in 2003, the "Guardian's Top 10 Cocktail Bars in the UK," and Diffords Guide's "Great Cocktail Bars of the World." Simon was then recruited into spirits marketing, working with some of the world's largest brands, launching Plymouth Gin in over 10 countries, directing on-premise strategy for Absolut Vodka in the US, and creating and executing programs for a myriad of brands, including Jameson, Chivas, and The Glenlivet. It was as Director of Trade Marketing and Brand Education for Pernod Ricard that Simon became renowned for throwing blowout brand parties, organizing cutting-edge education programs such as the sensory analysis program he developed with famed chef Grant Achatz, and designing impactful brand experiences like the historic city tours he crafted with author Dave Wondrich. He created and executive produced three seasons of the NBC/LXTV reality series "On the Rocks: The Search for America's Top Bartender," and penned the wildly popular "Drink Ford Tough" column on Food Republic for over three years, as well as bar guides for Liquor.com for many more. Additionally, Simon was handpicked by the White House to be part of the Next Generation Leaders Group, a collection of individuals organized to promote positive social change nationally and internationally, and was one of the few spirits professionals to speak at the Smithsonian. His charming personality and unrivaled expertise has led him to many TV appearances over the years, including: Emeril Lagasse's "Emeril's Table," CNN, Fox Business, Wall Street Journal Live, and a series of how-to videos for Liquor.com. He has been featured in many standout publications such as the New York Times, Forbes, Harper's Bazaar, The Wall Street Journal, Men's Health, the Huffington Post, as well the cover of Tasting Panel in 2012 as "The Guru of The Modern Brand Builders." He has been certified by the Beverage Alcohol Resource, the spirits industry's equivalent to a Master of Wine, and been awarded "Best International Brand Ambassador" in 2007 and "Best U.S. Brand Ambassador" in 2009 for his work on Plymouth Gin by Tales of the Cocktail's Spirited Awards, the Oscars of the spirits industry. Since then, Simon has assumed the role of chairman for the festival's Awards and co-hosts and co-produces the celebration each year. Twitter: @SimonJFord - www.the86co.com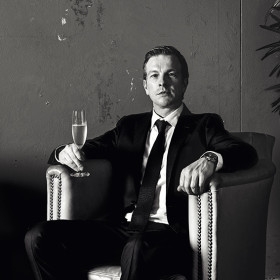 Mikey Enright
Originally from the UK, Mike Enright (or sometimes known as Mikey) started his hospitality career in 1990, running Public Houses in the North of England and later trained in London as a Cocktail Bartender. He moved to Sydney, Australia in 1999. During his time in Australia he has opened some of the most successful, award-winning Premium Restaurants & Cocktail Bars in Sydney Including The Loft, Zeta Bar, Merivale portfolio Bars and is 'Group Bars Manager' at Ivy. He consulted on Bars across Asia such KuDeTa, Mamasan, Sarong Bali, Lotus Hong Kong and also SM23 in New Jersey USA. Locally he set up the Hotel Palisade in the Rocks, Sydney in 2015. In 2013 Mikey went into partnership with Julian Train to create the Barrelhouse Group. They opened the 'Barber Shop' on York St Sydney. An actual fully functional barber shop at the front and cocktail bar at the back. Amongst national awards, it also won 'Gin Bar of the Year' in 2016/17/18/19. and 'Bar of the Year' ALIA's in 2018. It was recently named 'World's Best Gin Bar' 2020 from Gin Magazine in the UK. In 2016 we opened a stand alone Barber Shop in Barangaroo, which specialises in barbering experiences including whisky tastings and bottled cocktails Late 2017 we opened 'The Duke of Clarence'. A British Tavern which has gained some great recognition in Hospitality Industry. He developed his own Gin 'scented' grooming product range, named Enright's. He created the liquid for a mixer range in the UK and Australia, named Artisan Drinks Co. Which he is a partner in. His personal achievement's led him to be named 'Time Out Legend Award' in 2014, '7th Most Influential Bar Professional' in 2015, 3 times winner of 'Bar Manager of the Year' by two bar publications and the prestigious 'Outstanding Contribution' award in 2017 Barrelhouse Group are currently building a distillery and bar in the Rocks Sydney. We will be launching our Gin range and the venue in July 2021. The distillery will be specialising in a range of spirits including whisky.