On June 10, please join Duo and Fred Morin, co-founder and chef of Joe Beef, for a virtual dinner party!
Fred co-founded Joe Beef along with Dave McMillan and Alison Cunningham in 2005. Their first and best-known restaurant, Joe Beef serves indulgent French cuisine alongside their rolodex of house classics and seasonal Canadian delights such as lobster spaghetti, foie gras, fresh oysters, clams, crab, cockles & winkles. In addition to running the restaurant, Fred has co-written two cookbooks, The Art of Living According to Joe Beef: A Cookbook of Sorts, and Joe Beef: Surviving the Apocalypse: Another Cookbook of Sorts, which won Gold at the 2019 Taste Canada Awards. These cookbooks include recipes from the restaurants and homes of the Joe Beef owners, and on June 10, we hope you'll tune in to experience some of these recipes yourself!
Prior to the delicious evening, Duo will ship a lovely three course spread for two -- Pâté Pantin de saison (traditional pork and veal terrine), Fricassée de volaille aux morilles (roasted boneless chicken legs), and Financier chartreuse et pistachios (almond and pistachio cake flavored with Chartreuse) -- directly to your home. The day of, you'll sign into Webex for a brief introduction by Duo, and then we'll dive into an interactive cooking demonstration led by Fred. Attendees of this fantastic event will be able to engage and interact with this famous cook as he instructs you on preparing the meal, so make sure to have your finest dinnerware on the table and your camera on!
To attend this digital dinner, we'll need a confirmation of your attendance, and an address to send the items! Please register above and fill out the form in the confirmation email by May 25 to provide your details, and we'll see you there!
Details
Date:

Thursday, June 10, 2021

Time:

4:30pm – 6:00pm Central Standard Time

Venue:

This is a virtual event
Presenter Info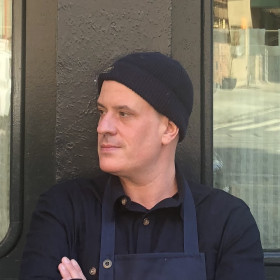 Chef Fred Morin