Duo Security invites you to join us for a virtual cooking class hosted by Chef Simone Zanoni, an executive chef at Le George and a consultant for Gordon Ramsay Restaurants in Italy.
Prior to the delicious evening, Duo will ship complimentary ingredients for Simone's asparagus and parmiggiano risotto and fine apple pie with pastry cream directly to your home. Then on the evening of May 27, you'll sign into Webex for a brief introduction by Duo, followed by chef Simone Zanoni's live cooking lesson as he demonstrates and shares kitchen stories on how to make savory dishes. Once your meal is complete, feel free to network with your peers as you enjoy the fruits of your labor!
To attend this delectable digital dinner, we'll need a confirmation of your attendance and an address to send your ingredients! Please register above and fill out the form by Thursday, May 13.
Details
Date:

Thursday, May 27, 2021

Time:

5:30pm – 7:00pm Central European Time

Venue:

This is a virtual event
Presenter Info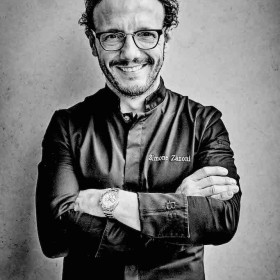 Simone Zanoni
Simone Zanoni is one of the world's leading chefs.
In 2003, he became Head Chef at the Gordon Ramsay Restaurant (3 stars) in London. Since 2007, Simone Zanoni has been Executive Chef of Trianon Palace Hotel and Chef of Cuisine at Gordon Ramsay Restaurant at Trianon (2 Michelin stars), Versailles, France. This dedication is the fruit of Simone's efforts and talent. Since September 2016, he is the Chef of the George, a Mediterranean restaurant at the Four Seasons Hotel George V.
Committed to preserving the environment and to a "reasoned" gastronomy, Simone Zanoni is trilingual, Italian, English and French. He offers his expertise and know-how in the form of consulting. He is a consultant for Gordon Ramsay Restaurants in Italy (Sardinia and Tuscany) and for GRSA, based in Sao Paulo, Brazil.
A graduate of the "Instituto Commerciale di Lombardia" (Italy), he was also awarded in 2004 by the Guid BMW Italia, as the best Italian chef working abroad. The same year, he also received the Acon Awards, which recognizes the 20 young talents of the year from the hospitality industry.