Please join Duo, Port53, and the Face of Bourbon himself, Fred Minnick, on June 22 for a virtual party!
Fred Minnick's impressive career includes appearances on Bravo's Top Chef and Discovery's Moonshiners, and he hosts Amazon Prime's Bourbon Up and Spirits Network's Frontier Filmmakers and The Curation Desk. Minnick is also senior contributor on spirits for Forbes, founding and former editor-in-chief of Bourbon+ Magazine, and frequently contributes to Whiskey Magazine, Whiskey Auctioneer, and Saveur Magazine. And on June 22, you'll have the chance to share a drink with him!
Prior to the delicious evening, Duo will ship two types of bourbon, Duo old fashioned glasses, dark chocolate, smoked almonds, pickled watermelon rind, and a mold for making large ice cubes directly to your home. The day of, you'll sign into Webex for a brief introduction by the Duo team at 4:30 p.m. ET, and then we'll dive into an interactive live tasting lesson from Fred. Attendees of this fantastic event will be able to engage and interact with Fred and their peers as they sample and taste, so make sure to have your camera on!
To attend this digital Run for the Roses event, we'll need a confirmation of your attendance, and an address to send the items! Please register above and fill out the form in the confirmation email by Wednesday, June 16 to provide your details, and we'll see you there!
Details
Date:

Tuesday, June 22, 2021

Time:

4:30pm - 6:00pm EST

Venue:

This is a virtual event
Presenter Info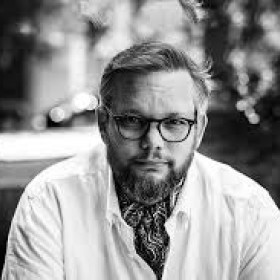 Fred Minnick
Since returning home from Iraq as a war veteran in 2005, Fred Minnick has become one of the most dynamic media personalities in the United States, sharing his expertise on spirits with mainstream audiences. He has authored seven books and become a specialized celebrity, appearing on Bravo's Top Chef and Discovery's Moonshiners, as well as hosting Amazon Prime's Bourbon Up and Spirits Network's Frontier Filmmakers and The Curation Desk. He is also the co-creator and curator of the Bourbon & Beyond Music festival (91,000 attendees in 2019), which has featured Zac Brown Band, Lenny Kravitz, John Mayer, Robert Plant and many other great musical acts.
The categorical leader in American whiskey and spirits podcasting, Minnick is ready to bring his niche to the mainstream. On The Fred Minnick Show, Fred interviews celebrities over whiskey and talks about life; past guests have included Ludacris, Daryl Hall, Mick Fleetwood, Lee Brice, NFL star Ndamukong Suh (Tampa Bay Buccaneers), NFL Hall of Famer Charles Woodson, Chase Rice, Ashley McBryde, actor Harry Shearer, tennis legend Andy Roddick, Slipknot's Clown, Johnny Christ of Avenged Sevenfold and Lindsay Ell, among others.
As a leader on social media with over 100,000 social media followers, Minnick reaches more than 15 million monthly listeners on all platforms, including DASH Radio's Minnick Minute, and is heard in 80 countries. The Fred Minnick Show is a top rated podcast with over 100 livestream productions that have earned placings including Top 20 Food, Top 15 Music Interviews, and Top Food Podcast-The Spirits Business. Minnick is founder and curator of the Repeal Day Expo, produced entirely in a virtual world.
Additionally, Fred has appeared in The Atlantic, CBS This Morning, Celebrity Access, Fox and Friends, The New York Times, Rolling Stone, and Today, as well as on BBC, NPR and The Travel Channel and many others. Over the past decade Minnick has appeared in the media more than 1,000 times. Minnick is recognized for his research credentials by Filson Historical Society, National Library of Ireland, and The Public Record Office of Northern Ireland.