Please join Duo and Salvatore Castano on 23 June for a virtual wine and cheese pairing. Prior to the delicious evening, Duo will ship the complimentary wine & snacks directly to your home. Presentation topics will include such things as wines, cheese pairings, flavors, tastes, and tips. The day of, you will sign into Webex for a brief introduction, and then dive into Salvatore's live tasting and pairing lesson. Attendees of this fantastic event will be able to engage and interact with the Sommelier and their peers as they sample and taste.
To attend this delicious digital night, we'll need a confirmation of your attendance, an address to send the items, and we'll need to know your preference on meat or veggies to include. Please register above and fill out the form in the confirmation email by Wednesday, 16 June to provide your details.
Details
Date:

Wednesday, June 23, 2021

Time:

4:30pm – 5:30pm Central European Summer Time

Venue:

This is a virtual event
Presenter Info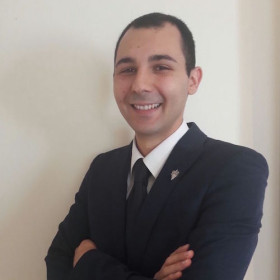 Salvatore Castano
Salvatore Castano works in London as a Wine Consultant for Friarwood Fine Wines.
Born in Sicily, he decided to leave his island to travel around the World where he discovered his passion for food and wine.
He was working within the hospitality industry for over a decade when he decided to embark on a new challenge: studying for the Court of Master Sommelier exam.
In 2019 Salvatore was Best Italian Beer Sommelier, 1st runner-up for Best Italian Sommelier and 1st runner-up for Best Young UK Sommelier. In 2020 he qualified for the Best European and African Sommelier Competition and will be representing Italy. One of his hobbies is cooking and discovering peculiar wine pairings.