Please join Duo on August 3 for this magical event!
The day of this event, you will sign into Webex for a brief introduction from Duo. Then, during the event, we'll see Antonina & David perform some magic, mind reading and telepathy effects. Attendees of this fantastic event will be able to engage and interact with each other and Antonina & David as they enjoy the show and have some fun.
To attend this delightful digital night, we'll need a confirmation of your attendance! Please register above.
Details
Date:

Tuesday, August 03, 2021

Time:

4:30pm - 5:30pm EST

Venue:

This is a virtual event.
Presenter Info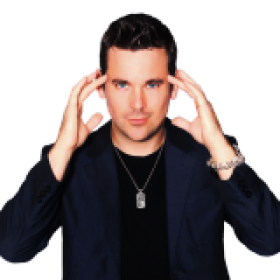 David Hall
Boston Magician and Mentalist David Hall's award winning performances are full of wit, comedy, charm, stunning sleight-of-hand tricks and amazing mind reading.
In fact, David has been entertaining audiences since 1998 as a premiere Boston magician & mentalist.
Superstars and VIP's engage David to perform at their exclusive events. His client list includes celebrities such as Mick Jagger of the Rolling Stones; Red Sox's owner John Henry, as well as many theaters, performing art centers, colleges, universities, and fortune 500 companies across the US.
David has also toured internationally performing a mentalist show with his partner Antonina on various cruise tours spanning over 14 countries. Not to mention, David also showcased his talent at many stage shows in Dubai, United Arab Emirates.
David is also known to be one of the premiere comedy hypnotists in the college market as he travels all over the country performing his interactive comedy hypnosis show called "Cards Against Hypnosis".
Besides that, Boston Magician David Hall also has training in improv, sketch and comedy theater. As a result, his show is a blend of magic and mind reading – a combination that results in extraordinary and unforgettable performances.