Industry News
The 2021 Duo Trusted Access Report: The Road to a Passwordless Future
The remote work revolution is driving authentication toward a future that's more efficient, effective and user-friendly. User experience is more important than ever, access security is expanding, and existing security workflows are becoming more streamlined.
In the 2021 Duo Trusted Access Report: The Road to a Passwordless Future, we examine how enterprises are leveraging lower-friction methods like biometrics and Webauthn to move away from passwords while protecting the hybrid workforce.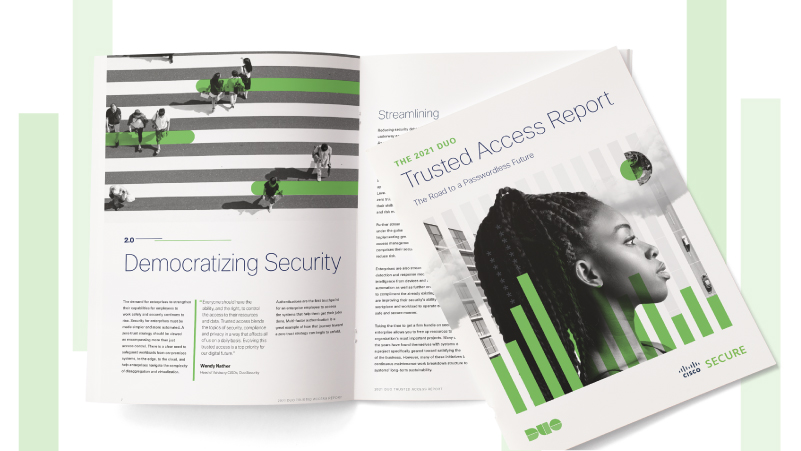 For this report, our researchers analyzed data from more than 36 million devices, more than 400 thousand unique applications and roughly 800 million monthly authentications from across our customer base, spanning North America, Western Europe and Asia-Pacific.
The data shows that organizations across all industries are increasingly enabling their workforces to work from home now, and potentially for an extended period of time, and they're implementing the appropriate controls to ensure secure access to applications.
"Trusted access blends the topics of security, compliance and privacy in a way that affects all of us on a daily basis. Evolving this trusted access is a top priority for our digital future."
—Wendy Nather, Head of Advisory CISOs, Duo
Five Key Findings
Here are five top trends from the 2021 Duo Trusted Access Report. Get the full report to explore all of the data.
Passwordless Adoption Rising: Users Move Toward Lower Friction Second Factors
Our data shows a fivefold increase in Webauthn usage since April 2019.  
Biometrics Press Forward
More than 71% of customer mobile phones have biometrics enabled, and total mobile phones with biometrics rose 12%.
Locations Blocked
Roughly 74% of Duo customers who implement device-based policies restrict access from China and Russia. 
Push Preferred
Duo Push is the most popular authentication method, accounting for 30% of all authentications.
Cloud Usage Floats On
Among enterprises, June 2020 through May 2021 saw more than a 65% increase in average daily authentications to cloud applications over the average from that same period from June 2019 through May 2020.
Summary
Hybrid work and hybrid business models are now the standard operating procedure for how we take care of business. As organizations quickly accommodated hybrid work at a massive scale in 2020, they realized productivity could happen in this environment, and in response many organizations have indicated that they'll continue using this approach for the foreseeable future.
However, this rapid expansion presented new security challenges, key among them ensuring that employees can work securely and without introducing new risk to the business. The need to secure users and devices and their access to applications is central to an effective remote access strategy.
We need to provide support for businesses to improve their visibility, get a better understanding of policy management, and place more emphasis on automation to help security teams optimize their impact with the resources available to them. Strategies like zero trust and a passwordless authentication approach help improve security while reducing risk, and by having a stronger focus on user experience they allow for greater democratization of security.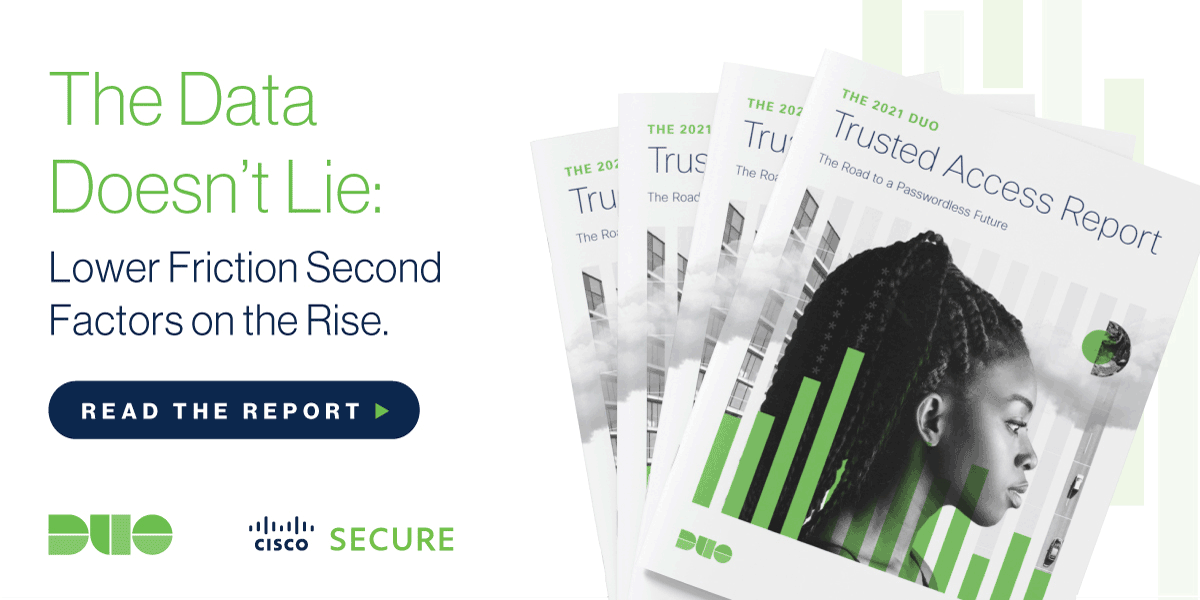 Try Duo For Free
With our free 30-day trial, see how easy it is to get started with Duo and secure your workforce from anywhere, on any device.