Industry News
A 5-Step Guide to Implementing Zero Trust in the Workforce
As the cybersecurity industry continues to pivot towards a zero trust model to ensure only trusted access is granted, companies are looking for guidance on how to adopt zero trust principles into their security practices.
The zero trust model rose out of changes brought by mobility, consumerization of IT and cloud applications. And while the term zero trust continues to infiltrate IT security conversations, it raises an important question: how do we get there?

Zero trust is a philosophy that can be broken down into actionable steps in a five-phase approach. We developed the white paper "From MFA to Zero Trust: A Five-Phase Journey to Securing the Workforce" to guide you through the notable steps in your journey. Consider this white paper your blueprint to getting started with zero trust. 

In this guide you will learn: 
The five phases of Zero Trust for the Workforce and how to implement them: 

Establish user trust

Device and activity visibility

Device trust

Adaptive policies

Zero Trust for the Workforce
And within each phase of the journey is a self-contained project that covers:

Description and objectives

Transformation

Components and challenges

Metrics
Use this white paper as a resource on how to implement Zero Trust for the Workforce. By evaluating and completing the projects within each phase, you will be well on your way to achieving zero trust security to protect your workforce. 

It is possible to secure access to all applications (cloud or on-premises) from anywhere in the world on any endpoint device with a single, easy-to-use and elegant solution.

Ready to get started? Download the free white paper "From MFA to Zero Trust: A Five-Phase Journey to Securing the Workforce" today.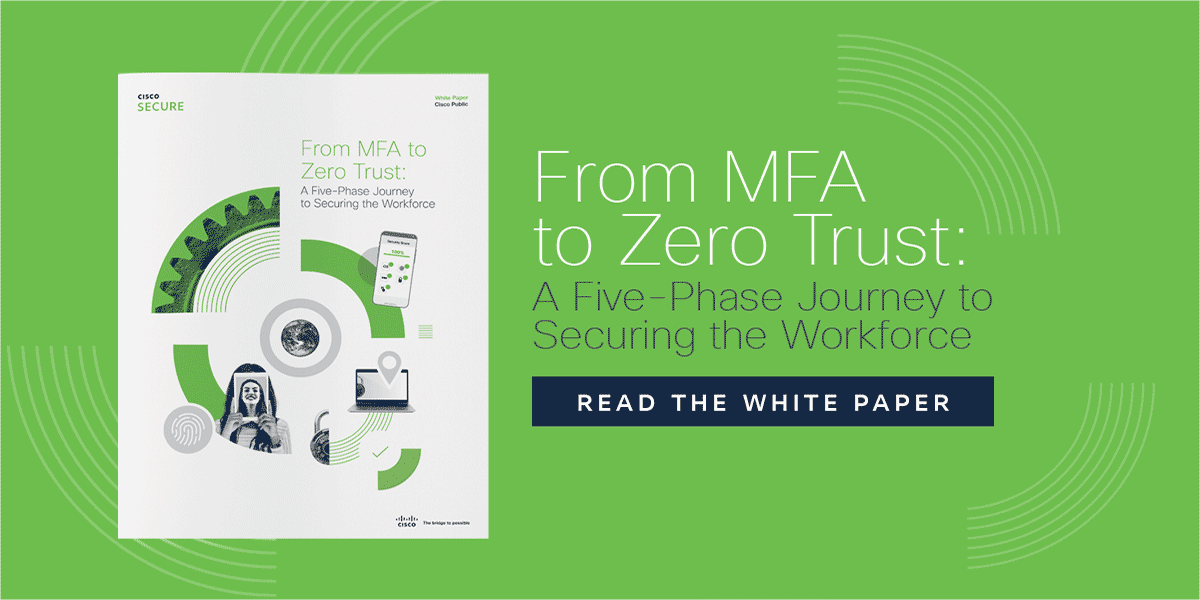 Try Duo For Free
With our free 30-day trial and see how easy it is to get started with Duo and secure your workforce, from anywhere and on any device.