Product & Engineering
Announcing Duo Platform Edition: Expanding Beyond Two-Factor Authentication To Secure Access
Today is an exciting day for us at Duo. We are evolving from delivering a great two-factor authentication product to now delivering a secure access platform. We are announcing our most comprehensive edition yet, Duo Platform Edition.
Ninety-two percent of all major data breaches in the last two years involved failure of controls that were set in place to secure access.* This means that one way or another, the bad guys are managing to get access to some of your most important business applications. This can result in expensive data breaches. This is what we solve with our new Platform Edition. We enable you to secure access for any user, to any application, from any device - the Duo way: it's easy and effective.
Duo's foundation was built on making two-factor authentication easy for an era of computing that is defined by a mix of on-premise software, cloud applications and mobile devices. We designed a product that you can deploy in just a couple of hours and effectively reduce the risk from phishing attacks and stolen end user passwords. I still remember how amazed I was the first time I took the Duo Five Minute Challenge. You should check it out if you want to enable strong authentication for your accounts faster than it takes you to buy coffee from Starbucks.
So, what exactly is in Platform Edition? It's a new cloud-based security product that helps you address some of the most important challenges around securing access and reducing the risk of data breaches. With Platform Edition, you can achieve your security goals such as:
Block users from China and Russia (or any country where you do not have employees) to your HR application.
Prevent users from anonymous networks such as Tor from accessing your engineering applications.
Identify vulnerable mobile devices such as jailbroken iPhones or phones with older versions of Android OS.
Create an inventory of all devices (Macs, PCs, smartphones, etc.) your employees are using to access your finance applications.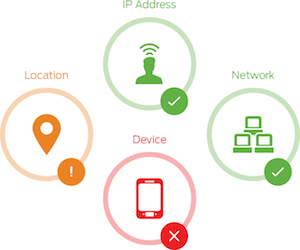 You can do all of this without deploying proprietary hardware or installing endpoint agents or MDM clients. How does Duo do this? We designed a policy and control framework that allows you to define rules around who can access what applications and under what conditions.
We enforce these rules in real time by taking advantage of modern APIs that are already built into your phones, tablets, PCs Macs and even some applications. Duo's telemetry, analysis and enforcement technologies work under the hood, thanks to companies such as Apple and Google for building strong APIs into their platforms.
We believe you'll find the Platform Edition is an effective tool to gain visibility and control over how users, devices and networks interact with applications. I invite you to learn more. Check out this short video our creative team has put together for this announcement:
If you are attending the RSA Conference in San Francisco next week, stop by our booth #2345 to see a live demo of Platform Edition, talk to us or just collect some very original Duo swag.
Platform Edition will be available to all in May. If you want to get your hands on it sooner, current customers can request an early-access beta here. Cheers.
* Source: Duo's research based on publicly available breach data reports for 2013 and 2014 from Verizon, Ponemon and others.
Note: Duo's Platform Edition is now known as Duo Access - with even more features. Please visit our Pricing page to view our latest editions.