Industry News
Available Now: Relieving the Pain Points of Federal IT Modernization
As cloud and mobile technologies fuel IT modernization efforts in federal agencies, IT and security pros face a dilemma: they need to update and secure aging systems, but must do so with tight budgets, arduous buying cycles and massive existing investments in legacy gear.
IT modernization can't happen at the flip of a switch. Yet the need to secure government systems continues to grow. According to The Washington Business Journal, federal agencies reported 35,277 information security incidents to the Department of Homeland Security's U.S. Computer Emergency Readiness Team in fiscal 2017, which is is up 14 percent from 30,899 reported the prior fiscal year. That breaks down to about 96.6 attacks per day.
The DHS sums it up this way:
"Cyberspace and its underlying infrastructure are vulnerable to a wide range of risk stemming from both physical and cyber threats and hazards. Sophisticated cyber actors and nation-states exploit vulnerabilities to steal information and money and are developing capabilities to disrupt, destroy, or threaten the delivery of essential services. A range of traditional crimes are now being perpetrated through cyberspace."
Agencies must overcome a host of new pain points IT modernization initiatives introduce to ensure smooth and secure operation.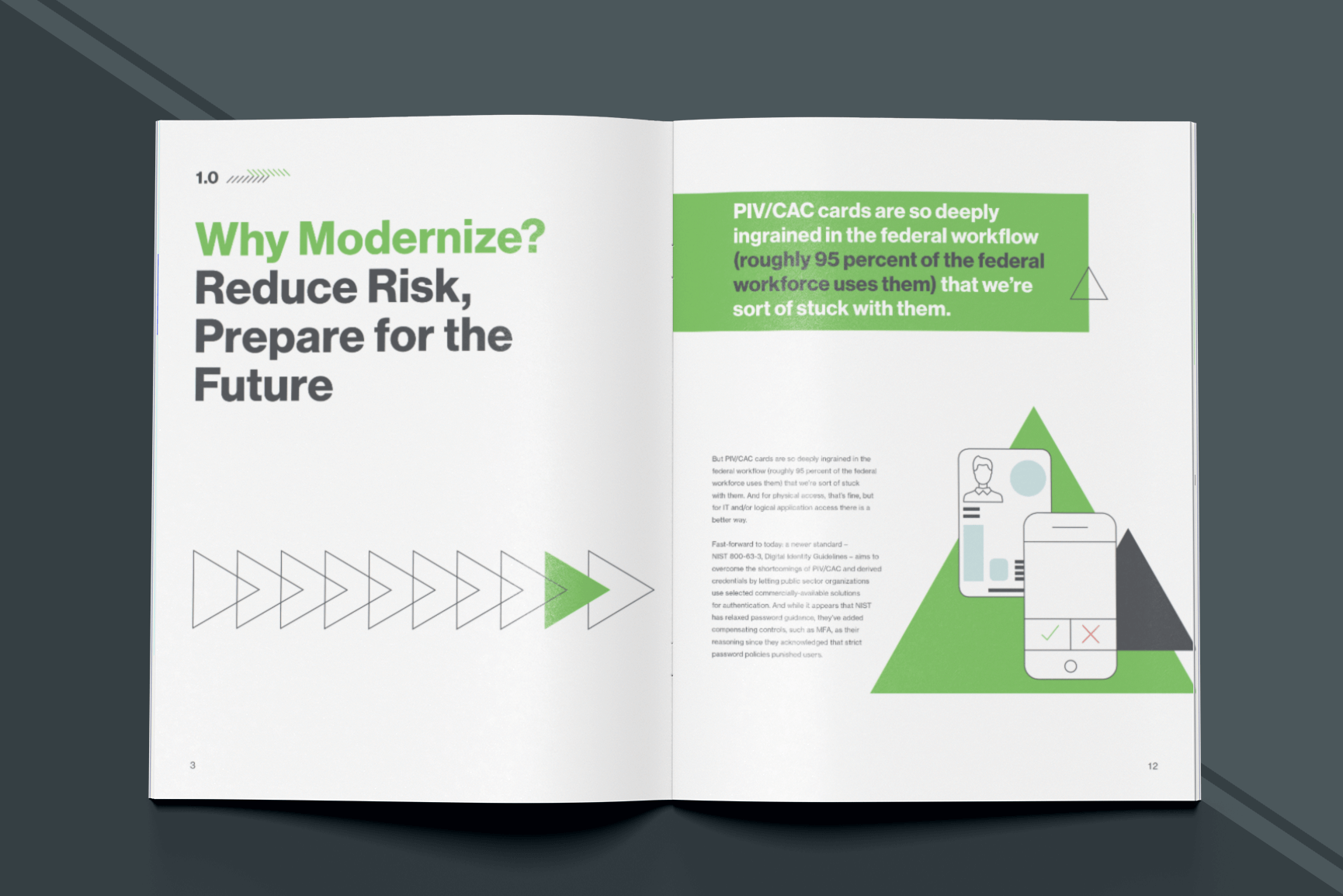 In our new ebook, Relieving the Pain Points of Federal IT Modernization, you'll learn:
How to navigate and clear the compliance confusion to ensure you're adhering to federal compliance regulations

How to overcome the challenges of poor device visibility and start to embrace BYOD

How to augment clunky PIV/CAC deployments with modern authentication methods

How to integrate security into your legacy systems to avoid having to rip and replace
IT modernization is a must, but it's not without its challenges. Download the ebook now and read about the pain points and how best to find relief to ensure federal systems are both modern and secure.