Industry News
Behind the Scenes: The Making of the Decipher Teaser Video
I'm a writer - first and foremost. And I typically write tech and security industry papers, ebooks, blog posts, web copy, etc. for my day job - not live-action video narratives or screenplays.
But the lines have started to blur more and more in the past few months, when I came up with a concept for a high-style video that encapsulated not only my personal aesthetic, but also many aspects of the hacker/maker/infosec culture.
The Initial Concept
The idea was to spin a loose narrative focused on a dark, futuristic and apocalyptic mood. I put together a pitch for a grungy, street art-filled, back-alley, black-clad maker film that was not only diverse, but more representative of a realistic, culturally-relevant future.
A Closer Look
Diversity makes its way into a closer look at the concept beyond just high-style aesthetics. I also wanted to depict a variety of different types of makers, hackers, tinkerers, etc.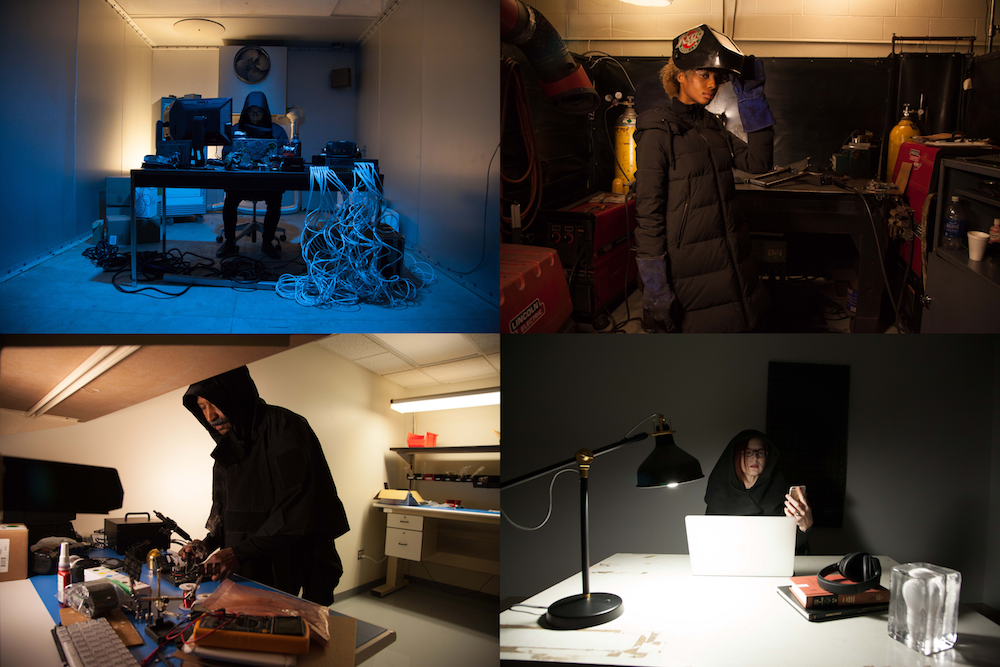 That's why I included scenes of not only a traditional, hardware-focused maker space, but also the classic software hacker and a welder. The business-focused CISO also makes an appearance; working late at night in her office.
Aspects of counterculture, street art and free-running urban silhouettes are all scenes that I've been close to at some point in my life, and they represent free-thinking, authentic individuality and expressionism.
These individuals might seem like they're loners - but they're not - they're all part of a community that has something in common - curiosity. A curiosity that drives them to do what they do, and to question the status quo.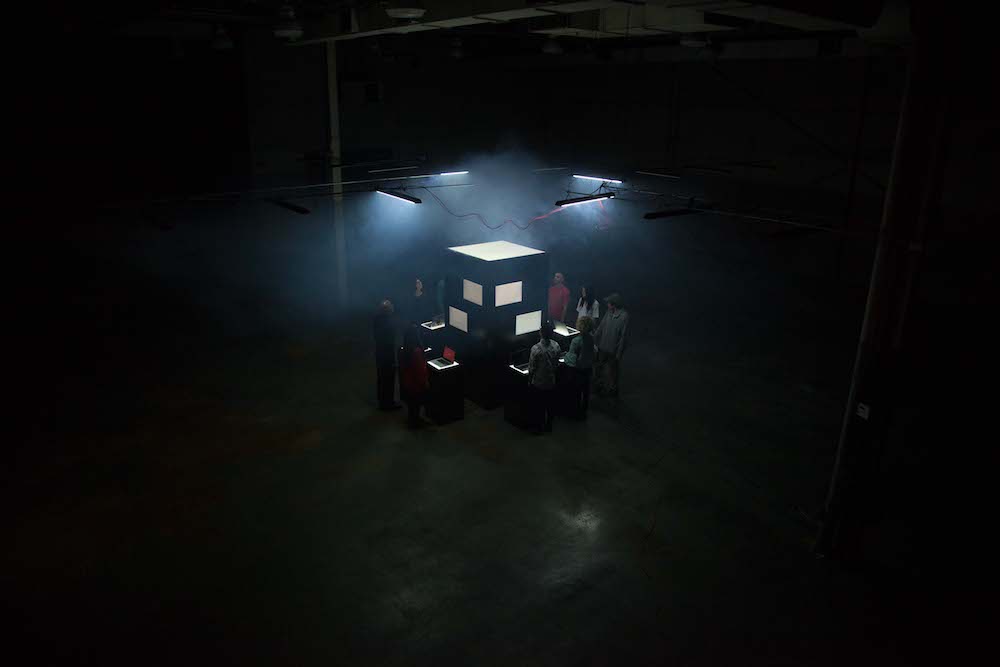 The end monolith scene brings each decloaked individual together, drawing them toward the light - similar to how Decipher, a new infosec media site, seeks to inform the public, demystifying cybersecurity and avoiding the FUD (fear, uncertainty and doubt) that is often perpetuated throughout mainstream media's coverage of security news.
FUD is a common route to take if you're intent on misleading or leveraging the lack of experience or knowledge of the security industry in exchange for wider appeal, more clicks, higher engagement, etc. But it's not a particularly great, or honest, way to educate the public. So what is Decipher? This statement from the editors explains:
"Decipher is an independent editorial site that takes a practical approach to covering information security. Decipher stories analyze the news, explore the impact of the latest risks, and provide informative and educational material for readers intent on understanding how security affects our world. Decipher deconstructs security through various forms, including features and shorter articles, podcasts and video, as well as graphics and interactive content.
Decipher amplifies the voices of those who look at security through the prism of how it affects victims, and seeks out trusted, pragmatic, voices that focus on security impact over hype. It isn't about the coolest exploit, the scariest vulnerability, or the largest breach. Decipher provides context, information, and analysis, not to point fingers or lay blame. We are here to inform and educate, not to speculate."
The Pitch
I put together my first-ever video concept pitch (it was pretty rough, as you'd imagine - see one slide example below) to show to our Creative Director Pete Baker, Video/Motion Graphics Producer Martin Thoburn and Senior Multimedia Producer Rik Cordero.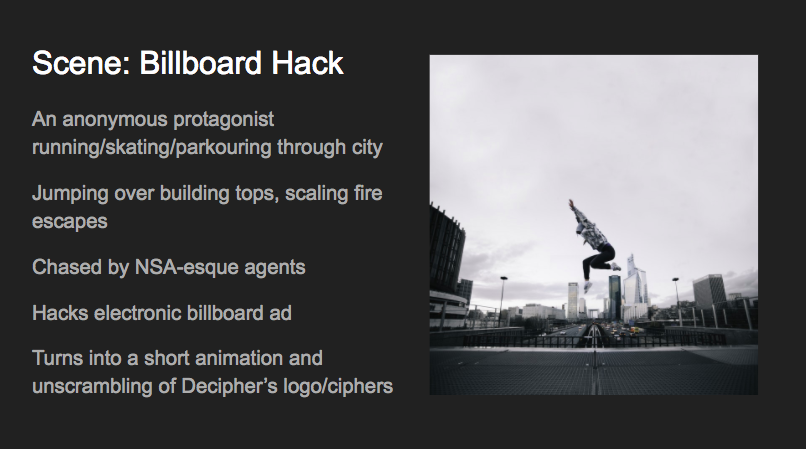 Decipher Teaser Pitch 1.0
They matched my enthusiasm for the concept, and Rik bumped it up to another unprecedented level as he and Pete worked in an ending I never could have imagined, especially from a production point of view.
Pitch 2.0 (way more awesome than my original one) included a short video edit with cuts from high-fashion, countercultural visual cues found mainly in Y3 commercials, as well as music videos previously directed by Rik and starring Mr. Robot's Joey Badass. Oh, and a reveal of Dennis Fisher, Decipher Editor in Chief, at the end.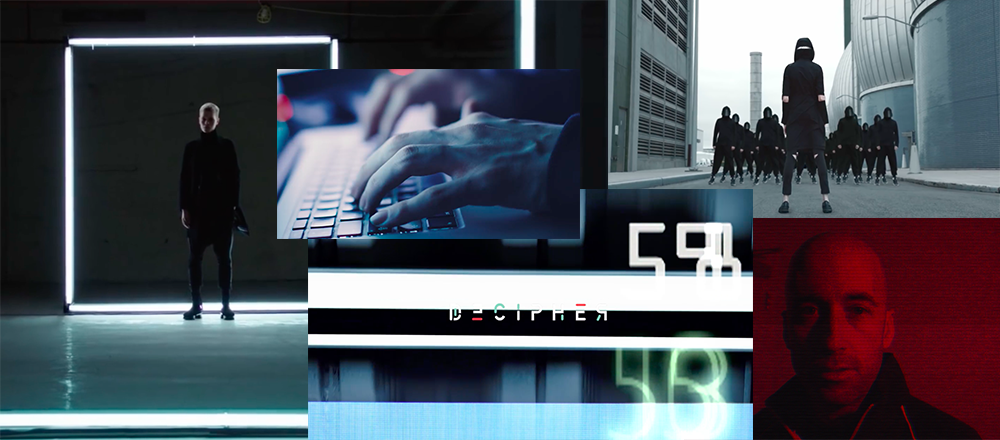 Decipher Teaser Pitch 2.0
It opened and ended with a glitchy Decipher logo animation and felt like something completely different from what we were used to producing in our day jobs - less of an explainer video, and more intended to produce visual intrigue in its viewers.
The Final Concept
We did not end up casting Joey Badass. However, with a few different contributors and voices involved, the concept of the video shifted to include a more literal plotline - a diverse cast of characters receive a text message calling them from their dark corners of the world, drawing them together, encouraging them to decloak their dark anonymity to meet at a monolith - all symbolic of Decipher's intent to draw together a traditionally disparate crowd online to find community and insight on the media site.
Here's the finished product:
Watch the following behind-the-scenes cut of the Decipher video to see how it all came together:
The Team
In my initial pitch, I envisioned this video as a key way to draw the entire team's core capabilities to the forefront in a fully-integrated and fully-realized artistic expression. And they completely exceeded my expectations, per usual.
Rik and Martin attacked the concept with fervor to make it a reality, calling in a third-party production team ran by Producer Garrett Sammons of Nice Shirt Media.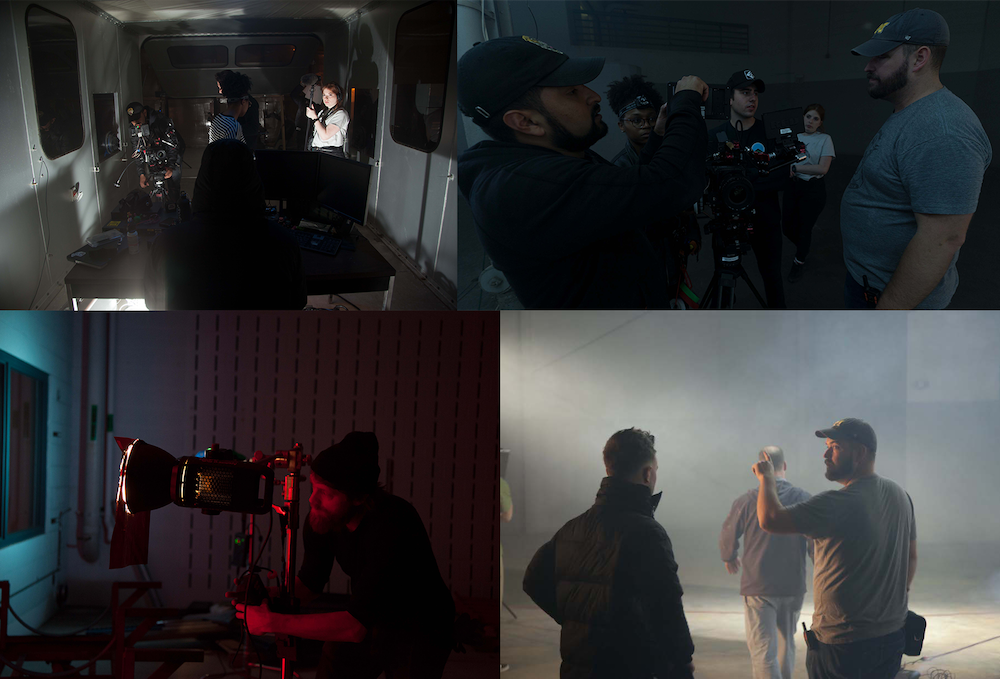 They wrangled a lot of the on-set logistics and casting of eight diverse actors that would play the team of hackers, makers, CISO, etc. - as well as the casting of two talented parkour athletes.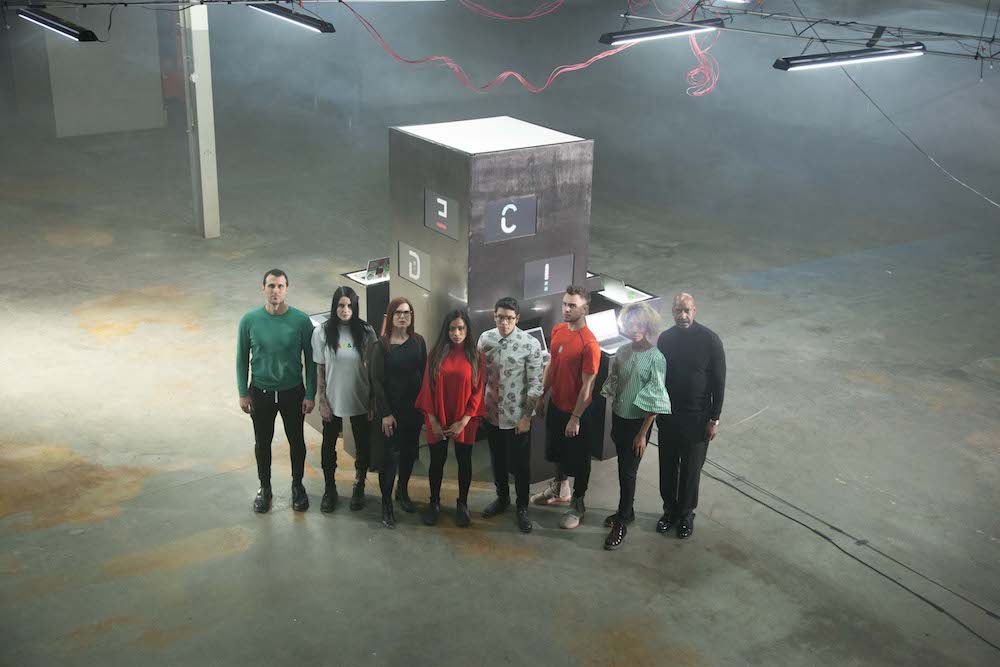 This was key to match my original vision of people of all backgrounds - different ages, genders, races and personas - playing the roles of vastly different movers, shakers and producers in the infosec world, and the production company helped make that a reality.
Senior Digital Designer Sarah Sawtell took on the role of art director, wardrobe stylist/seamstress; outfitting the cast in black cloaks to represent the stereotypical anonymity ascribed to the hacker persona. She also created amazing set designs for each of the scenes.

She translated Decipher's brand, colors and concept into the cast's wardrobe reveal at the conclusion of the video; emphasizing their individuality and the importance of their different personas - shedding the black hat hoods, quite literally. We also worked with Hair Stylist Stein Van Bael and Makeup Artist Miles Marie to match our original aesthetic.

Sarah S.'s team of art assistants, including Brand Strategist Chrysta Cherrie and Interactive Designer Tracy Toepfer helped immensely throughout the chaotic first day of shooting.
Tracy also played the role of the CISO (Chief Information Security Officer), a key player when it comes to influencing security strategy and major security decisions at major companies, which can, in turn, affect the privacy of personal data of millions of customers.

Both Design Manager Steven Samuels and Tracy also designed and helped produce the Decipher posters, stickers and stencil that were wheat-pasted, spray-stencilled and stuck on walls around Detroit.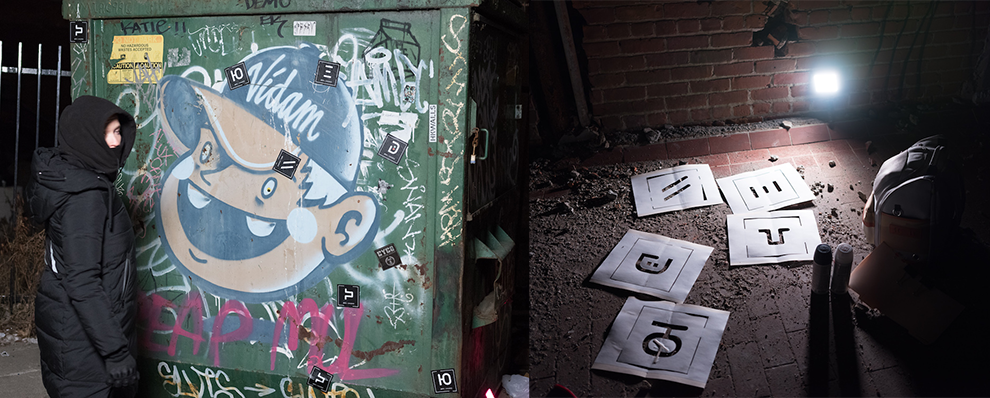 Rik tagged me in to act as the assistant director, which I tried to the best of my ability to fulfill. I put my past web development project management skills to use, creating a master schedule based off of Rik's shotlist that accounted for each team, staggering shoot times with hair, makeup and wardrobe, and scheduling times for art production and set production.
Associate Web Developer Sarah Ovresat made the scenes come to life in her beautiful illustrations of Rik's storyboards using a Wacom tablet - without ever setting foot on any of the locations, she was able to bring a few photographs to life with her sketches of various hackers throughout their scenes to the benefit of the camera, lighting and directing teams as they moved quickly through the shots.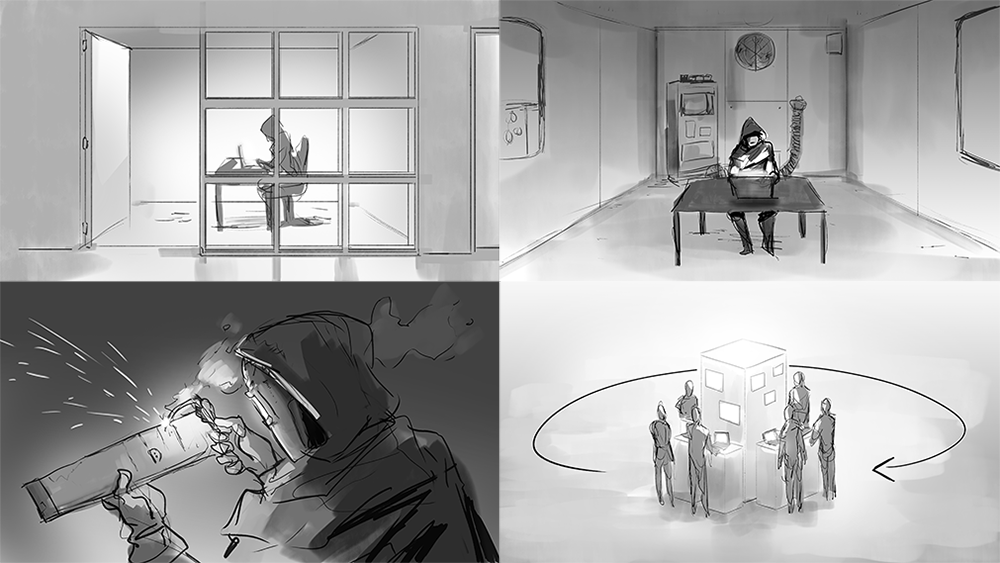 As tech director, Martin worked closely with our set designer/producers, our art director and our Motion Graphics Artist Hafsah Mijinyawa to create the monolith scene at the end, providing tech support to trigger the lighting sequence perfectly, aligning with the actors' cues to provide a dramatic finale.

According to Martin, the entire video system was controlled by a PC hooked up inside, equipped with a high-end graphics card that could output five video signals at a time.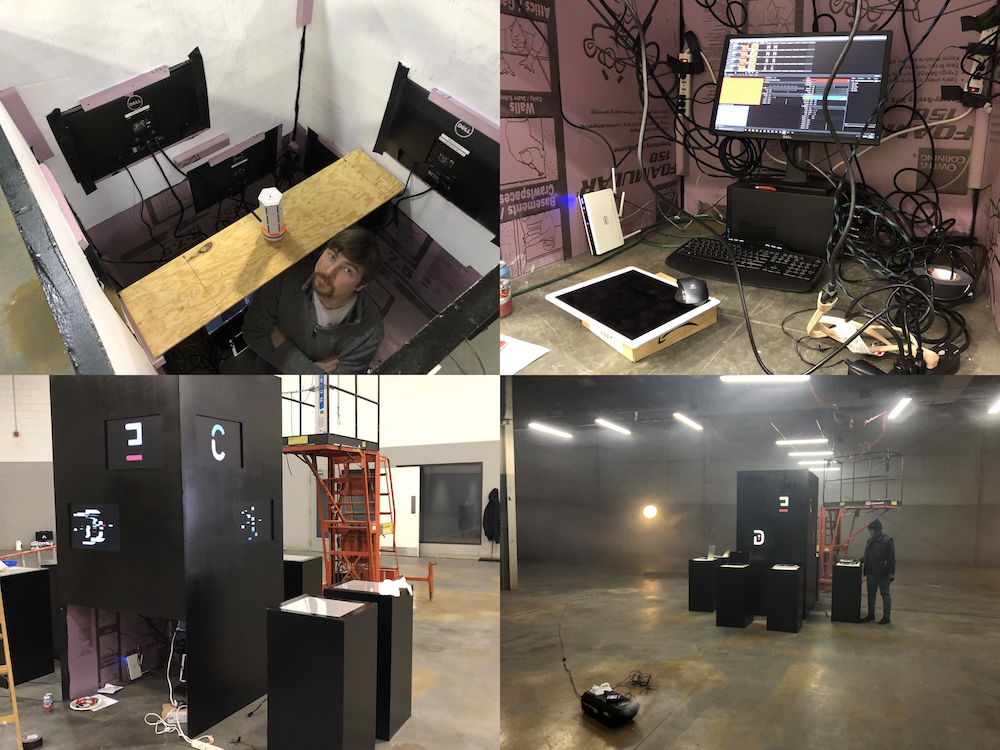 One screen was a control monitor and the other four screens were mirrored to the eight different monitors affixed to the sides of the monolith. An iPad running TouchOSC was used to trigger video clips on the PC that was running Resolume Avenue Media server software.

Hafsah's custom motion graphic animations were designed and tested across every type of device and platform to fit our diverse cast and their personas, and they made the monolith scene truly come alive.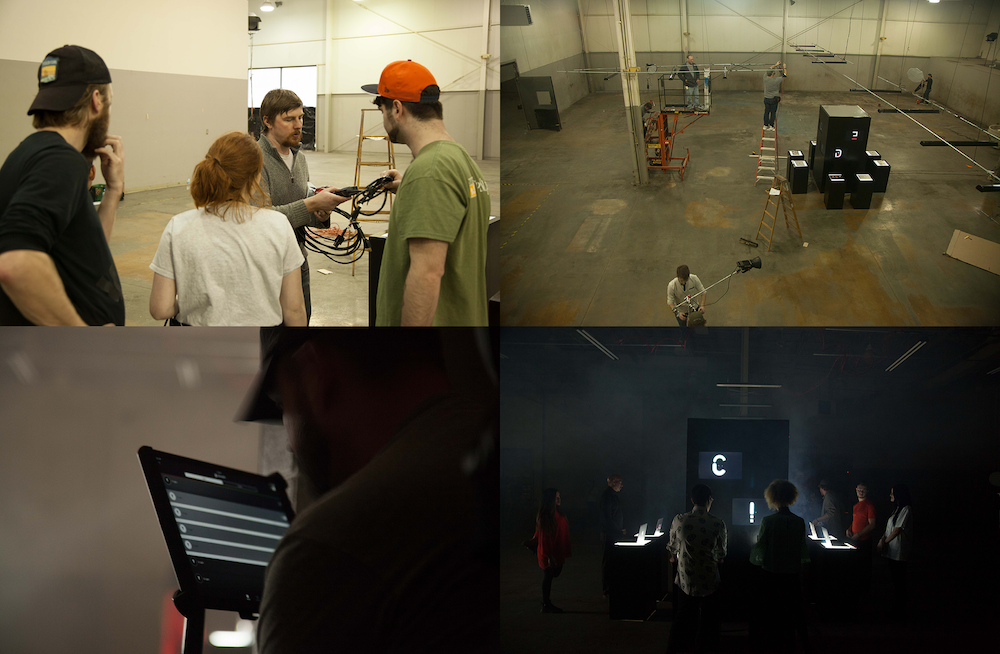 Hafsah also created animations for the digital billboard hacking scene in Detroit, and glyph animations that were "delivered" to each actor's phone to alert them of the Decipher message.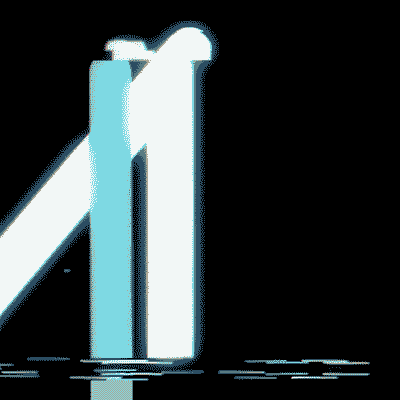 Our Art Director, Sarah S., enlisted the help of her dad to model and create the physical monolith and podiums, seen in the prototype below:

Finally, Rik expertly directed the scenes, working tirelessly (constantly on his feet throughout a 16 hour shoot) closely with the lighting, production and camera teams to match the overall aesthetic vision.
As the concept developed, I knew it would fit not only my personal aesthetic, but also that of Rik's - I fully trusted he understood and would execute on the original conceptual vision.
The Locations
We shot over a few days in Detroit (location scouting by Rik, Sarah S. and I) and in several manufacturing warehouses located in Ann Arbor (thanks to Chris Oz, our location manager, who also hand-rigged the custom monolith lighting that hung from a tall warehouse ceiling).

The interior scenes came to life with the expert lighting work done by the production crew and set design/props by Chris and Sarah S., turning the cavernous industrial manufacturing warehouses into eery and dreamy nightscapes.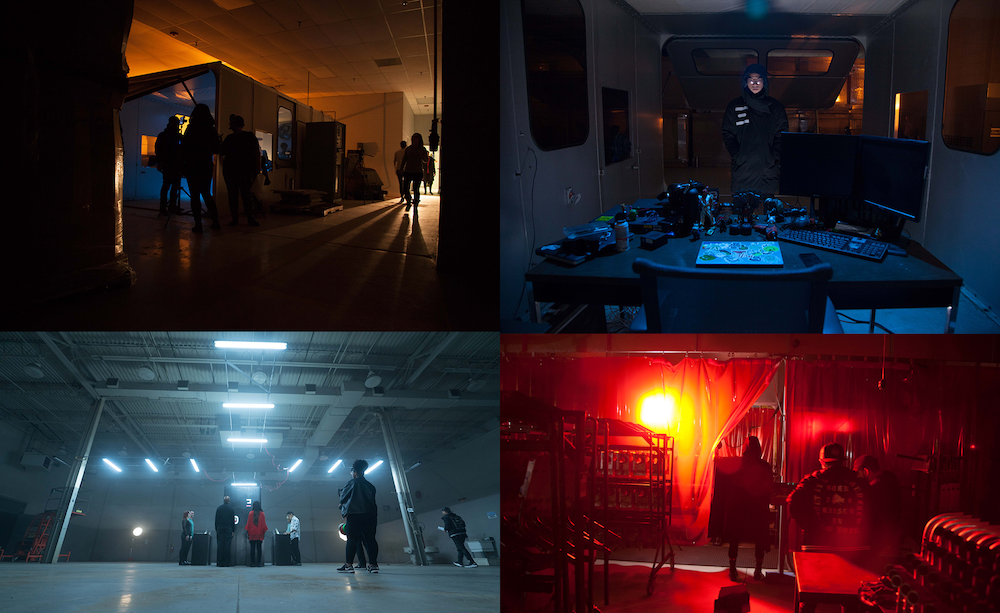 In Detroit, we shot mainly around the Eastern Market area, downtown near Campus Martius and the GM building, and in an abandoned warehouse structure - at night, in the freezing cold. During our scout a few days prior, we stumbled upon a mural comprised of Decipher brand colors.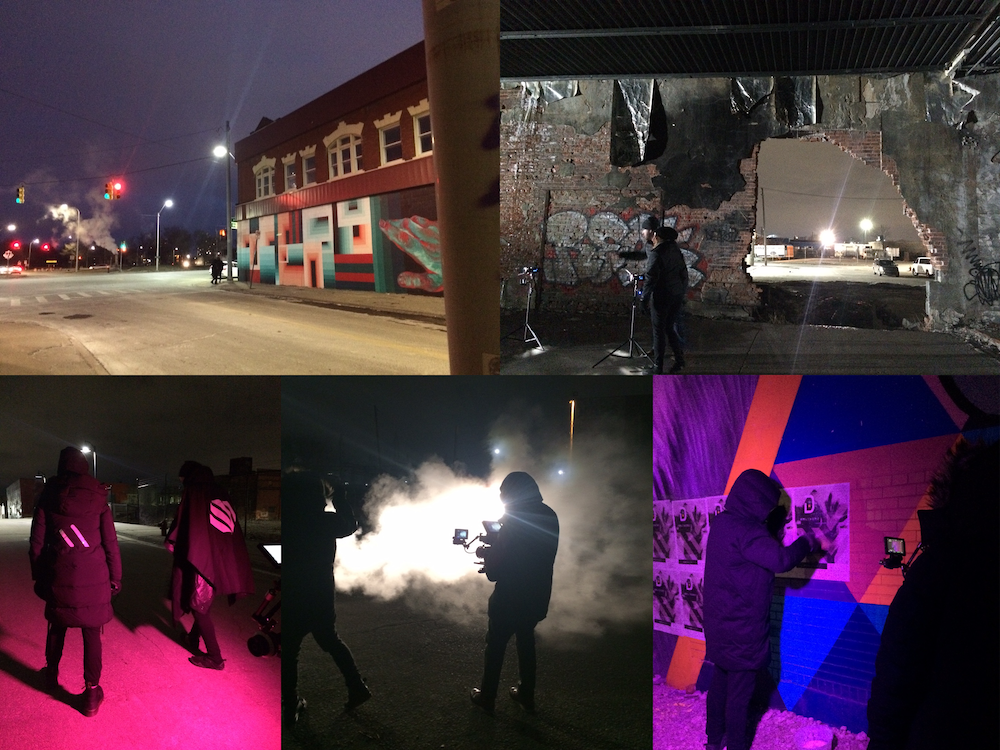 Detroit had an ideal aesthetic for certain scenes in this video for a few reasons - it's an emerging city with a varied past; it's come so far and continues to evolve toward a very different future, with an economy bolstered by tech. It's both honest, humble and exciting in its possibilities.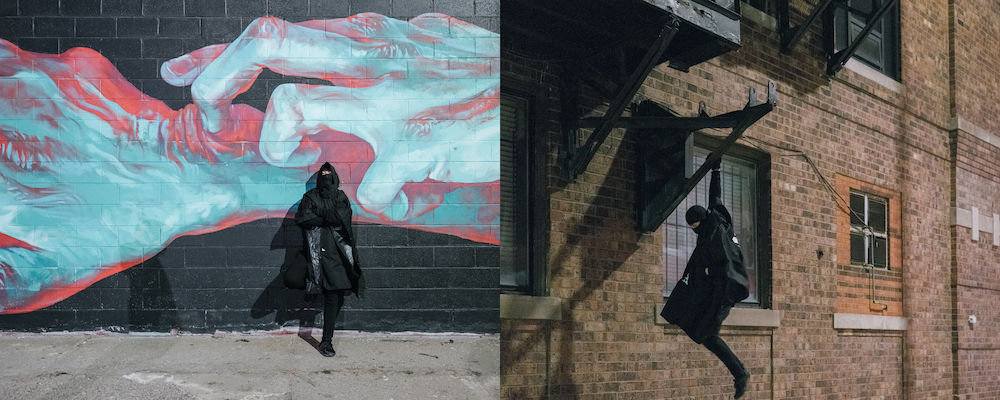 It's a city full of art, history and architecture, lending not only the perfect backdrop but also insisting on adding interesting, textured scenes; unscripted - from the hot smoke billowing from manhole covers to winding dark alleys lined with brick and fire escapes to buildings covered in murals.
Roll the Credits
Huge thanks to everyone that worked on this video:
Talent
Charles Poole, Male Maker 4, Solderer
Mahpara Kahn, Female Maker 1
Santi Nguyen, Male Maker 1, Hacker
Tracy Toepfer, Female Maker 4, CISO
Remy Lewbel, Male Maker 2
Kendall Hall, Female Maker 2, Welder
Anthony Ballios, Male Maker 3
Alison DuBois, Female Maker 3
Paige Martin, Female Freerunner
Vanya Prokopovich, Male Freerunner
Crew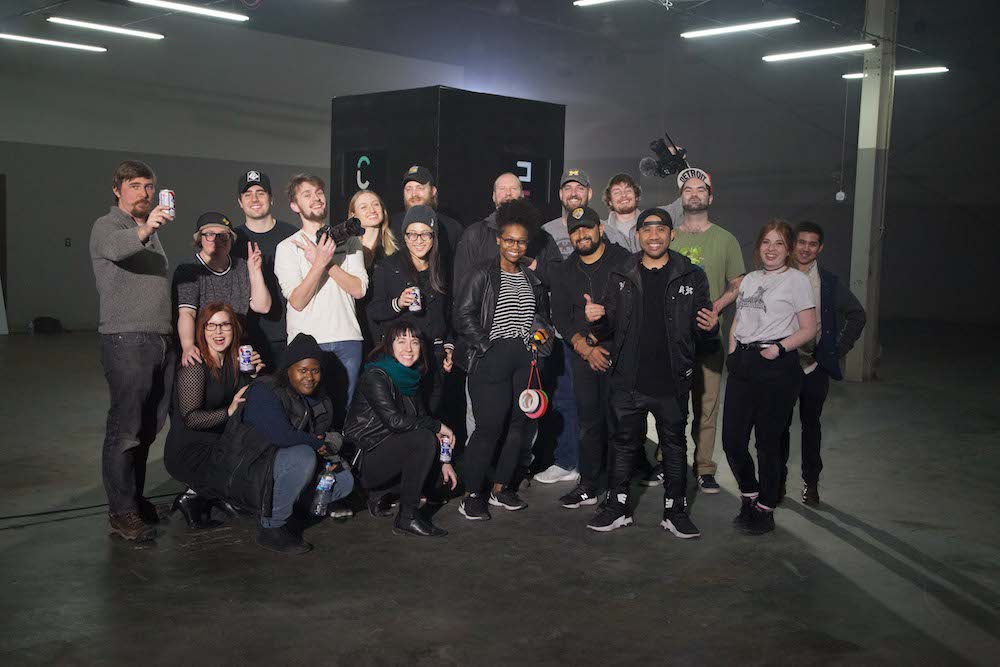 Rik Cordero, Director
Garrett Sammons, Producer, Nice Shirt Media
Cy Abdelnour, Director of Photography
Kai Dowridge, 1st Assistant Camera
Francis Jeup, 2nd Assistant Camera
Matt Wilken, Production Assistant / Gaffer
Sarah Sawtell, Art Director
Thu T. Pham, Assistant Director
Chrysta Cherrie, Art Assistant
Tracy Toepfer, Art Assistant
Martin Thoburn, Technical Director
Hafsah Mijinyawa, Motion Graphics Artist
Chris Ozminkski, Location Manager / Set Designer
Miles Marie, Makeup Artist / Photo Assistant
Stein Van Bael, Hair Stylist
Justin Erion, Set Photographer
Priscilla Creswell, Production Assistant
Reznor Angel, Production Assistant
Pete Baker, Creative Director / On-Set Photographer
Ben Armes, Associate Video Producer
Sarah Ovresat, Storyboard Illustrator