Industry News
Breach Protection for Financial Services Starts With 2FA
The financial services industry is broad and roomy as it covers everything from stocks and investment portfolios, to banking and insurance, to technology that caters to the FinServ industry. There is that old saying "follow the money" and when it comes to breaches with high impact, they typically involve bad actors trying to get to the money. The impact of a breach for financial services is significant, with one study reporting an average cost of $1.3 million to restore services after every DNS attack and an average of 10 attacks per year, and that is not including downtime or resources required to address the breach. The good news is essential financial services breach protection begins with an affordable solution, two-factor authentication (2FA). 
As financial institutions move into the hybrid cloud and incorporate more mobile technology, new data shows that 45% of access requests to protected applications come from outside the firewalls. To stay compliant with the new federal, state and local laws, financial firms are putting 2FA in place as a preventative measure and to stay compliant. 
The perimeter has shifted, and to reduce the risk of a breach amid this shift, financial organizations of all sizes are enforcing 2FA as a cost-effective security control that can establish user and device trust before granting access to applications (this process is known as a zero-trust security approach where no device or user is trusted until authenticated and authorized by multiple factors vs. just a password). 
These security controls include strengthening user authentication, requiring screenlocks and disc encryption, disallowing devices with out-of-date browsers and operating systems, or blocking anonymous IP addresses, designating safe regions, among other steps. Organizations are able to use zero-trust tactics by implementing 2FA to quickly mitigate threats posed by zero-day vulnerabilities.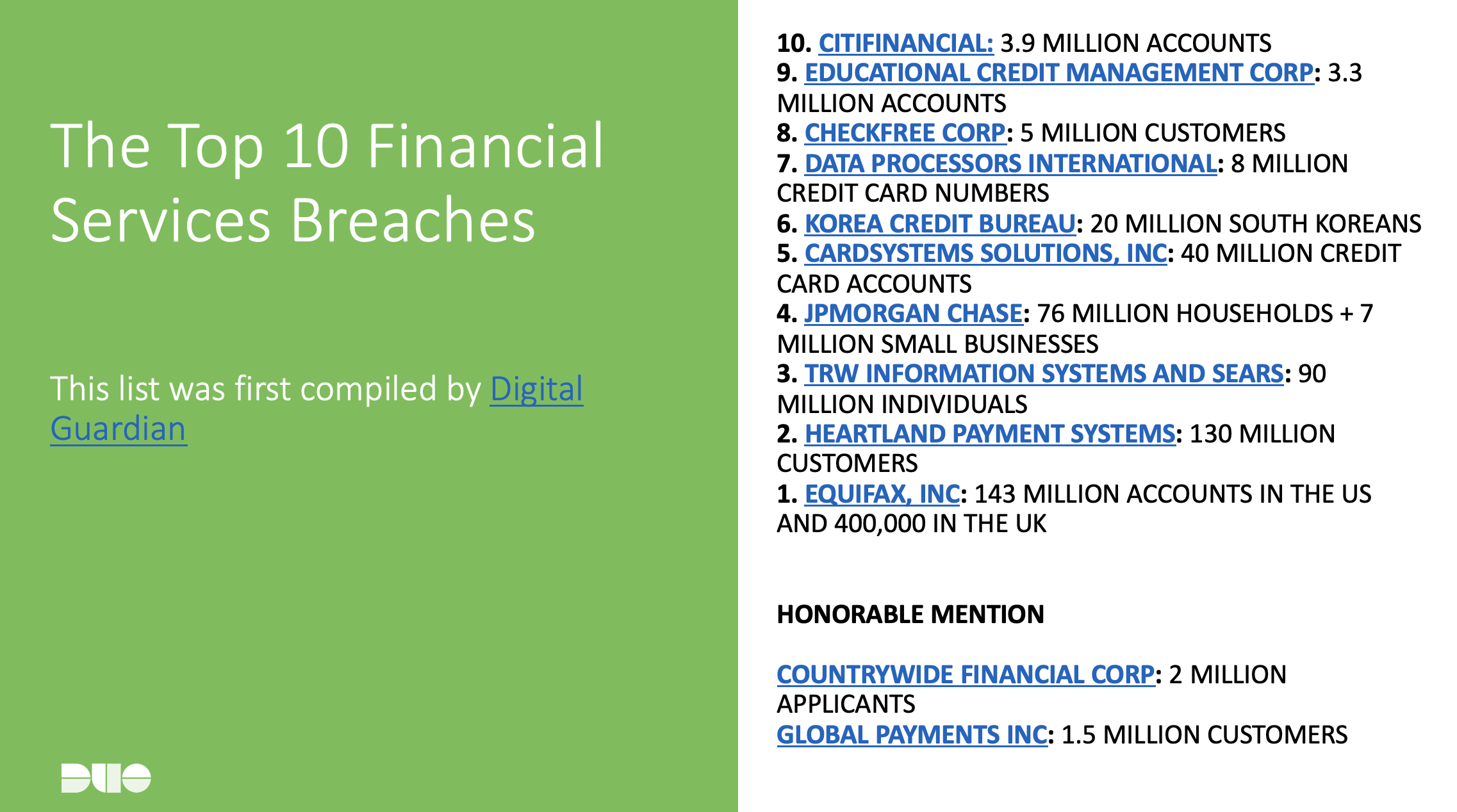 Passwords Just Aren't Enough Protection
The main reason why two-factor authentication matters is that a password is no longer strong protection for financial services data. Here are a few statistics as to why: 


How Duo's 2FA Can Be a Preemptive Barrier to a Financial Services Breach
The overwhelming majority of financial services breaches begin with stolen credentials. Credentials are stolen in a multitude of ways but the most common is by phishing or spear phishing, new technology like persistent keyword stuffing or weak passwords. The adoption of business on-the-go via mobile can make it less apparent that an email or link is fake due to shortened information displayed. Breaches happen, but to those who take a defense stance and adopt 2FA have a huge advantage to thwarting breaches because 2FA has been proven to prevent stolen credentials and is sanctioned by the White House as an important measure to prevent security breaches. 
Why Financial Organizations Choose Duo's 2FA Solution 
Cisco recently released the 2019 CISO Benchmark Study that confirms gaining clear visibility into network threats and getting to zero trust is a top priority for Financial Services CISOs. Duo Beyond is a zero-trust security platform that addresses user and device risk for every application so that CISOs can relax and rest easy, saving their energy for real problems. Duo helps financial companies:
Stay compliant. Duo provides end-to-end visibility, reporting and logs of assets. Duo's endpoint visibility gives a detailed overview of users' devices (managed or unmanaged, mobile and laptops/desktops) with compliance-friendly reporting and logs

Reduce time to security: Duo's native integrations protect on-premises, cloud, remote access, VPNs, etc. to enable business agility, allowing admins to roll out security in a matter of hours and days

Compromised credential prevention. Eliminate the threat of attacks that stem from compromised credentials with Duo's easy and effective 2FA. When a user logs into an application, they verify their identity with Duo's two-factor authentication (2FA), preventing the risk of unauthorized access due to stolen or weak passwords

Duo detects and tracks every device accessing protected applications, including desktop, laptop, mobile, corporate and personally-owned devices – without using an agent like MDM. Identify mobile devices with certain security features enabled or disabled, as well as their security posture. BYOD, no problem

Secure cloud infrastructure access. DevOps and engineering teams can SSH to servers remotely and securely with Duo to access development environments and deploy code, as required by compliance regulations

Duo does the work of many different security tools, all in one platform: strong/adaptive authentication, endpoint visibility and control, remote access and single sign-on – increasing the value of your security investment

Duo's technology and security partnership ecosystem makes it easy for you to eliminate complexity while protecting your existing IT investments

Notify users to update. Duo alerts users to install required updates to prevent risk

Have more policy control. Start adopting zero-trust security. Manage contextual policies, role-based policies, app-specific policies, location-specific policies and more with Duo. 


Duo Helps Align Security Operations with IT Operations
The Chinese symbol for danger doubles as the same symbol meaning opportunity. This paradox is similar to the competing priorities between CSOs and CISOs. On one hand, the CISO manages the security operations team with the goal of enforcing and controlling trust to keep data safe; while on the other hand the CIO manages the IT operations team and is tasked with completing projects and increasing revenue with a focus on expanding business with new technology. They often have similar but competing goals to modernize the way business is done and to be secure while maximizing efficiency and business objectives. 
Duo 2FA helps to align security operations with IT operations by streamlining multiple security tools in one agnostic platform.
Sign-up for a free trial to experience the product and see how Duo can preemptively help protect your financial organization from a cyber security breach and stay complaint.
Blog Recommendations:
#Winning: Securing FinServ Hybrid Clouds with MFA

How Duo Enables Compliance and Improves Security for the NYDFS Finance Regulation 23 NYCRR 500