Industry News
Cisco Named a Leader in 2019 Forrester Zero Trust Wave
Cisco, which acquired Duo Security last year, was recently named a leader in The Forrester Wave™: Zero Trust eXtended Ecosystem Platform Providers, Q4 2019 report.
"Cisco has adopted a zero-trust strategy and is well-positioned as a prominent zero-trust player."
     - The Forrester Wave™: Zero Trust eXtended Ecosystem Platform Providers, Q4 2019 

This is a major achievement and, in our opinion, recognition of a series of strategic moves Cisco has taken toward ensuring secure access to and for everyone - and - everything across the entire IT environment.
Duo is one key part of Cisco's overall zero-trust platform. Duo ensures secure access by users and their devices, before they access enterprise applications.

Zero Trust, for Everyone and Everything
At its most basic level, zero trust means never trust, but verify. To do that, you need to:
Establish trust by verifying user identities, device trust, workloads and more.

Enforce trust-based access by using contextual information to make policy decisions.

Continuously verify trust by monitoring security status and trust levels.
For every user, device, application, database, server, etc. that requests access to enterprise resources. Cisco applies this three-step methodology to provide zero-trust security for: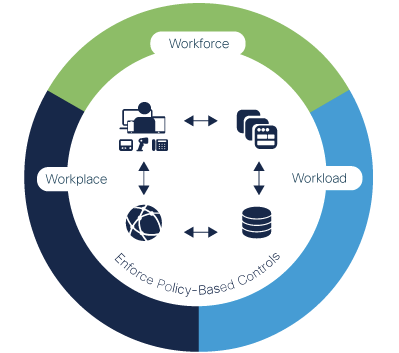 Workforce - Ensuring only the right users and secure devices can access applications - Duo is the primary product. 

Workload - Securing all connections within your apps, across the multi-cloud (data centers, hybrid, public/private cloud) - Tetration is the primary product. 

Workplace - Securing all user and device connections across your network, including IoT - SD-Access is the primary solution. 
Zero Trust for the Workforce
In the report, Forrester cites Cisco's integration of Duo's strong authentication offering, noting that the simplicity of its UIs and tooling strengthened the Cisco offering considerably.
"[Cisco] spent significant time and expense to realign much of its security portfolio to enable or enhance zero trust for its customers."
     - The Forrester Wave™: Zero Trust eXtended Ecosystem Platform Providers, Q4 2019 

Duo plays an important role in Cisco's goal to simplify how security is consumed and delivered. Duo's multi-factor authentication (MFA) is intuitive and easy to use, deploy and manage, providing a simple first step for any organization starting their journey toward zero trust. 

User and Device Trust
That first step is providing zero-trust security for the workforce, or ensuring only the right users and secure devices can access applications. Duo does this by:
Establishing trust of your end users by verifying their identity with MFA at the time of login. Duo also establishes the trust of end user devices by ensuring they're up to date and healthy.

Enforcing trust-based access to enterprise applications and data by enforcing granular access policies based on user roles, device security health and more.

Continuously verifying trust of users and devices by monitoring for indications of risky devices or out-of-date software versions susceptible to vulnerabilities.

Duo protects against unauthorized access to applications caused by phishing or stolen passwords, as well as against risky and potentially malware-infected devices.

Easy Deployment and Use
Forrester notes that deployment and ease of use are strengths across the Cisco Zero Trust portfolio. Duo's integrations with Cisco security and networking technology, third parties, productivity, remote access applications and more provide ease of deployment and broad coverage across the IT ecosystem.
Learn more about how your organization can extend trust for the workforce to provide greater visibility, detection and protection capabilities.

Adopting a Zero-Trust Security Framework With Duo
The University of Louisville Hospital was able to protect against phishing attacks and comply with HIPAA and PCI DSS requirements with the help of Duo. 
"We are adopting a zero-trust security framework, and we know we needed MFA to start with, and multiple clinician leaders recommended Duo. It was an easy choice for us. It was the first ever security solution recommended by the users and by clinicians. This never happens in healthcare."​
     - John Zuziak, CISO​, University of Louisville Hospital

This gave them a zero-trust approach to workforce security and a single view into their mobile device inventory and risk.

Learn more about how to start your journey with Cisco Zero Trust by signing up for a free Duo trial; demoing Tetration and learning more about SD-Access. 

See how different zero-trust vendor offerings and strategies stack up by downloading The Forrester Wave™: Zero Trust eXtended Ecosystem Platform Providers, Q4 2019 report.