Industry Events
Come See Us at SOURCE Boston 2014
Despite what the weather may imply, spring is officially here and that means it's time for SOURCE Boston! We're proud to announce that Duo Security is not only giving a presentation, but also sponsoring the event this year.
SOURCE brings together the top technological minds in the security industry with business professionals and industry experts, offering tech talks, security workshops and networking opportunities.
If you're going to be at SOURCE Boston (April 8-10 at the Marriott Courtyard Boston) come say hello, grab some swag, and maybe even win a great prize!
Swing by Our Table to Maximize SOURCE Boston Awesomeness
If you've wanted to say hello to Duo Security in person but hadn't yet made it to an event we were at, two of our excellent team members will be at our table (#617) during SOURCE to answer your questions and hook you up with some Duo swag. If you want to chat about two-factor authentication, discuss your company's unique security challenges, or just have someone friendly to talk tech with, Duo's Hiroki and Zoe will have you covered.
If awesome prizes are your thing, drop off a business card at our table's "fishbowl" for a chance to win a brand new iPad Mini (Retina). You can also get your bingo card signed at our table for your chance to win a Pwn Pad from the SOURCE Boston folks.
Be sure to stop by our table early and often as our team will be giving out Duo-branded t-shirts, stickers, playing cards, and beer koozies. We love meeting customers, both current and future, so don't be shy!
Check out our Information Security Conference Calendar for a list of the top industry events as well as where we're headed next - Duo events are outlined in green!
BuildItSecure.ly Continues to Gain Steam in Effort to Secure IoT
After our soft launch at BSides San Francisco in February, Senior Security Researcher Zach Lanier and I have been working hard to keep the initial momentum behind BuildItSecure.ly going. We've been fortunate to find overwhelming support and outreach from industry professionals, organizations, and related initiatives that want to ensure our success.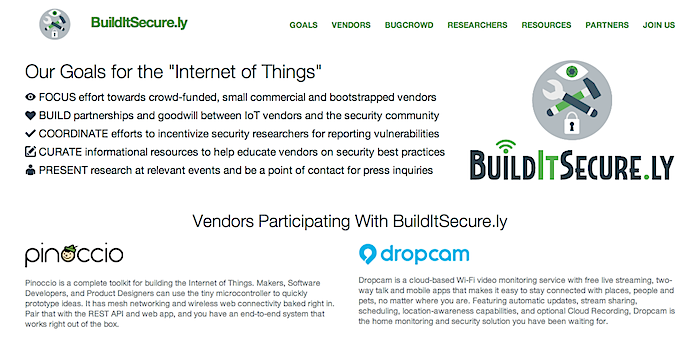 At SOURCE Boston, Zach and I will be presenting our talk, "The Internet of Things: We've Got to Chat" on April 10th, at 2:30PM for the 'Security & Technology' track. If you didn't get a chance to see our talk in San Francisco, now is your opportunity (on an entirely different coast). We'll be discussing some of the amazing vendors, partners, and researchers that we have on board with this initiative as well as the next steps toward realizing our goals.
If you're a small commercial, crowd-funded, or bootstrapped "Internet of Things" platform or product, we'd love to chat with you while we're in Boston. You can reach us at builditsecurely@duosecurity.com to schedule a meeting, discuss being involved, or just to send some love. You can also follow us on Twitter to keep up with the latest news and announcements for the initiative.