Product & Engineering
Duo Does the Work For You: Device Insight & Analysis
Duo's latest release of Platform Edition makes it even easier for administrators to discover vulnerable software and critical issues in their environment. This year has already seen five updates to Java, seven updates to Chrome, and 15 updates to Flash! The common verbiage used with all of these updates? "Critical security and bug fixes."
Every update contains a list of vulnerability disclosures and corresponding fixes. Given the new security updates that appear weekly, it's overwhelming to keep up with vulnerabilities and out-of-date endpoints while keeping your environment secure.
Duo enables its customers to navigate this complexity, regardless of preexisting security domain knowledge. With Platform Edition, you don't have to know what is vulnerable or when new software versions are released, because we do the homework for you.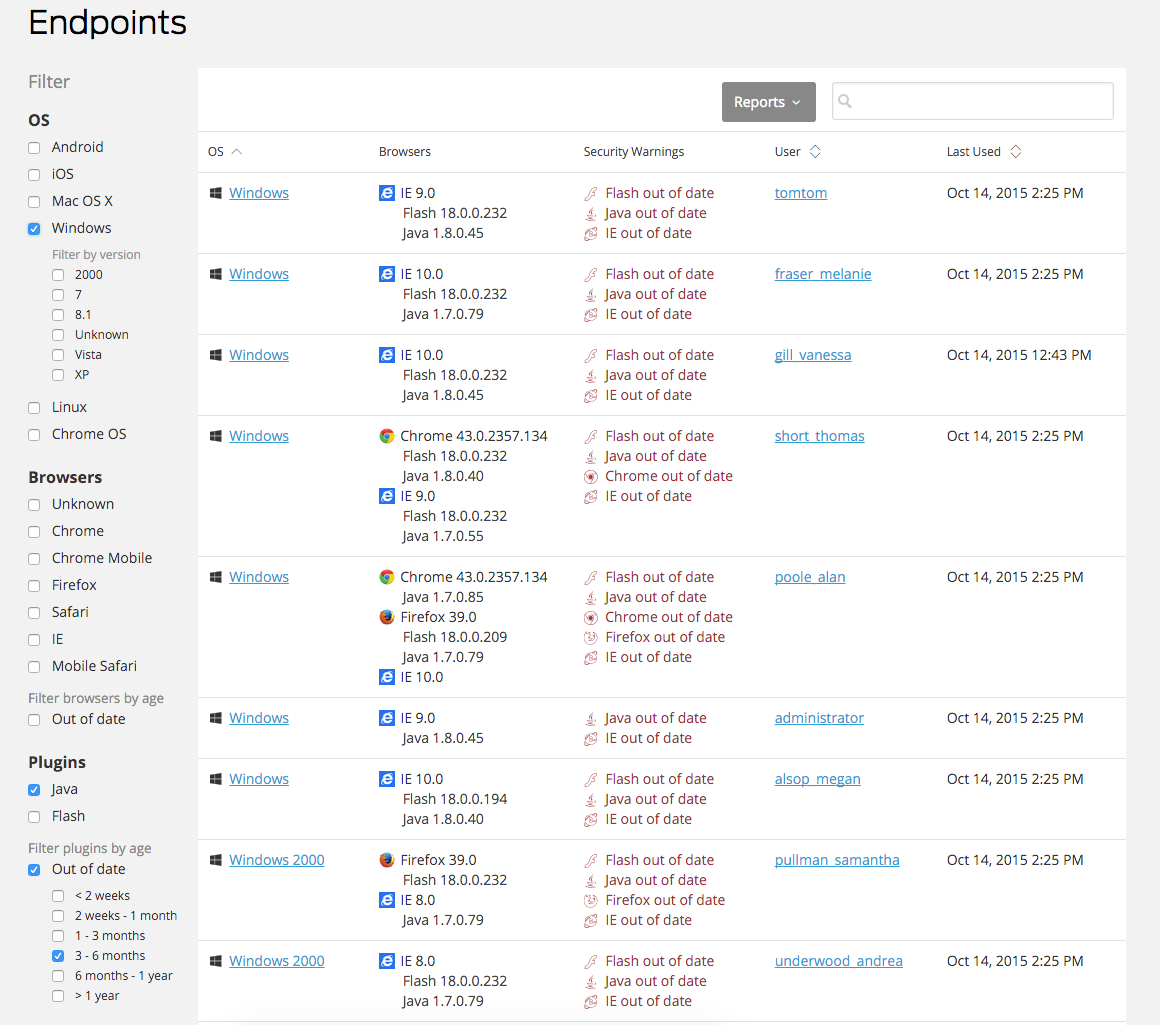 We empower you to find out-of-date software without ever looking up a version number or knowing specific vulnerabilities. For our more data-driven customers, we'll still provide details on specific version numbers, as well as the history of older versions.
With our updates to the Laptops and Desktops section of Device Insight, we pair high-level details with visual understanding of the environment. The goal is to enable you to find out-of-date and vulnerable operating systems, browsers, and plugins.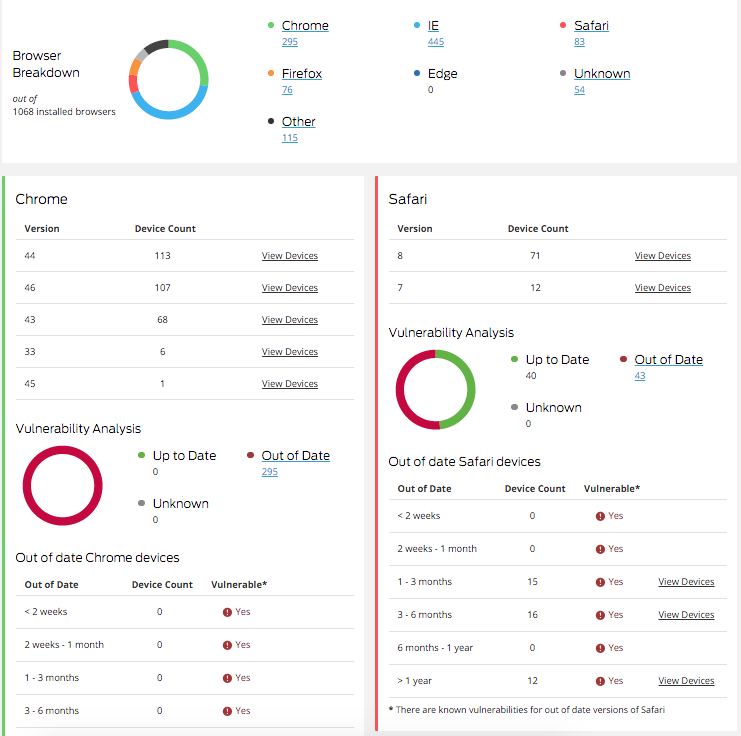 Duo's dashboard view of your devices gives you a high-level overview
Starting from the Device Insight dashboards, you'll find unique workflows to isolate critical sections of your environment. For example, you can find all endpoints that have out-of-date versions of Flash, or all endpoints with versions of Chrome that have been out of date for a year with the help of Duo's Device Analysis feature.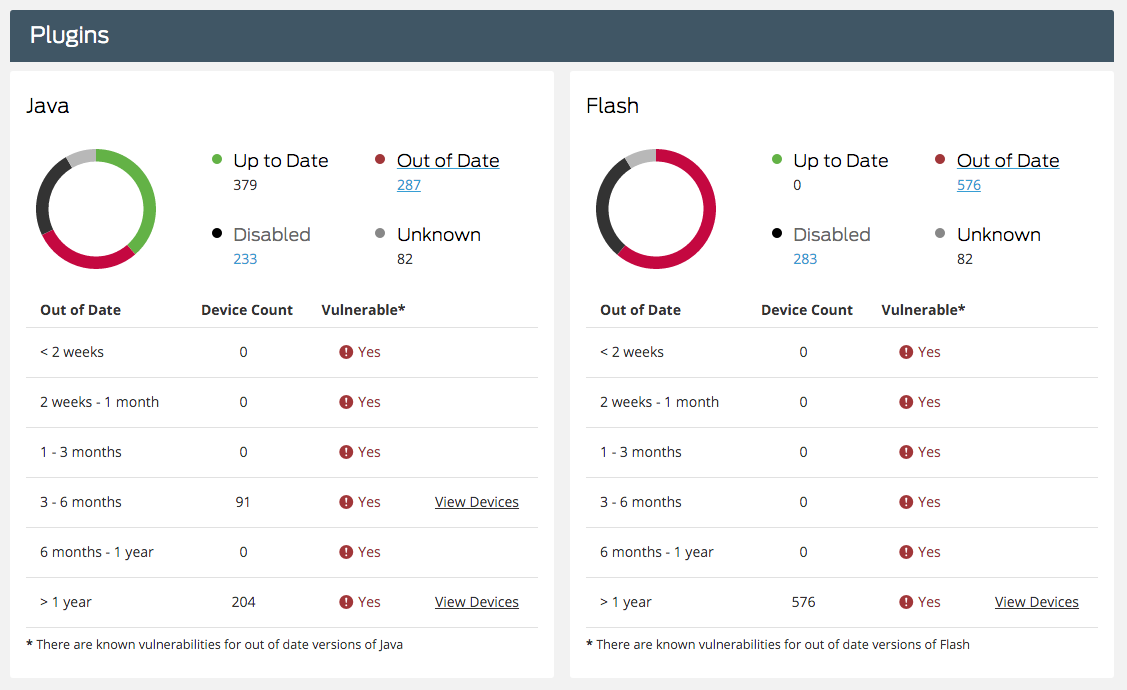 Duo flags endpoints with out-of-date plugins or software
You can further refine your search with additional filters, such as out-of-date warnings and version information. This refined list can be leveraged to directly contact end users to assist in device remediation. Single devices and users can be isolated for detailed information that includes version information for endpoints and contact information for the user.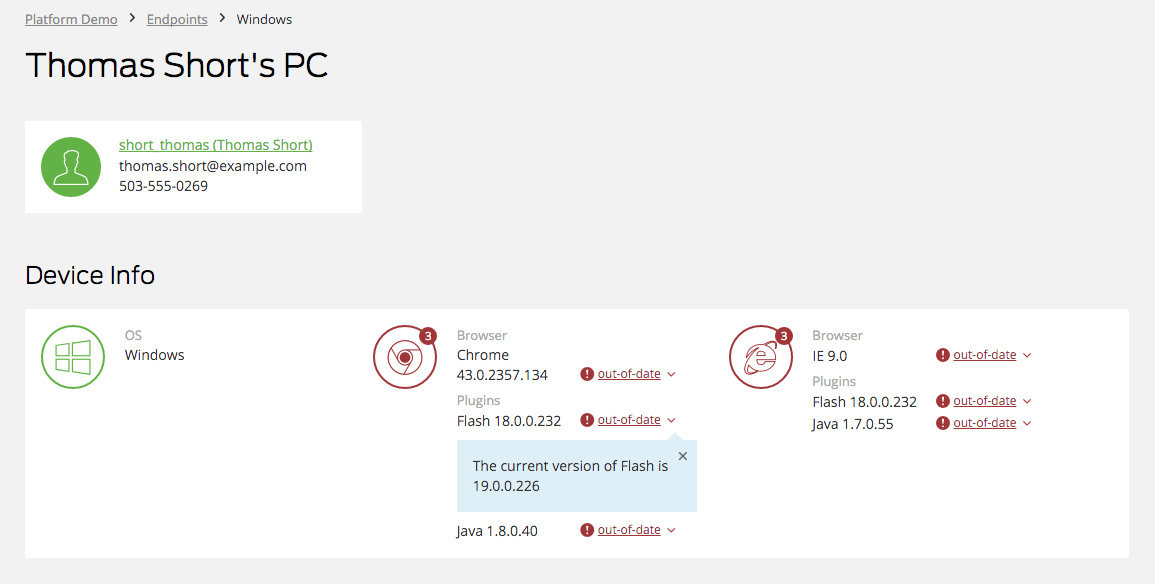 Duo lets you drill down to specific users and devices for remediation
We aim to make security easier for everyone, including end users and administrators alike. With our upcoming Self-Remediation feature, we hope to help drive down the risk of breaches and vulnerable endpoints. Visibility and analysis of those endpoints is the first step towards that.
Check out Platform Edition to see these new awesome features!
Note: Duo's Platform Edition is now known as Duo Access - with even more features. Please visit our Pricing page to view our latest editions.