Product & Engineering
Duo Expands Device Trust to Corporate Devices Managed by Microsoft Intune
With remote work, BYOD and hybrid app environments becoming the norm, IT teams need to enforce controls for the users and devices that can access sensitive corporate data and applications. From a Zero Trust perspective, these controls need to apply regardless of where the user is accessing the application from and if the application is cloud-based or on-premise.  
Duo's industry-leading MFA solution provides the necessary controls to ensure that the user is trusted and really is who they say they are by verifying identity access in multiple ways. Duo's Trusted Endpoints solution adds to those controls by ensuring that the user is using a corporate-issued device that meets corporate guidelines for software patching and application/data access. 

Trusted Endpoints + Microsoft Intune
Duo's Trusted Endpoints solution, part of the Duo Beyond edition, has now been in the market since 2017. Since launch, we have been focused on making the solution more relevant by integrating it with a wide variety of device management solutions our customers have deployed. We have also been focusing on further extending the solution to account for the growth in both ChromeOS and Linux endpoints as they become increasingly commonplace in corporate device fleets. 
In the spirit of continually extending our solution based on how our customers want to leverage it, we are pleased to now also support devices that are managed by Microsoft Intune. Over the past year, we have seen the rapid growth in Microsoft Intune's adoption particularly for customers who previously were using Microsoft Entra ID Directory Services or Microsoft SCCM for managing their corporate-issued devices. The Microsoft Intune integration will cover iOS, Android, and Windows devices (8.1 and above) managed by Intune.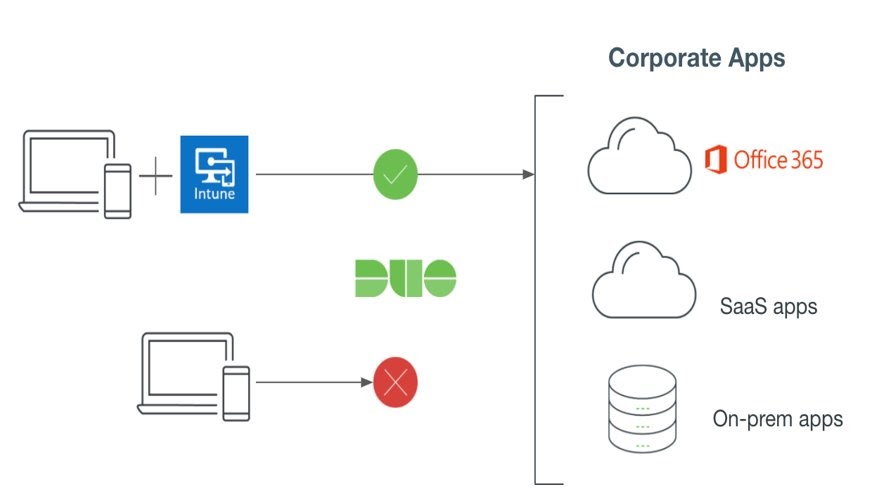 ​This integration is designed to be set up in a matter of minutes and we can't wait for our customers to take advantage of it in order to ensure all access, remote or from an office, to cloud apps or on-prem apps, is granted to only trusted users from trusted and managed devices
Customer Value Proposition
With this integration, Duo makes it easy for Microsoft customers to reduce security risks due to non-compliant and vulnerable devices accessing sensitive data. Administrators can easily limit access to critical applications only to devices enrolled in Intune, while enabling BYOD for other applications. 
IT and security teams can consolidate their access policies in one central location - Duo; and apply them consistently across managed and unmanaged devices. This helps security professionals to achieve their ultimate goal - reducing cyber risk while providing seamless access for the diverse workforce population (users and devices). 
The Microsoft Intune integration is now Generally Available to Duo Beyond customers from the Duo Admin Panel. We are glad to be able to get this integration out especially in these times where the balance has tilted heavily towards supporting employees working remotely from their home offices. 

Register now 
Register for the sponsored live webinar on simplifying secure remote work using Duo and Microsoft.

Recommended Reading

Try Duo For Free

With our free 30-day trial you can see for yourself how easy it is to get started with Duo and secure your workforce, from anywhere and on any device.
Download this essential guide on how to enable zero trust access for Microsoft applications.