Product & Engineering
Duo Mobile 3.4 Update for iOS & Android
We've just rolled out a series of new updates to our Duo Mobile app to make two-factor authentication via push notifications even easier for our users! Our previous updates include Duo Mobile 3.1.0 (new look and feel for iOS 7, plus more third-party support), and Duo Mobile 3.2 for Android (authentication via notification feature).
Duo Mobile 3.4 is slated for release today, August 28 at 12PM EDT in both the Apple App Store and Google Play Store.
Push Bar: Displays Multiple Auth Requests
We designed the new push bar to better inform you about incoming authentication requests. The push bar not only tells you how many requests you have waiting to be answered, it does it without interrupting your workflow.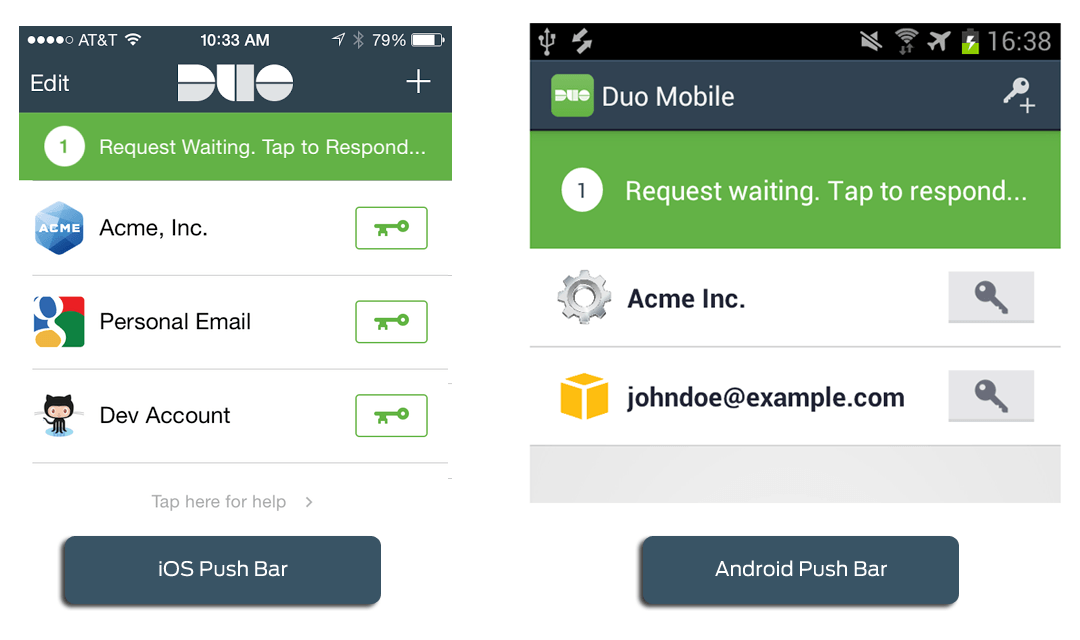 This push bar automatically displays the number of authentication requests you have, allowing you to tap to respond to each of them. Previously, if you had more than one notification waiting, you would have to use the Duo Push button. Now you can just open up the app and see all of your notifications automatically.
Removed Manual Duo Push Button; Replaced by Auto-Pull
We also removed the Duo Push button at the bottom of the app to reflect the new auto-pull features in our 3.4 update. You no longer need to tap a button to receive updates as auto-pull checks for available push authentication requests whenever the app is opened.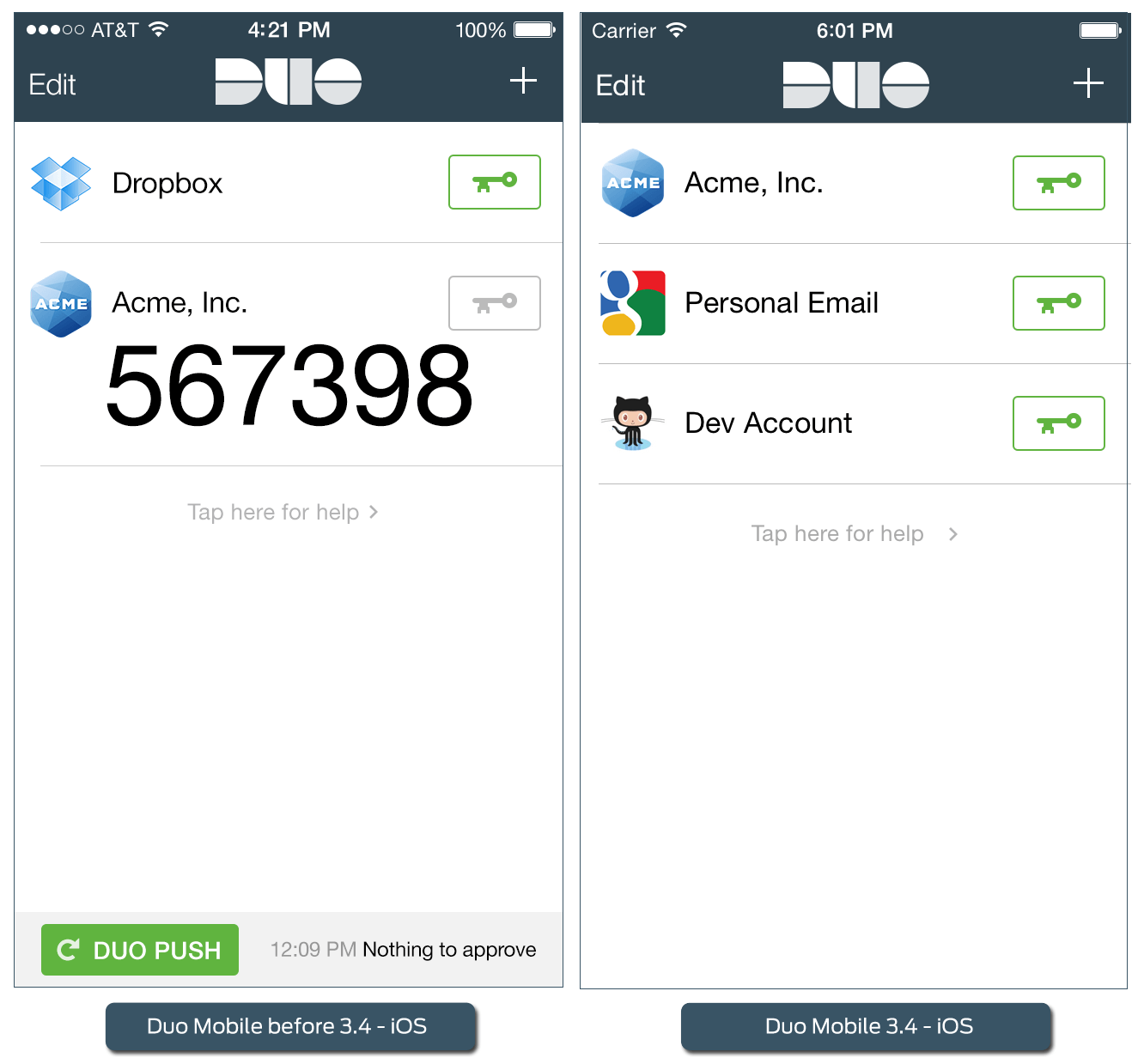 Previously, iOS users may have encountered an issue with swiping their locked phones when receiving a notification. If you didn't swipe your Duo Push notification correctly on your screen, you'd be forced to manually fetch the notification via the Duo Push button within the app.
With our auto-pull update, you can now open the app and get the notifications automatically, making it even faster and more convenient to use our app to authenticate.
Added Pull to Refresh Functionality
Replacing the manual Duo Push button for refresh, we've also added a pull to refresh feature to the app. Similar to other apps that let you pull the top of the screen to refresh for new content, this feature lets you check for new authentication requests manually. See it in action!
However, with our new auto-pull feature, the need to pull to refresh your Duo Mobile app will rarely be necessary to use.
Network Status Notification for Android: Great on Airplanes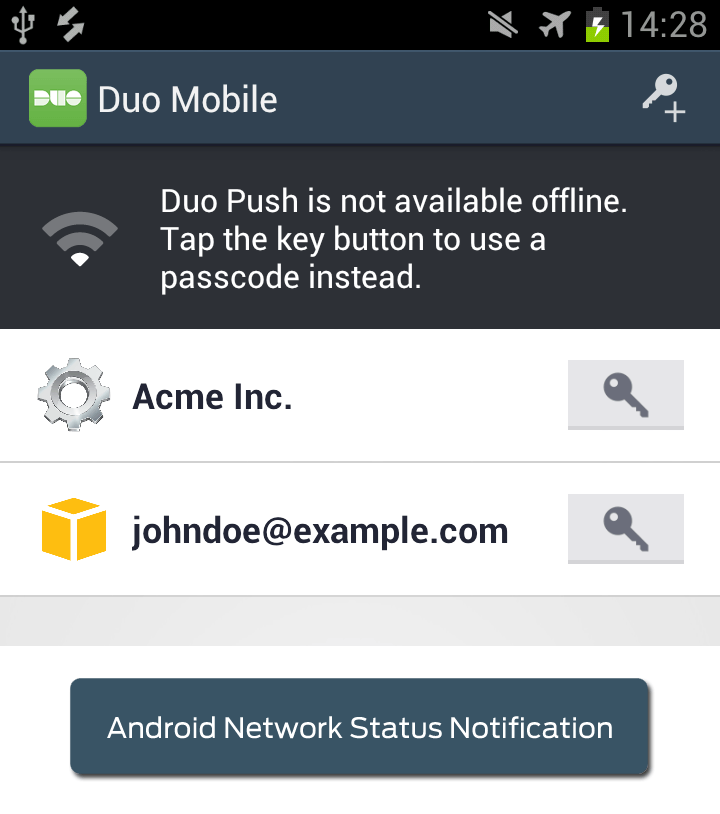 We also added a network status notification feature for Android users that conveniently lets you know when no Wi-Fi or cellular network is available, reminding you that you can still use passcodes generated by the Duo Mobile app to authenticate.
This is great for traveling on airplanes, as you may run into problems authenticating if you typically use the push authentication method. This feature is only available in the Android version of Duo Mobile 3.4.
Just tap the key button on the righthand side to generate a one-time passcode that you can enter into your two-factor authentication prompt screen to authenticate.
One-Tap Copy for Passcodes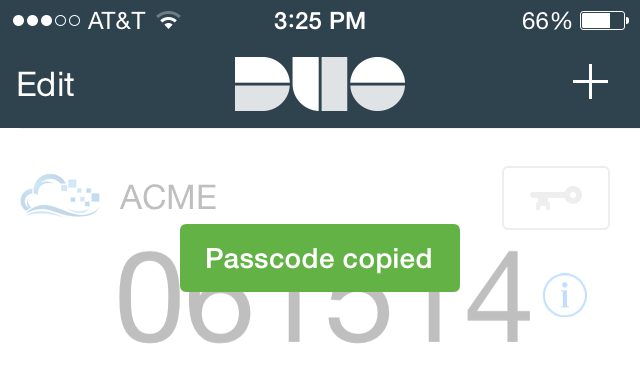 To make it easier on you when/if you need to authenticate via passcode on another app on your phone, we've added a feature that lets you tap the passcode to copy it to your phone's clipboard.
That way, when you open up another app that requires two-factor authentication to login, you can simply paste the passcode in.
What's New Feature
And to keep you updated on what's new with the Duo Mobile app, we've added a screen that first launches on Duo Mobile whenever we have new features or changes.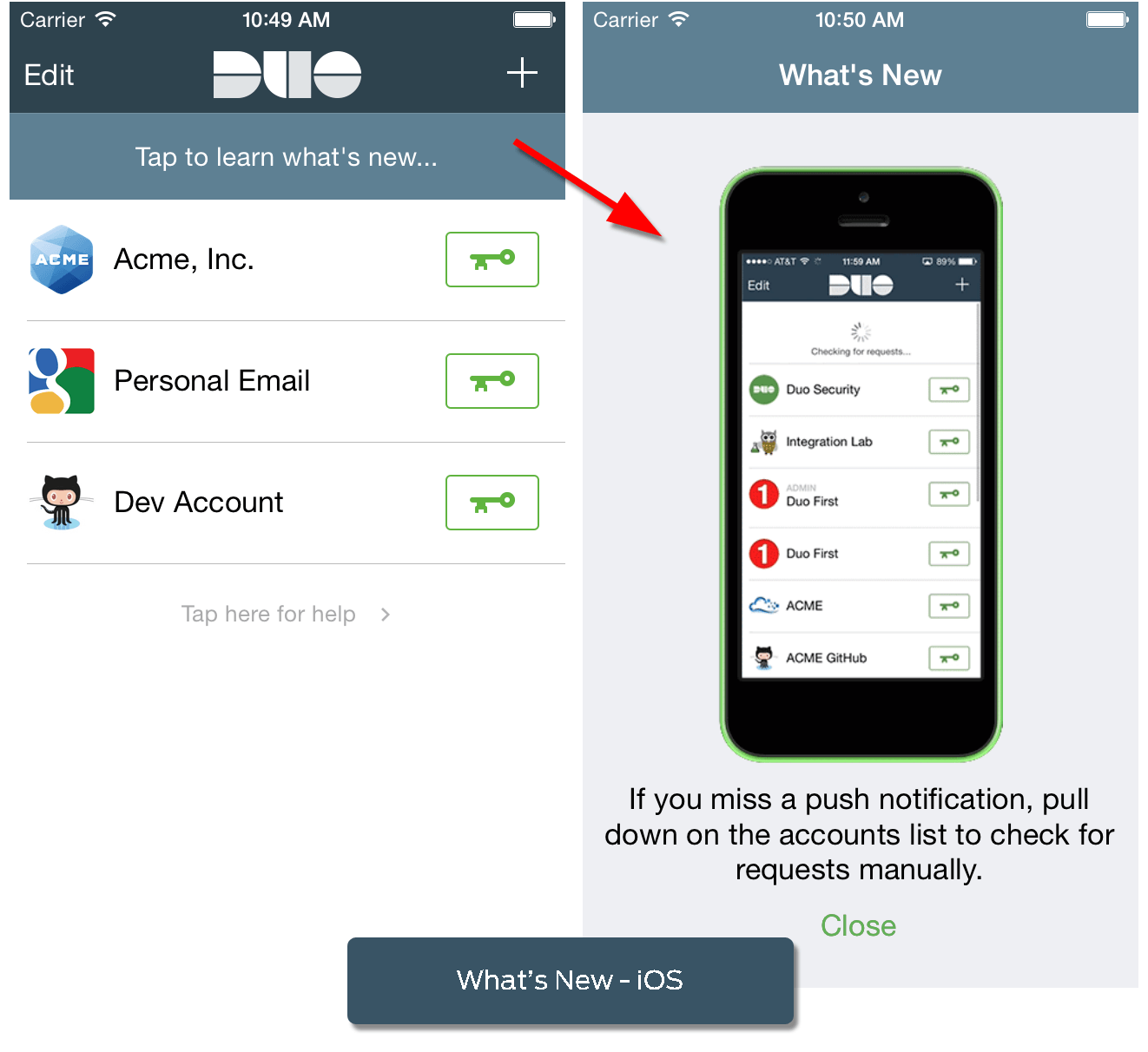 We hope these updates make our two-factor authentication app easier and more convenient to use. Check our Product Updates feed on our blog for future updates!