Product & Engineering
Duo's Managed Service Provider Program Ends First Year with a Bang!
This year, we soft-launched the Duo MSP (Managed Service Provider) program in response to high market demand from the service provider community. We designed the program based on direct feedback from MSPs on how they like to do business and focused our program around one core principle: simplicity.
Our MSP program makes it easy for MSPs to buy and manage Duo while growing a new line of business. We are thrilled to announce that we will be ringing in the first year with the addition of hundreds of new MSPs added to the Duo family.
For those not familiar with the service, the Duo MSP program is a scalable program designed to give managed service providers the ability to offer Duo's Trusted Access solution as part of their service offerings. For simple management, Duo provides MSP partners with a multi-tenant management console. MSPs are given the flexibility to pay as they go on a monthly billing cycle so they can scale up and down depending their usage.
As a Duo MSP, you can now generate a new recurring revenue stream by offering multi-factor authentication as a service. In addition, Duo offers the ability to verify that trusted users are on healthy devices accessing the right applications. With Duo, you can see what browsers, plugins, OS, etc. are out-of-date and create the right policy to protect your organization. With Device Insight and comprehensive reporting, you have a robust solution that addresses both your security and operational needs.
Here is a quick peek at the MSP console, a single pane of glass from which you can manage all of your customers: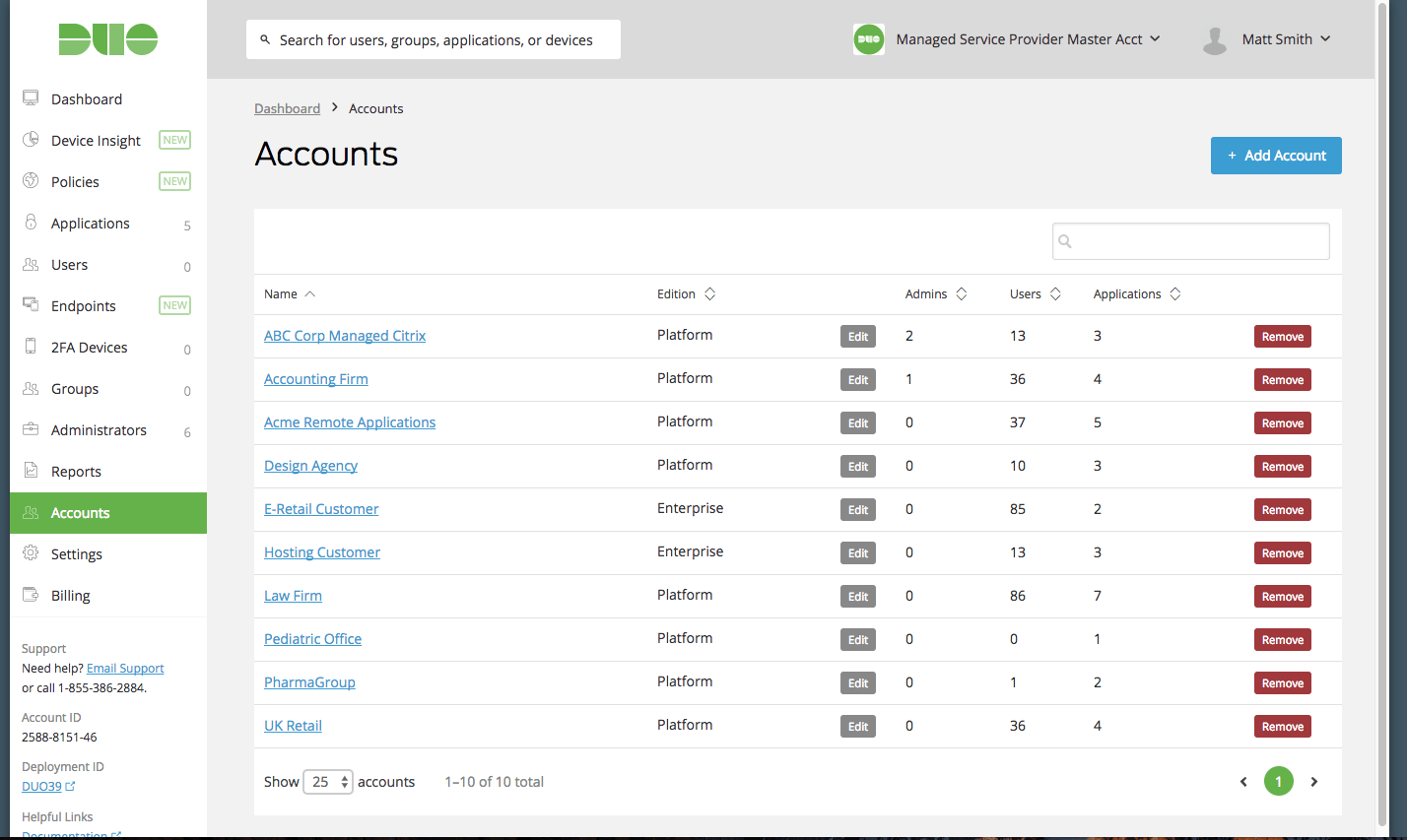 In addition to all the features available through the MSP console, Duo has many other tools to enable partner success:
Help clients understand their vulnerability by quickly deploying a free phishing assessment within their organization.
Use our free VPN hunter tool to find and identify prospective clients that may need to protect their remote access.
Our industry-leading documentation, world-class support and dedicated onboarding and partner enablement will ensure your success. After all: your success is our success.
To find out more - please visit our MSP page.