Product & Engineering
Duo's New Features Make Endpoint Security Easy & Effective!
When customers tell us why they choose Duo, the number one reason is that it's easy: it's easy to deploy, it's easy to manage, and it's easy to use. We often receive requests to take the same approach to other problems IT administrators face.
Last May, we started that journey when we launched Platform Edition, which provides a number of features that allow IT administrators to secure access to applications and systems. Additionally, the Device Insight feature provides immediate value by giving visibility into mobile devices used to access your corporate data and systems.
Our latest product updates take this a step further, by providing insight into all types of endpoints, both managed and unmanaged, and across all types of devices, from laptops and desktops, to tablets and smartphones. We're particularly keen on addressing this since 88 percent of customers surveyed tell us that employees can access corporate data via their personally owned computers and devices.
Platform Edition now provides comprehensive analysis of these endpoints, so you can see which ones are vulnerable, and which ones are up-to-date. Fifty-seven percent of our customers tell us they have no visibility into what devices are accessing their corporate networks, and 79 percent of them are concerned with vulnerable and outdated operating systems on their networks. When we've shown these new features to customers, they were sometimes shocked to see some of the devices used to access their corporate applications.
What makes an endpoint vulnerable? A variety of conditions, including the age of the operating system, the types of browsers in use, the age of those browsers, and even the plugins in those browsers, especially Flash and Java. Fifty percent of users are running an out-of-date version of Java, which has over 400 known lifetime vulnerabilities and is installed on 3 billion devices. Being able to quickly determine what's vulnerable significantly drives down the risk of breach.
But that's not all! On top of visibility and analysis, Platform Edition will also enable you to allow your end users to choose to remediate vulnerabilities on their own with our Self-Remediation feature. If a user is running an old version of Flash, they'll be informed as such, and provided with directions on how to take care of the situation themselves.
This kind of visibility, coupled with analysis, control, and remediation is a form of preventive security, which minimizes the risk of breaches.
We're also adding more Identity Provider (IdP) connectors to Duo Access Gateway, so you can use it with OpenID Connect (OIDC), OpenLDAP, AzureAD, and SAML, in addition to Active Directory. We also support 5X as many cloud applications as we did at launch, including the top 10 most popular ones, like Office 365, Salesforce, and Google Apps, so your organization can protect your cloud applications as easily as you can your on-premises ones.
Finally, all of our customers will benefit from new features across the board, including things like an enhanced authentication prompt that reduces friction, so authentication is even easier for your end users. We find that the easier something is to use, the more readily people will use it. You can also allow the same users to trust specific endpoints for authentication for longer periods of time, and you can even configure that separately for each application if you so choose. We're also enhancing the user onboarding process to expedite protecting them from credential theft, and to give you the ability to see which users still need to be enrolled in the system.
All of this is to make it easier for you to protect your organization from a breach, while giving your users the access they need in an increasingly complex working environment. Let us help you simplify things!
Swing by our booth #1141, Hall C this week at Amazon re:Invent to see a live demo!
Learn more about The Current State of Endpoint Security in an infographic created by our Creative team, using Duo's own data analysis. Click below to see the full infographic.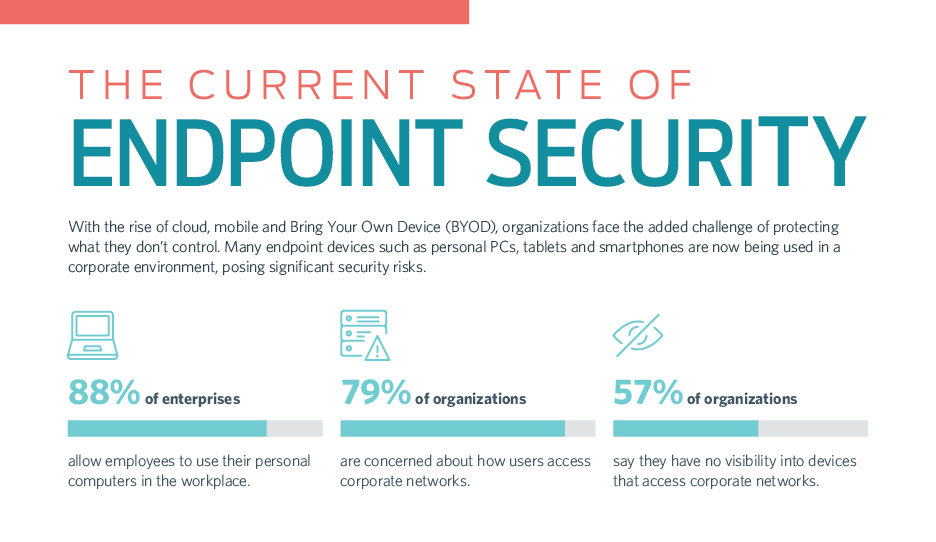 Note: Duo's Platform Edition is now known as Duo Access - with even more features. Please visit our Pricing page to view our latest editions.