Industry News
WHITE PAPER: How to Successfully Deploy Duo at Enterprise Scale
At Duo, we have helped thousands of companies to enable secure access to applications and services from anywhere on any device. Enterprise multi-factor authentication (MFA) rollouts can be complex and nuanced. We have found that the most successful rollouts include some upfront analysis and planning. It doesn't have to be time-consuming and usually pays off in faster speed to security and lower support costs.
Security that is easy is security that is used. We have found that putting users at the center of your rollout strategy is a great way to shift their mindsets from reluctant compliance to enthusiastic engagement.
According to ZDNet.com 99.9% of account hacks can be prevented with MFA. Duo's MFA (or two-factor authentication) is recommended by the Department of Homeland Security, is FedRAMP approved, helps the enterprise stay compliant and more. Our approach to security includes strong user identity protections, Device Trust, Trust Monitor, and adaptive policies to assist enterprise organizations on their journey to a zero-trust solution (trust no authentication attempt without verifying identity with a variety of factors). 
When you are ready for Duo's enterprise-level MFA solution, we created this step-by-step guide on our best practices for implementation.
In this white paper, you will learn about:
6 Steps to Successful Enterprise MFA Deployment 
1. User-Centric Planning
Enterprise organizations are most successful at MFA deployment when they place user experience at the forefront of their plan. In this guide, we share our must-use checklist for successful user adoption to help you fasttrack your mission.
2. Application Scoping
Whether you want to test run a pilot program for securing applications or need to do a full-scale deployment, this guide walks you through with our top planning tips for application scoping.
3. Rollout Strategy
A successful MFA execution for enterprise customers often starts with a thoughtful rollout strategy. Similar to launching a successful marketing campaign, introducing a new security process works best with notable touchpoints and milestones. This guide addresses useful strategies for enterprise rollouts. 
4. Communication to Users
There are many great ways to communicate with users when adopting an MFA security solution. In this guide, we share with you the best communication practices for enterprise customers that are tried and true based on our experience. 
5. Training and Support
Preparing the front lines and having the help desk team trained and ready is a recipe for success. This guide offers helpful hints on how to get the word out to users, while ramping up expertise internally.
6. How to Measure Success
We recommend starting with success metrics prior to adoption to create a clear path to measure successful outcomes. In this guide, we share common enterprise success metrics for you to keep in mind while preparing for your launch. 
"We consistently see that organizations who take the time to be thoughtful about their implementation increase their speed to security, reduce support costs and increase user satisfaction. That's often a welcome surprise," said Darcie Gainer, product marketing manager at Duo.
Learn more
Download our free white paper, "How to Successfully Deploy Duo at Enterprise Scale'' and learn how to jumpstart your organization's security modernization to cloud-based multi-factor authentication in six easy steps.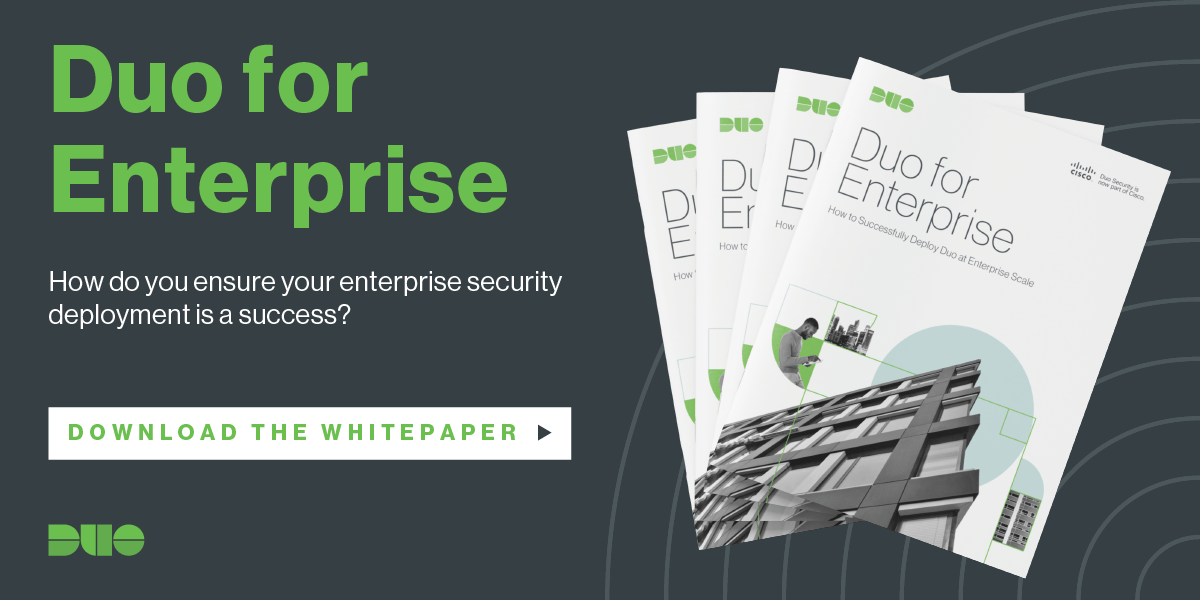 Try Duo For Free
With our free 30-day trial you can see how easy it is to get started with Duo and secure your workforce, from anywhere and on any device.