Industry News
Hello and Welcome Duo Germany!
Hallo und Willkommen Duo Deutschland! 
Duo is now open for business in Germany and we wanted to take a moment to introduce you to our German dream team. 
About Us
Duo Security, now part of Cisco, is the leading multi-factor authentication (MFA) and Zero Trust for the Workforce provider. Duo's zero-trust security platform, Duo Beyond, enables organizations to provide secure access to all of their critical applications - for any user, from anywhere, and with any device. Duo is a trusted partner to more than 15,000 customers globally, including Dresser-Rand, Etsy, Facebook, Paramount Pictures, Random House, Zillow and more. Founded in Ann Arbor, Michigan by Dug Song and Jon Oberheide in 2010, Duo has offices in growing hubs in Detroit; Austin, Texas; San Francisco, California; and London. Visit Duo.com to find out more.
What We'll Be Sharing
In our new "Duo in Germany" newsletter we will be sharing our latest news, in the form of blogs, product development, upgrades, the latest trends and news from the world of cybersecurity and more. Can't wait to find out more about Duo and what we have to offer? Find our latest resources and a 30- day free trial on duo.com.

Über Uns
Duo Security ist jetzt Teil von Cisco, und der führende Anbieter von Trusted Access Sicherheit und Multi-Faktor Authentifizierung. Mit Duo Beyond, der Zero Trust Sicherheitsplattform von Duo, können Unternehmen vertrauenswürdigen Zugriff auf alle wichtigen Anwendungen gewähren - für jeden Benutzer, von überall und mit jedem Gerät. Duo ist ein vertrauenswürdiger Partner für mehr als 15.000 Kunden weltweit, darunter Dresser-Rand, Etsy, Facebook, Paramount Pictures, Random House, Zillow und weitere. Duo wurde in Ann Arbor, Michigan, in 2010 von Dug Song und Jon Oberheide gegründet und verfügt über wachsenden Büros in Detroit, Austin, Texas; San Mateo, Kalifornien; und London, UK. Besuchen Sie Duo.com, um mehr zu erfahren.
Was Wir Teilen Werden
In unserem neuen Newsletter "Duo in Germany" werden wir unsere neuesten Nachrichten in Form von Blogs, Produktentwicklungen, Upgrades, den neuesten Trends und Nachrichten aus der Welt der Cybersicherheit und mehr veröffentlichen. Können Sie es kaum erwarten, mehr über Duo und unser Angebot zu erfahren? Auf duo.com finden Sie unsere neuesten Ressourcen und eine kostenlose 30-Tage-Testversion.
Das Team
Haben Sie schon alle unsere Duo EMEA Deutschsprachigen getroffen?
Treffen Sie sie jetzt:

Meet the German Team
Have you met all of our Duo EMEA German speakers?

Meet them now: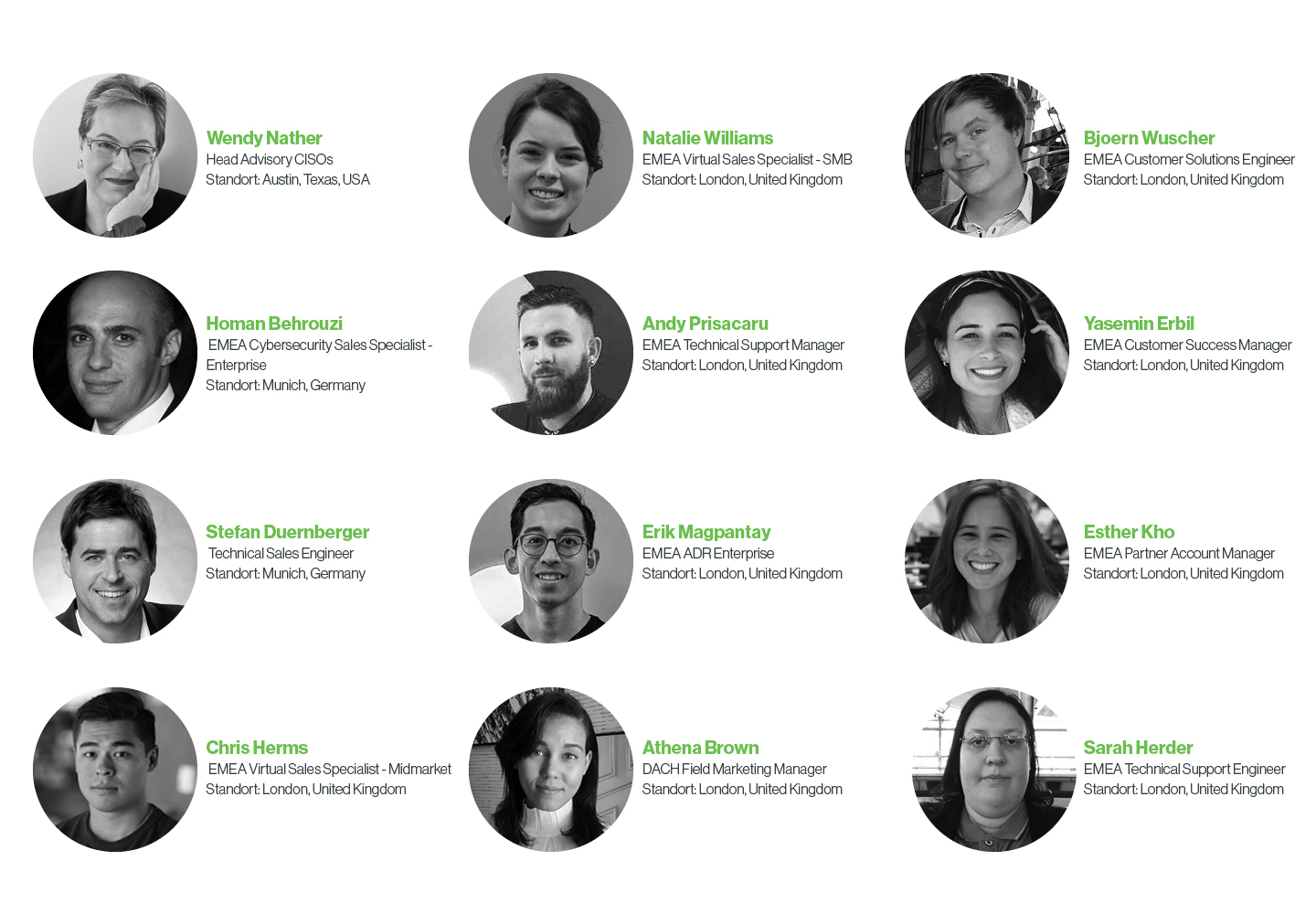 Try Duo For Free.
With our free 30-day trial you can see for yourself how easy it is to get started with Duo and secure your workforce, from anywhere and on any device.