Industry News
How Cisco Rolled Out Zero Trust With Duo to 100,000+ Users
There's nothing like being a part of a team that has a goal of rolling out zero trust to 100,000 users in less than six months. If you're thinking to yourself...that's fast! You are 100% correct! It was very fast, incredibly efficient, and highly effective. 
Cisco IT recently rolled out a significant security upgrade for their workforce. With the help of Duo Security, Cisco users can now access resources more seamlessly and efficiently. I am half of a Duo Care team that helped Cisco IT achieve its ambitious goal. Duo Care is a premium service many of our customers have today. Customers are assigned a Customer Success Manager (that's me!) and a Customer Solutions Engineer who are there to help with our customer's deployments and ongoing iterations of their security stacks. We gleefully get to be in the room where it happens. 

The 100,000+ User Rollout of Duo to Cisco
What is impressive about this rollout is not only the scale but Cisco's ability to anticipate their user's needs. They did so well that only less than 1% of users contact the help desk. When an enterprise organization is rolling out a security stack to 100,000+ users, 120,000+ devices, within a span of 5 months there are a lot of lessons to be learned.
#1 - Have a plan and know the challenges you're trying to overcome 

Cisco had a clear vision, which allowed for everyone on the project to understand the mission. At a high level, they wanted to protect worldwide access, expand access to users securely, secure all users and devices, and have a consistent experience for users
#2 - Executive buy in is key! 

Anytime Cisco needed to move fast, they had air cover from the top to push through what was needed to get the job done. 
#3 - Keep your end user in mind

With evolving sophistication of security, the end user experience should improve. Less passwords, less authentication, less barriers to get work done. All while increasing security.
#4 - Don't go at it alone - we are here to help!

When Duo says we want to democratize security, we don't just mean making MFA (multi-factor authentication)  easy. Our portfolio has grown, matured, and gone through the test of a Cisco wide rollout. We want to make all of our solutions easy. 
This is a list of tools our customers are using to meet their zero trust goals: 
Lastly, and I think this is something many folks already know, zero trust is a journey. And it's not a one size fits all. Duo is constantly pushing ourselves to innovate ahead of the curve. 

If you're interested in learning more about how Duo can help your organization with its zero trust initiatives, please contact your Duo Care team or our support team at support@duo.com.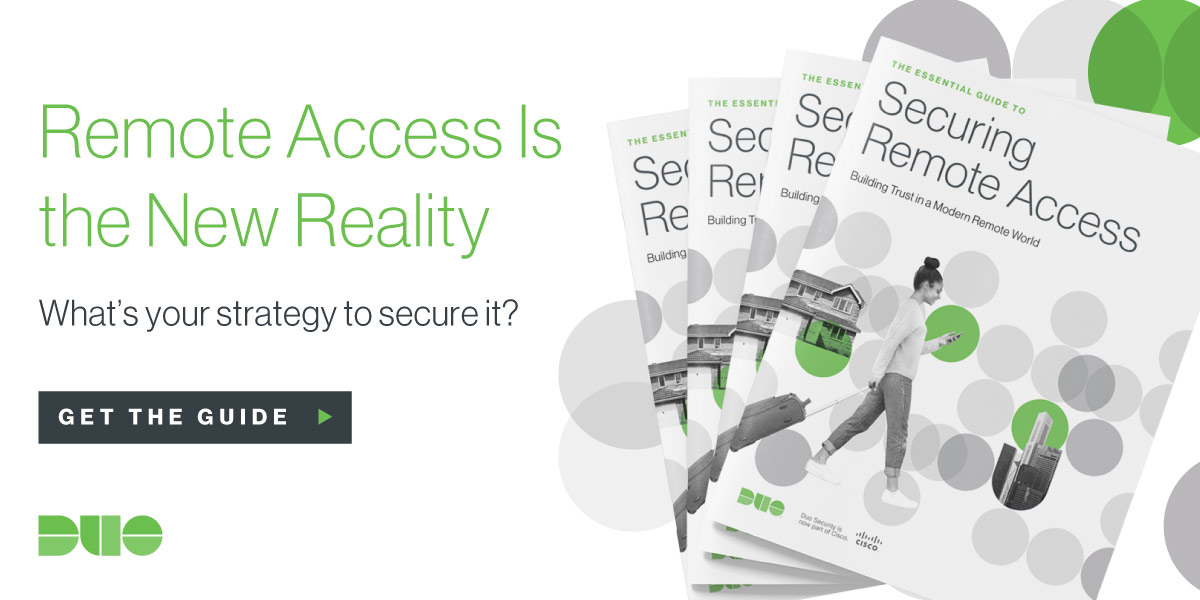 Try Duo For Free

See how easy it is to get started with Duo and secure your workforce, from anywhere and on any device with our free 30-day trial.