Industry News
How Duo and Our Technology Partners Enable a Remote Workforce
How do you enable an increasingly remote workforce with confidence? Duo's security solutions complement any technical environment, and are engineered to verify identity and establish device trust no matter how, where, or when your users choose to log in.
Secure Your Remote Workforce, Fast
Users have left the building, and it's up to your security team to make sure they are protected on any device, wherever and whenever they choose to work. Remote workers need secure access to their applications and critical resources, whether they reside in the public cloud or on-premises behind perimeter security. At Duo, the number of companies interested in being a Duo Technology Partner has grown by 70% and new integrations supporting Duo have doubled.
Why Security Is Important, Especially for Remote Work Environment
81% of breaches involve compromised credentials. The threat of compromised credentials can magnify when you are outside of your office work environment.

52% of survey respondents stated mobile devices are challenging to defend. When working remotely, employees use multiple devices to access your network and applications. Unknown and unmanaged devices are a risk.

27% of organizations are currently using multi-factor authentication (MFA) when accessing any application. It is good to see organizations adopting MFA, but this should be a practice all organizations use.
What Duo Delivers To Empower Remote Workers
Employees can securely work from anywhere on any device

Duo can verify user identities and establish device trust

Duo ensures users can access corporate resources from remote locations
Why Choose the Duo Security Solution?
For organizations big or small that need to protect sensitive data at scale, Duo is the user-friendly zero-trust security platform for all users, all devices and all applications. At Duo, we are seeing an increased need to protect remote workers and remote access to the applications and infrastructure they need to work from anywhere.
To serve our customers, Duo has native and out-of-the-box third-party integrations with hundreds of Technology Partners to secure and enable organizations to adopt Duo in any technical environment.
Top 5 Ways to Enable Remote Access
1. Secure Remote Network Access Through a VPN
Organizations can enable secure access to the enterprise network for any user, from any device, at any time, in any location.
Cisco AnyConnect protects your enterprise resources with a single agent for access to on-premises and off-premises (cloud) applications. Duo's integration with Cisco AnyConnect adds strong multi-factor authentication when employees request access to verify their identity and security of their devices.
Duo's integration with Cisco ASA and Cisco Firepower Threat Defense (FTD) provides strong user authentication, device security hygiene check, and visibility into the access requests and devices made to your network.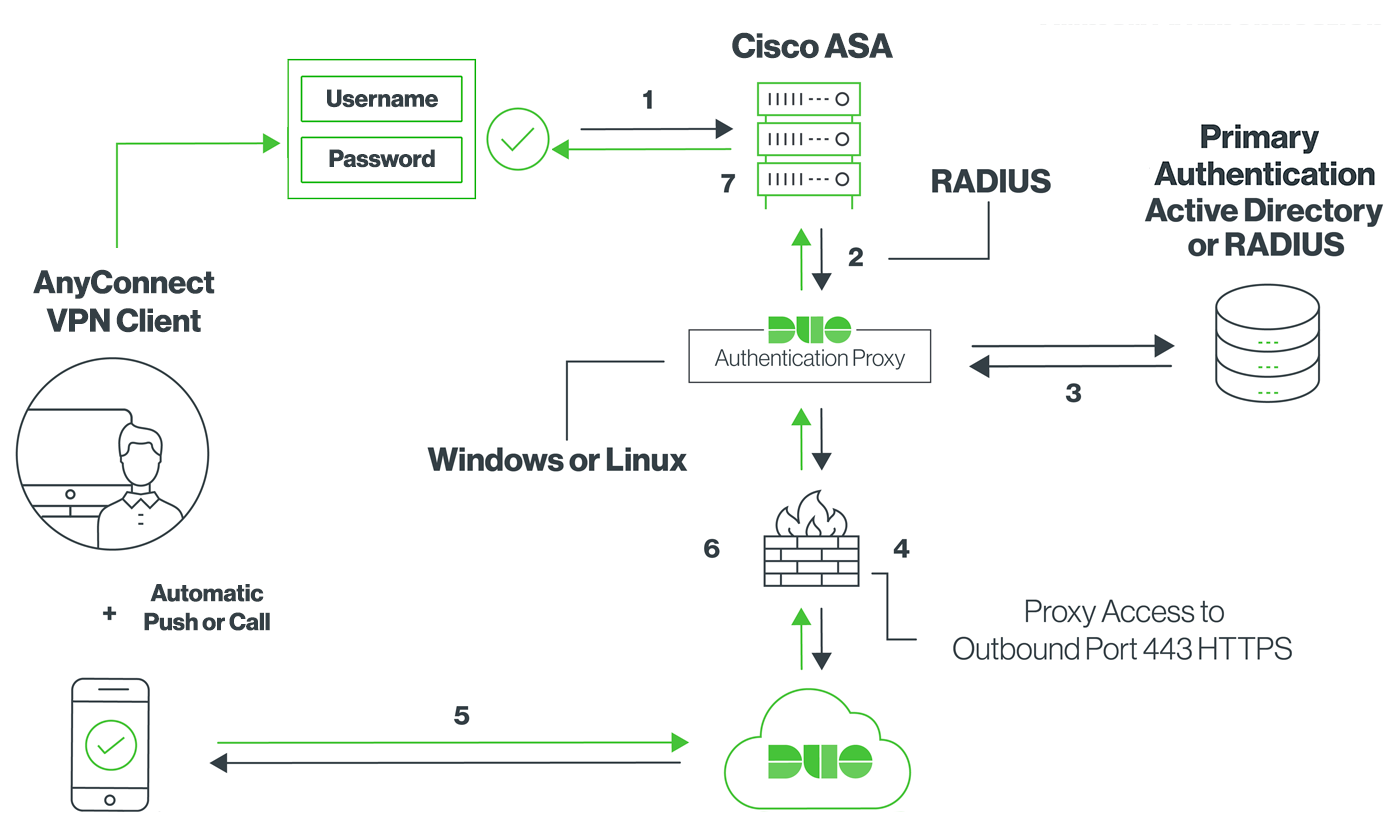 Duo also works with these leading third-party Remote Network Access/VPN solutions:
2. Secure Remote Access Gateways
Remote Access to enterprise hosted and cloud applications. Duo's modern remote access protects every application, so your users can continue working with the tools they love from any device.
With Duo Network Gateway your employees can securely access your internal web applications from any device, using any browser, from anywhere in the world, without having to install or configure remote access software on their devices.
In addition to the Duo Network Gateway, we also support integrations with these leading providers of Remote Access:
Duo Remote Access Gateway Integrations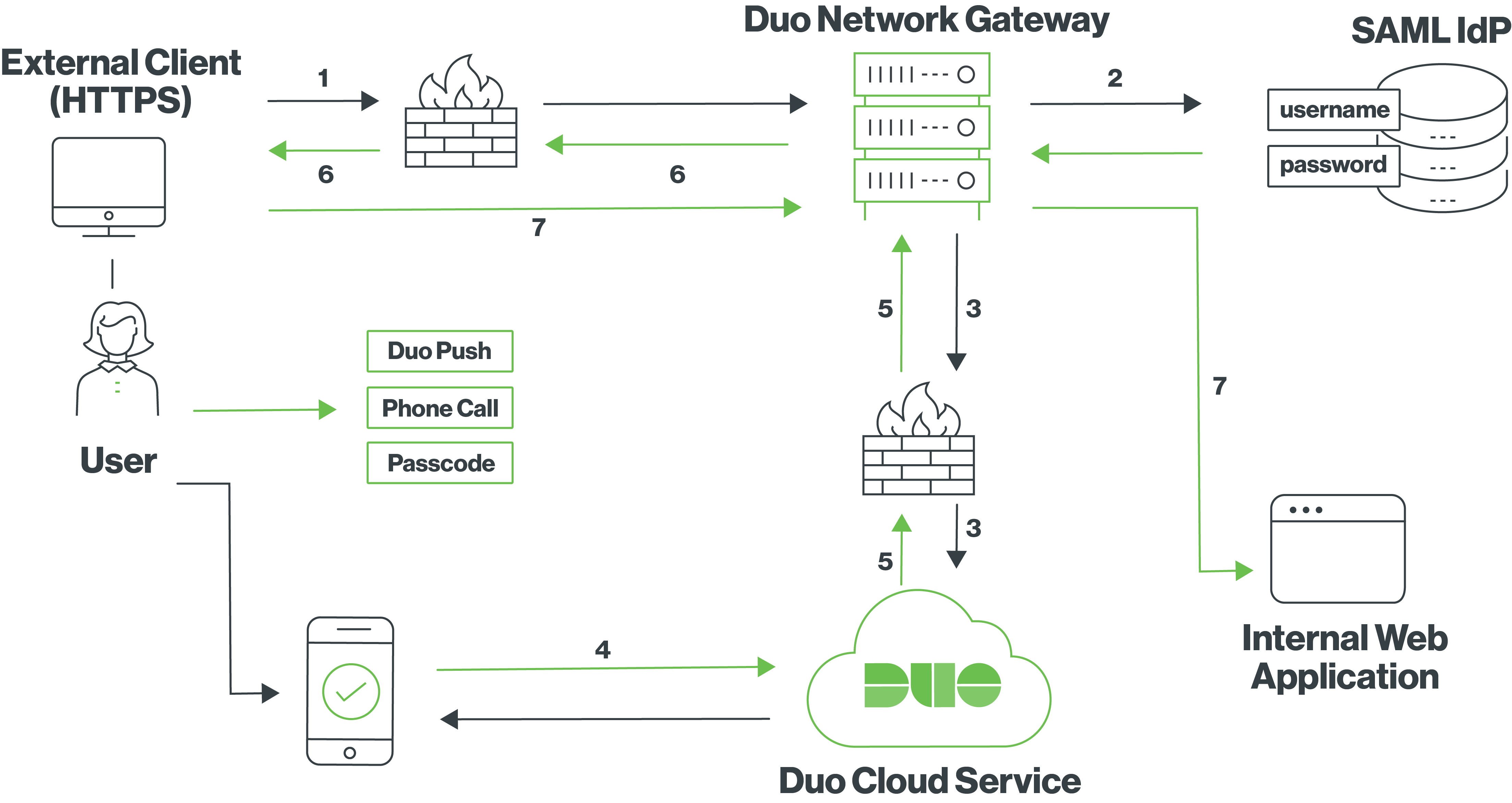 3. Secure Remote Desktops and Digital Workspace
Securely access your work computer from your phone, tablet, or laptop with remote desktops and digital workspaces. These workspaces are a unique virtual environment for each worker, centralizing applications, desktops and files allowing for access from anywhere.
Duo provides secure access to remote desktops and digital workspaces, ensuring only your authenticated users can access the right applications and desktops.
Remote Desktops and Workspace Duo Integration:
4. Secure Remote Conferencing and Messaging
Workers need to be able to collaborate and communicate from wherever they are working. Duo provides the simplest, most secure means for workers to stay connected with these solutions.
Duo works with Webex and Webex Teams, allowing you to stay connected from home on any device. Duo also works with other popular video conferencing and messaging solutions.
Remote Conferencing and Messaging Solutions With Duo Integrations
5. Secure Document Collaboration
The cloud makes it easy to share and work together from home, the office or wherever you are. Protecting your files and work in the cloud is a top priority.
Duo helps secure document collaboration in the cloud with these top solutions:
Document Collaboration With Duo Integration:
In addition to the hundreds of Technology Partner integrations available for customers to use, we also provide an open platform for customers to integrate their specific applications with Duo. Duo is cloud-centric, OS and platform agnostic. You can easily add Duo to your application in minutes!
Easy Integration with Duo for Secure Access
Building on the Duo platform gives you a best‐in‐class zero‐trust security solution. Vendors looking to secure customers' login experiences with Duo can use different integration methods for authentication and access management.
Check out the Duo Demo site for hands-on interaction with Duo products and to learn how we work with our Technology Partner solutions.
If you are interested in learning more about Duo or trying out Duo with any of our Technology Partners, we offer a free 30-day trial.
You can see for yourself how easy it is to get started with Duo. If you have questions, contact us and tell us more about your IT technology stack and the challenges you need help with right now.
Additional Reading on Cisco Cloud Security Products
To help teams stay connected and able to continue business operations, Cisco is providing free licenses and expanded usage counts for three key security technologies (Cisco Umbrella, Duo Security, and Cisco AnyConnect Secure Mobility Client) designed to protect remote workers anywhere, anytime and on any device. Read more.
Try Duo For Free
With our free 30-day trial you can see for yourself how easy it is to get started with Duo and secure your workforce, from anywhere and on any device.