Industry News
How MSPs Help Small Businesses with Essential Cyber Insurance Cover
Cyber security is a concern for companies of all sizes, but can be particularly significant for smaller businesses who are less likely to have the dedicated technical staff in place to ensure the right controls are in place to protect them. In this blog, we explain why it makes sense for these firms to work with managed service providers (MSPs) to help bolster their security posture and increase their chances of getting cyber liability insurance cover as insurers continue to raise the bar.
We have been witnessing an avalanche of interest in cyber liability insurance over the last few years. And that interest shows no signs of abating. In fact, a recent report by Howden Insurance Brokers states that the number of brokers reporting rising demand for cyber liability insurance coverage has risen by 89%, and the number of brokers reporting an increase in claims has risen by 72%.
It will be unsurprising that because of this demand, insurers are particularly careful how they build their policies to minimize their risk from large cyber events. This is especially true if the company looking for cover hasn't taken adequate enough steps to minimize cyber risks itself. As I covered in my other blog — Cyber Liability Insurance Essentials for Small and Medium-Sized Enterprises — there are several approaches firms can take to increase their chances of obtaining a policy. But what about the firms that sit firmly on the smaller side of the SME spectrum?
Small business cyber insurance: Is it really needed?
There may be a perception that smaller firms are less likely to be targets for bad actors, slipping under the net while they focus on frying bigger fish. However, according to Security Magazine, 43% of all cyberattacks target small businesses, and 60% of all small business victims of a data breach permanently close their doors within six months of the attack. In reality, most medium-to-large organizations will survive a significant cyber attack; they'll be damaged but they'll get through it. Unfortunately, at the lower end of the market it really is an existential threat and that's just not how it should be — small business owners should be free to build their business and not have to worry about cyber risk.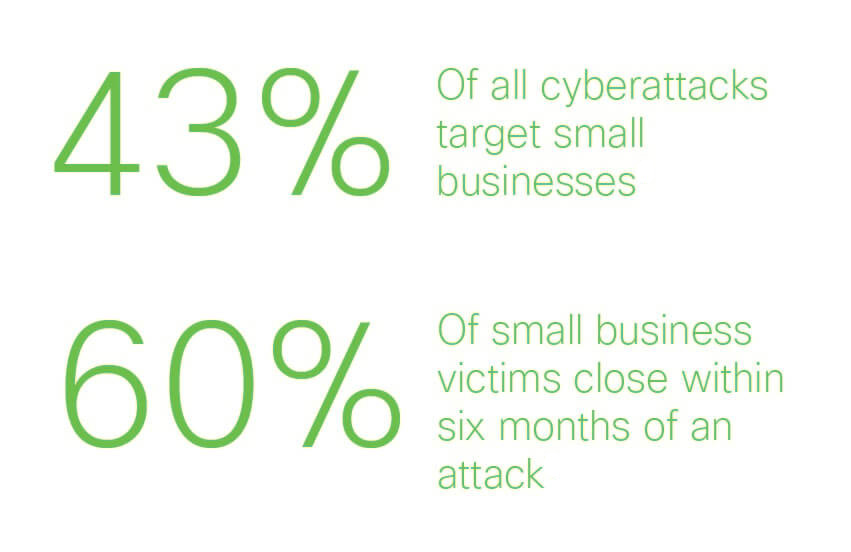 Fortunately, cyber insurers have a great deal to offer to help small businesses — cyber advice to help you understand what you need and technical/ financial assistance should the worst happen. The one thing they don't provide is the technical support to take those few critical steps that will best protect your small business, and that's where Managed Service Providers add such value. They have the specific technical knowledge to deploy and manage the type of cyber security solution required to meet the minimum demands of your insurance policy. 
So how do these smaller companies with around 20-50 full time employees, ensure a strong cybersecurity posture? Especially when they have to wear a multitude of other hats to ensure the smooth running of the day-to-day business?
A rapidly growing answer to that is to leverage a Managed Service Provider to help them back up their data, deploy endpoint protection and ensure their employees have trusted access to the work they do. This last step is where we're seeing a huge amount of interest from insurers and small businesses as they seek an easy way to mitigate their joint risk without breaking their backs. 
What are the benefits of working with a Duo Managed Service Provider?
As well as helping you attain the minimum level of posture to secure a cyber liability insurance policy, the benefits of working with Duo Managed Service Provider are manyfold:
Easily implement and manage the company's Trusted Access product suite, including Duo's patented Push two-factor authentication technology across their growing customer base, with no physical devices to deploy

Utilize monthly pay-as-you-go pricing and avoid complex pricing tiers, making it easy for MSPs to offer customers flexibility without assuming risk – we're taking the risk, not you

Improve their customers' endpoint security by ensuring devices are up-to-date and providing the ability to monitor and set access policies

Quickly roll out Duo in their customers' environments within minutes with more than 200 native application integrations
To put the programme in the words of a valued MSP we have been working with for over five years, Dublin-based CommSec:
"Duo was the first vendor that put the zero trust model into practice with multi-factor authentication. It not only looks after MFA, it sees who the user is, what device they're using, whether it's a trusted device. Duo ties it all together in one product, especially for MSPs, and it makes it easy to manage customers of different sizes." - Ian O'Connell, Security Operations Center Team Lead
So whether you are a small business looking to work with our legion of trusted MSPs to help you get essential cyber liability insurance cover, or you are a cyber security organization interested in joining our MSP programme, get in touch today.