Industry News
How To Secure Remote Access Right Now
Times have changed and the need to provide secure remote access has gone from a nice to have perk for a few remote workers to an all encompassing need for any and all workers moving forward. But many companies were not set up to move to a virtual remote work environment, let alone a secure one. In this new age of remote work, many new BYO (bring your own) personal devices that are unmanaged by an MDM (mobile device management) system still need access but can pose a greater security risk. Fear not, there is a simple solution to this problem. 
As the months and years tick by, secure remote access is the name of the game and the most effective and efficient way to keep workers productive. Identity access management is crucial to protecting internal systems, while allowing workers to connect remotely from any device is necessary to completing work. Since lion's share of breaches begin with stolen credentials, protecting user logins is key to security. 

The most effective way to protect credentials is through MFA or 2FA (multi-factor authentication also known as two-factor authentication). 

MFA takes a zero trust approach to security by automatically denying all access until credentials can be verified multiple ways, like through your location, your device, your fingerprint and more. 

There are many pitfalls to remote access that hackers rely on. We have put together "The Essential Guide to Securing Remote Access" as a free resource to help you understand the issues and concerns around remote access and how you can remedy them safely, easily and cost effectively. Take a look and learn how you can secure your remote workforce right now without a rip and replace.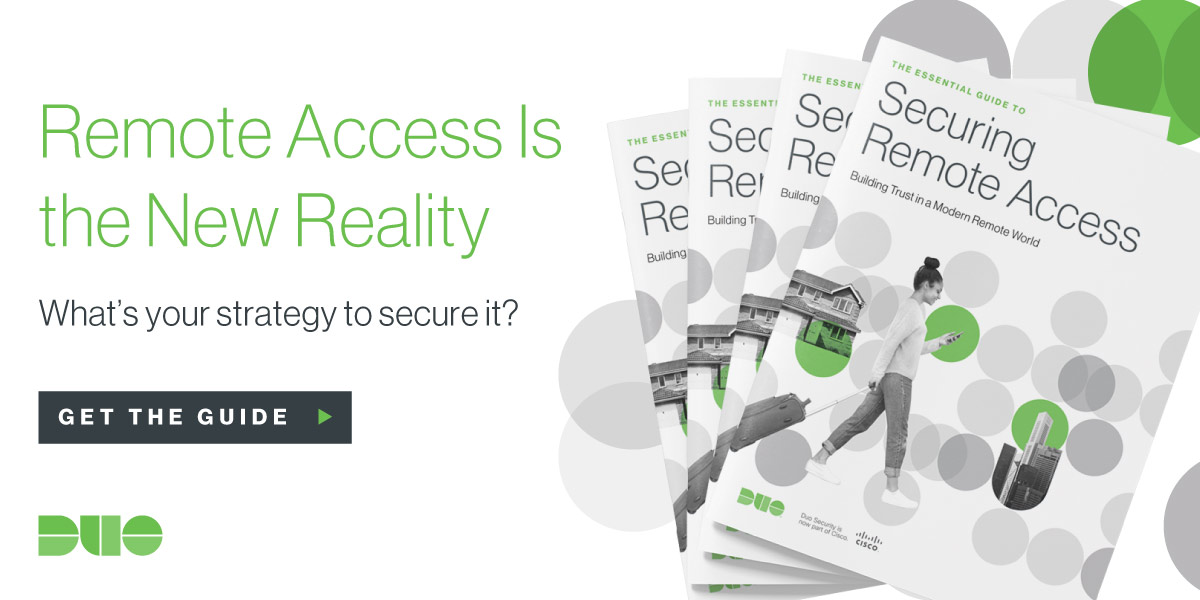 Try Duo For Free
With our free 30-day trial and see how easy it is to get started with Duo and secure your workforce, from anywhere and on any device.