Industry News
VIDEO: Instantly Restore Accounts on Your New Phone!
We're excited to announce that we are bringing Instant Restore to Android! This is a feature we launched earlier this year on iOS that makes changing phones easier than ever with Duo Mobile. You can now effortlessly and securely move your Duo-protected accounts to your new phone, making the transfer possible in just a few seconds.

Ditching your old phone? Don't forget to transfer your two-factor authentication (2FA) accounts to your new phone. Knowing how important it is to access your accounts when you need to, Duo has developed an easier way to get your Duo-protected accounts set up on your new phone or tablet so you can continue to verify your identity when logging in, preventing a potential account lockout. It's really easy.
Note: Duo-protected accounts can only be active on one phone at a time. After transferring them to your new phone, your old phone can no longer be used to authenticate.
Which accounts get restored?
Instant Restore will transfer your Duo-protected and Duo Admin accounts. If you enabled automatic reconnection for third-party accounts, those can be restored, too. Find out more about restoring your third-party accounts.
Note: Windows Offline accounts are not restored and need to be manually reconnected on your Windows machine.
How does Instant Restore work on Duo Mobile for Android?
When Duo Restore is enabled, we back up your accounts' non-sensitive data to a hidden folder in your Google Drive that's only accessible by the Duo Mobile app on your devices. The backup includes a token that, when combined with a QR code displayed by Duo Mobile on your old phone, helps establish trust in the new phone to ensure that it's really you.
Once said trust is established, we automagically reach out to Duo's service on your behalf to reactivate your Duo-protected accounts on your new phone.
Note: Your Duo-protected accounts' sensitive information is not included in these backups. Your security is at the heart of Duo and we want to ensure your information is always safe and private.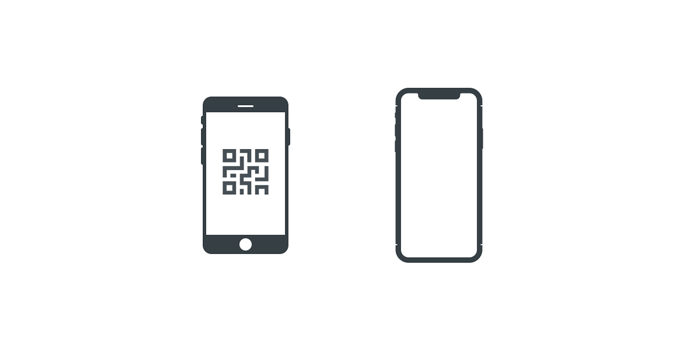 3 Simple Steps to Instantly Restore Duo Accounts on Android
(Have an iPhone? We got you! Learn how to restore your iphone.)
Now we are going to show you how to save both time and effort by quickly transfering your Duo-protected accounts to your new phone in 3 simple steps!
Before we begin, make sure that your Duo Mobile app is up-to-date. This feature is available on Duo Mobile versions 3.32.1 and above for Android. You can check your app version from the settings menu within Duo Mobile.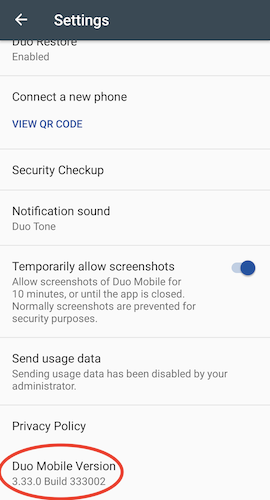 Step One:
Open Duo Mobile on your old phone and enable "Backup accounts with Google Drive" under Settings > Duo Restore.
*Also transferring third-party accounts?
If you use Duo Mobile to protect your third-party TOTP-enabled accounts like Instagram or Dropbox, consider enabling automatic reconnection for third-party accounts while you're here. Keep in mind, enabling this option will prompt you to create a password used to encrypt your accounts backup. This is to keep your accounts safe and secure.
Step Two:
While still on your old phone, navigate to Settings > View QR Code.
If you can't see this option, please contact your organization's administrator or help desk for assistance reactivating your accounts on your new phone.
Step Three:
Pick up your new phone, install Duo Mobile, open it and tap "Get my account back." You will then be prompted to scan the QR code shown on your old phone.
If automatic reconnection for third-party accounts was enabled on your old device, as recommended, a prompt to enter your backup password will follow.
That's it! Your Duo-protected accounts should now be up and running on your new phone.
We want to hear from you!
We're always looking for ways to improve your experience with Duo, so don't hesitate to reach out to us with your comments on Twitter (@duosec) or leave a review on the Play Store or the App Store.

Try Duo For Free

With our free 30-day trial you can see for yourself how easy it is to get started with Duo and secure your workforce, from anywhere and on any device.