Industry Events
Join Duo at the 2019 RSA Conference
It's almost that time of year — the 2019 RSA Conference is only a few weeks away, and Duo Security is getting pumped! Join us along with 50,000 of your closest cybersecurity peers in San Francisco at the Moscone Center from Monday, March 4 through Friday, March 8.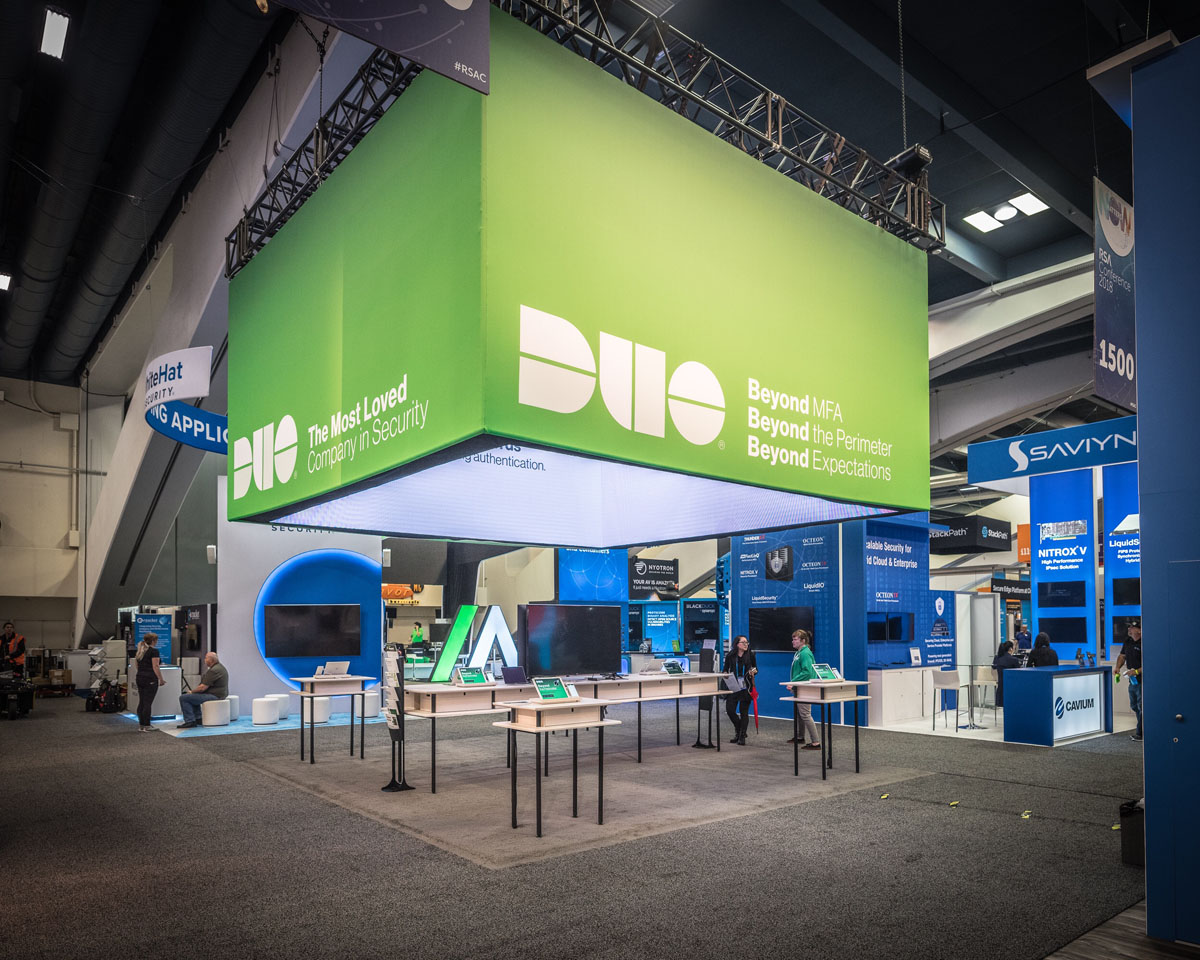 Duo is excited to be an exhibitor for our sixth year in a row — use our pass code XEU9DUOSEC when you register for a complimentary Expo Plus Pass. At the conference, find us at booth #1835 in the newly reopened South Expo Hall to say hello to some of our solutions engineers, pick up some swag, and learn why Duo's customer ratings are among the top in technology overall, with customers like Etsy and Yelp trusting us to secure access to their most valuable systems and data. We also encourage you to visit the Cisco booth, #6045 in the North Hall, and the Cisco Security booth #1027 in the South Hall.

This year's RSA Conference theme is "Better," with a focus on how the industry as a whole (from C-suite execs to those on the frontlines) can help improve the world — not only through improved technology, but through being more proactive, working harder, making security a top priority, and better protecting others so that we can all contribute to a brighter future.
As in previous years, this week-long conference hosts sessions on a wide range of topics. Hear from Bruce Schneier, CTO at IBM Resilient and IBM Security, as he advocates for technologists to become more involved in public policy. Or learn about the impact of stress on the industry from renowned expert Dr. Maslach as she covers championing wellness in your organization.
Unlike 2018, this year's keynote sessions will be held at two stages: at the West Stage, you'll find featured sponsors and esteemed guest speakers, such as writer, actor, and producer Tiny Fey; and Dr. Hugh Thompson, RSA Conference Program Chair. Or, head to the South Stage in the newly opened Moscone Center South to catch sessions from industry experts such as Sylvia Acevedo, CEO of Girl Scouts of the USA; or Emily Heath, Vice President and Chief Information Security Officer for United Airlines.
For more great speaker sessions, mark your calendars for the following presentations:
Sunday, March 3, 1:30 – 2:00 p.m., if you'll be in town before the conference, don't miss Duo engineer Miranda Fullerton as she presents "Arcades and Audits: What Gaming Can Do For Your Security Posture" at BSidesSF. This talk discusses how organizations can make running a team through a disaster recovery exercise engaging by gamifying the experience, drawing on research about the long-lasting positive effects of video games, such as perception, attention, memory and decision-making.

Monday, March 4, 1:00 – 1:45 p.m., head over to the Cloud Security Alliance Summit, where Duo and Cisco will co-sponsor the panel, "The Approaching Decade of Disruptive Technologies," moderated by Jennifer Steffens, CEO IOActive, and featuring panelist Wendy Nather, Global Advisory CISO, Duo, along with leaders from Centrify, Okta and Onapsis.

Tuesday, March 5, 8:55 – 9:15 a.m., join Cisco's Liz Centoni and Matt Watchinski at the West Stage. Liz Centoni is the Senior Vice President and General Manager for Cisco IoT. Matt Watchinski is the Vice President of the Global Threat Intelligence Group at Talos.


Tuesday, March 5, 2:20 – 3:10 p.m., join us for the session, "Machine Learning: The What and Why of AI" by TK Keanini, Principal Engineer at Lancope Engineering.

In addition to visiting with us at the Duo booth and during our panel session, let us make time for you at one of our private meeting suites, where we'll have a Duo representative walk you through the finer details of our solution. Please reach out to adr@duo.com to schedule an appointment.
With so much happening at the conference, be sure to unwind during the many networking opportunities throughout the week. In addition to receptions and bar crawls, the RSA Conference will host the first ever Intro to Capture the Flag on Thursday morning. Sponsored by RSAC, Women's Society in Cyberjutsu (WSC), and SANS, this activity welcomes women of all experience levels to work collaboratively with SANS instructors, WSC members and fellow attendees to find vulnerabilities on networks while enjoying coffee and bagels.
For more opportunities to catch up with your peers, or if you're looking for a way to relax, there will also be plenty of parties in the evenings… we happen to know one you won't want to miss!
Cisco Customer Appreciation Event

Join Cisco (and Duo!) on Wednesday, March 6 starting at 8 p.m. where we'll be partying all night at this historic downtown venue. Reach out to your Duo Sales contact or adr@duo.com for a formal invite.