Industry News
Keep Calm and Secure the Remote Workforce
"Digital transformation has been forced upon every company that has any sort of digital workforce. We've seen a tremendous rush for companies to figure out how they get every worker now to be a remote worker. There was always going to be a longer journey toward more free-range employees and not having all of your people, applications, data, and devices in the four walls of your building." - Dug Song, Duo Co-founder and Cisco GM - Zero Trust.
Not too long ago, the ability to work remotely was an attractive benefit provided by some organizations. And, not all employees were eligible for remote work in those organizations. Well, things have changed! Any employee that isn't required to be in an office has been working remotely for awhile now — and, will most likely continue to do so in the near future. Many organizations, especially in the technology sector, have publicly declared remote work will continue for a significant portion of 2021. 

Organizations have been forced to adapt to keep the business running and employees productive. This transition may have been bumpy for organizations firmly entrenched in the old way of doing things, particularly if they have the additional baggage of an outdated technology environment. Even agile organizations that modernized their remote access infrastructure quickly are now evaluating their risk profile to identify and close new security gaps. 

According to Duo's data science team, Duo saw a massive spike in out-of-date device authentication failures among customers during the first few weeks of the rush to work from home
Challenges To Securing A Remote Workforce
Many customers have approached Duo in recent times to understand how we can help solve the security challenges that come with remote work. These challenges include:
Enabling remote work for contractors and employees that use personal devices, without compromising on security

Eliminating VPN scaling issues to ensure easy, effective remote access 

Gaining visibility into the health of all devices that access corporate applications 

Restricting VPN access to corporate managed devices

Enforcing adaptive access policies based on location and device posture

Lowering the risk of IT audit failures due to non-compliance with HIPAA, PCI-DSS, NIST and other data security and privacy standards

Reducing IT overhead in managing multiple solutions for remote access, access control and device management 
5 Reasons To Upgrade Your Duo Edition
Customers that have implemented Duo Multi-Factor Authentication (MFA) have completed the foundational step towards a zero trust security model — enabling strong authentication for the modern workforce wherever they are. 
As CISOs and IT directors get comfortable with remote work, and start planning for the future — below are the 5 reasons to consider upgrading your Duo edition:
1. Achieve your security objectives and keep your workforce productive
Security is at the forefront of empowering employees to be productive.  Whether it is  continuing the zero trust journey; implementing the BeyondCorp model for remote access; enforcing least privilege access for users and devices; meeting security controls for compliance requirements; or lowering operational costs through vendor consolidation  — Duo can help you achieve your organization's security objectives while keeping your employees productive.   
2. Reduce security risks due to remote working
Leveraging known vulnerabilities in browsers and operating systems (OS) are common attack techniques. The organization's risk profile increases when the IT teams have no visibility into or control of the devices (personal and corporate managed) used by employees and contractors to access applications. Duo can help IT teams ensure that all devices used - not just the ones managed by IT - meet the organization's security requirements.  
3. Increase user productivity with better remote access experience
Forcing employees to use VPN to be productive creates a bad user experience and impacts productivity. As the footprint of cloud applications increases, the preferred method of access is directly over the internet, which bypasses perimeter based security controls. Duo has an unique vantage point to enforce inline security while delivering the direct internet access experience. This helps organizations to deliver the best remote access experience, and eliminate user friction with single sign-on for cloud and on-premises applications.  
4. Reduce help desk burden with self-service workflow for users
Enabling employee self-service workflows for common IT tasks saves time for both end users and IT helpdesk teams. Duo's focus on ease of use and self-service empowers users to be in control of their work, without requiring them to raise tickets and waiting for a resolution.
5. Easily demonstrate regulatory compliance to IT auditors
Many customers chose Duo MFA to satisfy a compliance requirement. But those compliance requirements go beyond MFA and include controls to ensure only secure devices can access sensitive data environments. Administrators can align access policies in Duo to meet those controls and can confidently prove compliance using Duo's detailed logs and reports. 
Hear It From Your Peers
Still on the fence? Check out how our customers use Duo to secure their remote workforce:
FinancialForce, Ballance Agri-Nutrients, LevelOne Bank and Zenefits improved security using Duo's Device Trust to gain insights and enforce endpoint access control.

Globe Life, Tanium, Optimax and University of Louisville Hospital aligned Duo's adaptive access policies to meet their regulatory compliance requirements.

Lyft, Sophos and Sentara Healthcare improved protection while reducing operating costs by consolidating access security with Duo.
If you are curious to learn how Duo can help your organization, check out Duo offerings and get in touch with us!

Recommended Watching:
Verifying Device Trust with Microsoft + Duo Security = Zero Trust, Explained (34:18)
Recommended Reading:
Zero-Trust: Going Beyond The Perimeter
The Essential Guide to Device Trust
How to Successfully Deploy Duo at Enterprise scale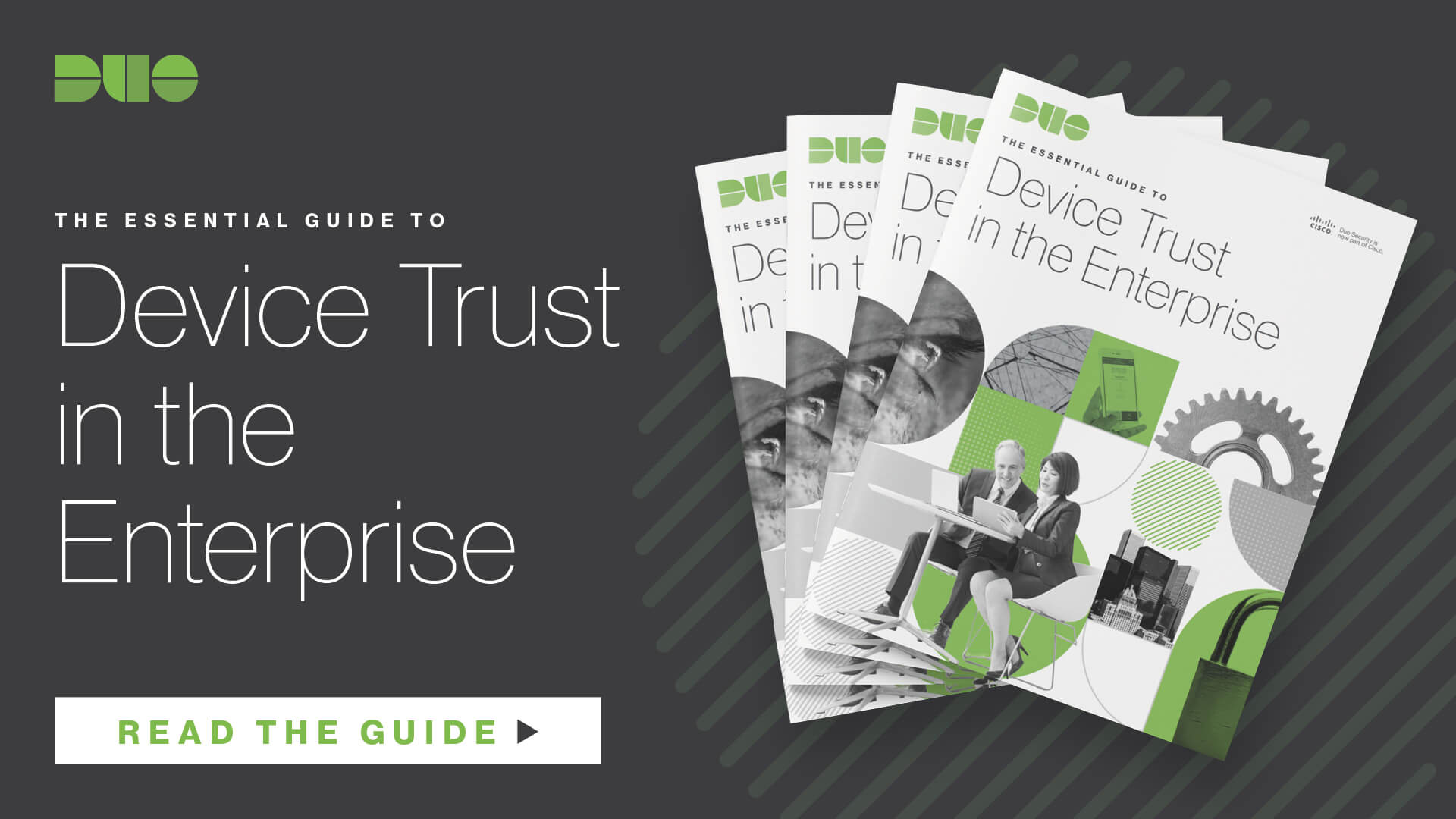 Try Duo For Free
With our free 30-day trial you can see how easy it is to get started with Duo and secure your workforce, from anywhere and on any device.