Industry Events
Lights, Camera, Action: The Making of Duo's First In-House Commercial
In late 2016, Duo's creative team had the idea to shoot our first broadcast quality commercial - affectionately codenamed "Duo Vs. Everybody." Because IT security products have traditionally been as cumbersome as the networks they're trying to secure, we wanted to play with the idea that you don't solve complexity by adding more complexity.
Duo has produced our own videos since 2013, but this project was the first to include professional actors and a full video crew in addition to the in-house talent at Duo. This was by far the most complex and extensive production in Duo's long history of making great video content:
What began as a one-paragraph treatment eventually blossomed into a 32-page behemoth slide presentation that we pitched to the stakeholders within our marketing team. Was it overkill? Perhaps. But from our experience, it was important to pitch our concept with the same level of passion and tenacity as an outside creative agency.
Our goal was to capture an entertaining look at the dichotomy between deploying Duo and Everybody Else (a hardware-based solution). By the end of the spot, we wanted to prove that better security means a better lifestyle.
Because Duo is a brand that our creative team knows inside and out, the challenge was to tell a story that would connect to a wide audience, not just our tech security peers. From there, we managed logistics and applied our collective commercial experience into a high-end ad spot.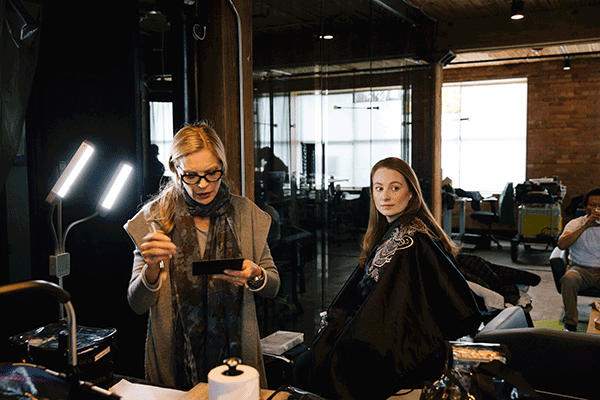 The level of pre-production for the ad was a first for Duo. We booked actors from a well-known talent agency in Detroit, a full stack commercial camera and lighting crew, plus wardrobe, hair and makeup departments. Even though it was unusual for a tech security company to work directly with the production crew, thanks to our experience shooting and directing commercials, overall it was a pleasant, painless process.
To keep costs down, we shot everything near our homebase in Ann Arbor, Michigan. The airplane hangar scenes were filmed at Ann Arbor Municipal Airport (courtesy of our friends at Notion), while the office scenes all took place at Duo's space in the historic Allmendinger Building, a former organ factory.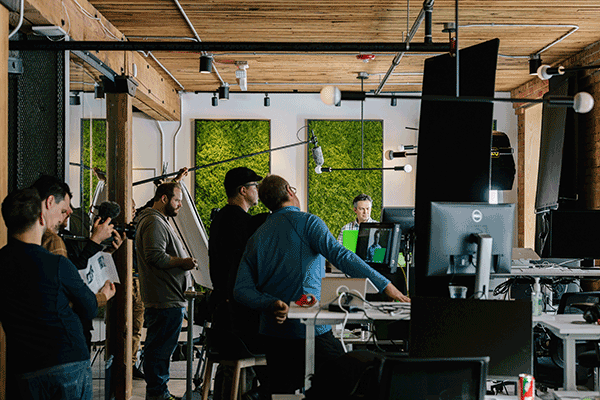 Just a week before the shoot, our office was completely renovated with a modern, stylish design, so all we had to do was complement the space with props and artwork. With a clever use of art direction, lighting and sound, we created two opposing worlds. On one hand there's Duo green - a calm, easy to use, zenlike approach to security. In contrast, red meant a life of stress, difficulty and time slipping away.
With a clean Super 35mm sensor and flexible dynamic range, the RED Epic was our camera of choice for this production. We realized early on that natural daylight would be our best key light to capture each scene throughout the open-plan office, while a few carefully placed Kino Flo 4Bank fixtures provided the right amount of key light to create the two worlds.
To provide more flexibility in post production, we kept the device screens blank with motion tracking marks. This allowed us to carefully design screens that clearly communicated Duo's features. Plus, we can future-proof the spot by updating the screens when we introduce new features.
Ultimately, producing the spot in-house was a great success. Taking advantage of our creative team's expertise in the product allowed us to fully express our vision and stay true to Duo's brand and style. Because we're steeped in Duo day in and day out, it helped capture the nuances of what we do and how we do it in a way that an outside agency would be hard pressed to pull off. When all was said and done, we emerged with a piece of content that we're super proud to share with you.
Take a behind-the-scenes look at the Duo Vs. Everybody shoot: