Industry News
The Meaning Behind the Cisco Recruitment Process
Felicia Miller was given a second chance at life. That's one of the reasons she takes her job as a recruiter at Cisco Secure focused on Duo Security positions so seriously. It's also why she finds advocating for candidates so meaningful, particularly at a company that values kindness and inclusivity.
A resident of Las Vegas with extensive agency and in-house recruitment experience, Miller is driven by passion—whether in the arts or in the candidates she feels honored to guide.
"Vegas is a never-ending opportunity to see people showcasing their passion. I think that's where my desire to see it in candidates may come from," Miller said.
Miller shared what candidates can expect through the recruitment process, how she combats imposter syndrome, and how Cisco's culture continues to surprise and energize her.
What aspects of your journey allow you to thrive at work?
Felicia Miller: When you are out there working a full-time job and then suffer a medical trauma, like a brain tumor, that puts a halt to your work. You realize that work isn't everything, but it's a huge part of who you are. You want to make sure that the company that you work for aligns with your values and needs.
When I was contacted about this opening, there were a few things I was looking for in a job. Since this position is my return to the workforce after a silent disability diagnosis and a brain surgery, I needed a remote job so that I didn't have to drive while taking neurological medication and a job where I could organize my office to accommodate my medical needs.
I loved the idea of immersing back in the world of tech, which actually doubles as physical therapy for my brain. This job allows me to continually be learning. I feel extremely fortunate to have found this opportunity.
What are you most excited to share with candidates about working here?
Felicia Miller: When you look at what I have to offer candidates, it's the dream assignment for a tech recruiter. Security has never been more important.
Seeing the effort that the engineering teams take to get products to market as soon as possible, to make the world safer in light of cybersecurity threats, the pandemic requirements where we have people working remotely. I am in awe of what these individuals do. So when I'm sharing with a candidate how exciting this opportunity can be for them, it comes from a very real and a very personal place.
I get to offer candidates meaningful assignments doing meaningful work in a culture that appreciates and supports them. Our benefit package is second to none. It addresses the complete individual, providing time for the personal care that we all need.
Being able to talk with hiring managers and understand their needs and sitting in on interview debriefs and seeing how much hiring managers put into the interview process and bringing a new employee on, I feel honored to be part of that.
What can candidates expect from Cisco's recruitment process?
Felicia Miller: I hate job searching. Most people hate job searching or interviewing, so if you can do that for the least amount of time, that's what you want to try to do.
When I talk with my candidates, I try to understand where are you looking to go, what went right in your last position and what do you want to work on as you move into the next step of your career? We want to provide candidates with all of the information that they can possibly have up front so they understand how this role could fit into their career path.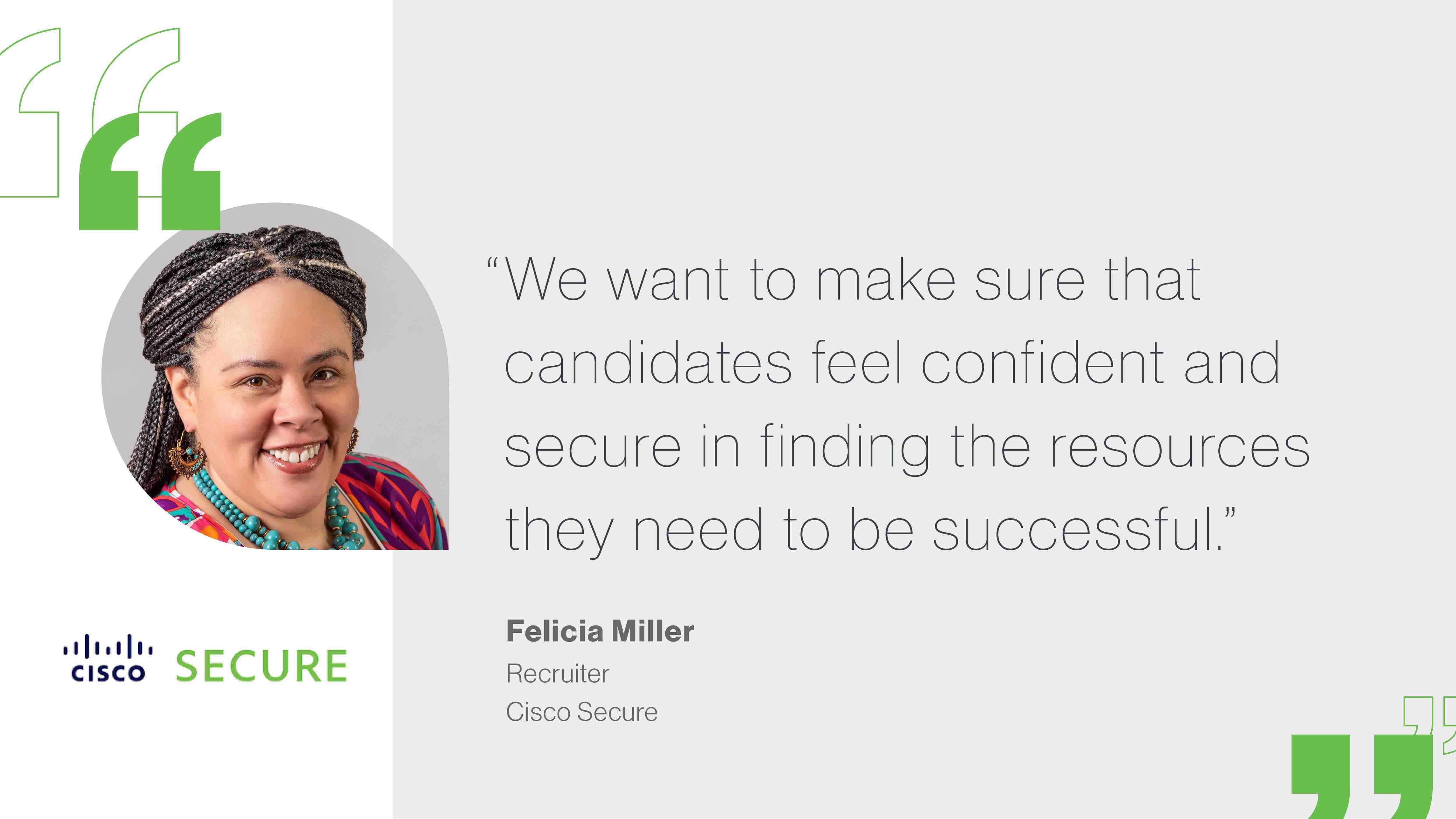 As someone who is immersed in the technical industry on a daily basis, I can see trends that are happening and have been changing and offer advice and an outlook. I like being that conduit to give information so people feel more empowered.
I feel like I have a responsibility now. I've been given a second chance, and that's why I take my recruiting efforts and my job so seriously. I want to make sure that I leave this world better than I found it. I take everything seriously that I do, and I am excited. I hope that shines through and that candidates see that throughout the interview process.
What do you look for in potential candidates?
Felicia Miller: Usually when I am talking with a candidate, I'm not really looking to qualify them technically. I'm looking for thoughtful responses, a confidence for what they know and specifics on what they would like to learn. Definitely the ability to accept criticism, a desire to make things better for everyone, a genuine passion for their work and a respect for the work of others.
I want to understand that candidate's desired career path and how Cisco fits into that. I'm listening and thinking about whether this is a person with whom I could collaborate and learn from.
What energizes you about working here?
Felicia Miller: Something I feel really good about is in the last year we have had an increase in new hire diversity. We're reaching a lot of underrepresented populations by sharing our opportunities and seeing the type of skill brought to the table.
"When you are told that you may not be able to continue working or living, that's a big, huge thing. To be able to work with individuals that are passionate about their coworkers as they are about the products that they're creating, this is a dream come true for me." – Felicia Miller
I've worked in recruitment for more years than I want to share and I've been doing that without a degree. I come from a background of on the job work experience more than formalized education. I was intimidated about that, but you have to look for resources to supplement your education. I have been able to find those within Cisco.
When I first came here and saw the difference being made and how we're encouraged to give back, when I hear the stances Cisco takes, these things make me proud of where I work. When you are told that you may not be able to continue working or living, that's a big, huge thing. To be able to work with individuals that are as passionate about their coworkers as they are about the products that they're creating, this is a dream come true for me.
I thought that Duo's motto of being kinder than necessary was a lovely tagline. I had no idea how much it would apply to my candidates and to myself. It's infectious and has impacted how I recruit.
How do you advocate for candidates, especially candidates from communities that are underrepresented in tech?
Felicia Miller: It's consistency in candidate experience. It's really not something that you have to do differently for anyone of any population. It's making sure that the candidate has the information they need to know about the opportunity and the team that they're interviewing with. I also make sure that the candidate understands what is expected in every step of the interview process so they can focus on what they're looking to bring to that interview.
When a hiring manager makes the decision to hire, I'm the one who socializes that offer to the candidate. When I call to do that, I work with them to establish a start date that works for their schedule. They may need two weeks' notice for their current employer. They may need a two week vacation between jobs. We want to make sure that we take the whole candidate into consideration when we're setting those start dates and not just our timeline.
If necessary, I will field questions regarding background check or immigration service timelines. Basically, I try to make the transition from candidate to being ready to be onboarded as a new employee as easy as possible. This is a new environment for that employee. We want to make sure that candidates feel confident and secure in finding the resources they need to be successful.
How do you combat imposter syndrome?
Felicia Miller: Stay true to what you know. If you genuinely come with the best intentions, if you listen more than you talk, if you are approaching something and giving the best that you can, if you accept and take blame for what you miss and then try to correct that, that is the best way to fight against imposter syndrome.
It's easy for all of us to feel that imposter syndrome, but by knowing what you know and knowing what you want to learn, it's easier to have the confidence to stand in the industry.
If you find something that you love, move forward on it. If you find a project that really appeals to you, move forward on it. If you find someone in the community that you feel you can learn from, step out and ask them for a 30-minute chat. You will learn so much and feel more confident in what you do know.
What has contributed to your sense of belonging at Duo?
Felicia Miller: I remember the first time I heard about DJ Graffiti. We had a virtual winter holiday party and it was going to be DJ'ed by DJ Graffiti. I rolled my eyes. I was like, "How can this go? We're working remotely."
Well, I've never felt more included than I did listening to his 90s R&B, watching the live stream and seeing people talk back and forth. From the very beginning, life at Cisco has been an inclusive family affair.
Join us!
If you want to love where you work, check out our open positions!