Industry News
My Journey at Duo With No Previous Cybersecurity Experience
This article is part of a series of posts produced by the Duo interns, highlighting their experiences and the projects they worked on this summer. And be sure to check out our open internship positions.
Opening my offer letter for the Product Marketing Management (PMM) intern position at Duo Security, I was overjoyed and shocked. Although it was my dream position at a company that I loved, a lingering anxiousness about my lack of technical knowledge made me second guess if I was the right fit for the role.
However, after a lot of reflection and talking with my current manager, it was clear to me that even though it would be challenging, I wanted to take advantage of the opportunity to gain technical and industry knowledge while also pushing myself out of my comfort zone.
Challenges working in cybersecurity
Coming in with no previous experience in cybersecurity, I was really lost in the beginning. To me, Duo was just an inconvenience I reluctantly dealt with to sign into Canvas. At the time, like most of my peers, I did not understand the importance of cybersecurity.
Onboarding was my first time learning about cybersecurity, including Duo's solutions, editions, jargon, acronyms, and user personas. I began to grasp Duo's core business. However, despite learning more about cybersecurity, I was often left with more questions, leading me further down the rabbit hole of the complexity of it. It was overwhelming at times trying to make sense of it all, but throughout my internship, it became easier and easier.
Key Takeaways

You are not expected to know everything
There is always more to learn
Skills are transferable across industries and roles
Never stop pushing yourself to try new things
Identifying my cross-applicable skills
Although I did not have prior knowledge about cybersecurity, I was still able to bring value to the team because of the skills I had gained from my previous experiences. Some skills including analytics, research, and strategy were transferrable to this internship.
Analytics
In one of my past internships, I performed many markets segmentation analyses to understand market shares in different demographics. At Duo, I was tasked with a similar project. I needed to analyze win/loss data across industries, competitors, and regions. Both experiences wanted me to perform segmentation and find common trends.
Research
During my time at Duo, I needed to perform market research on small-to-medium sized business (SMB) customers and industry research on the manufacturing sector. Having prior experience with both market and industry research helped me understand what information to look for.
Strategy
I gained prior experiences in social media, branding, and sales strategy. Similarly, at Duo, I was challenged to recommend messaging and marketing strategies based on my analysis of SMB customers.
Why choosing Duo was worth it
Working at Duo not only meant that I got to learn about an industry completely out of my comfort zone, but also, I had the opportunity to work in different environments, take ownership of my projects and develop new skills.
Work anywhere & everywhere
Due to the remote work policy, Duo allowed me flexibility in where I wanted to work. So I moved to NYC with my friends for the summer. I was able to work from anywhere I wanted including cute coffee shops, fancy malls, the NYC Cisco office, and my tiny, crowded apartment.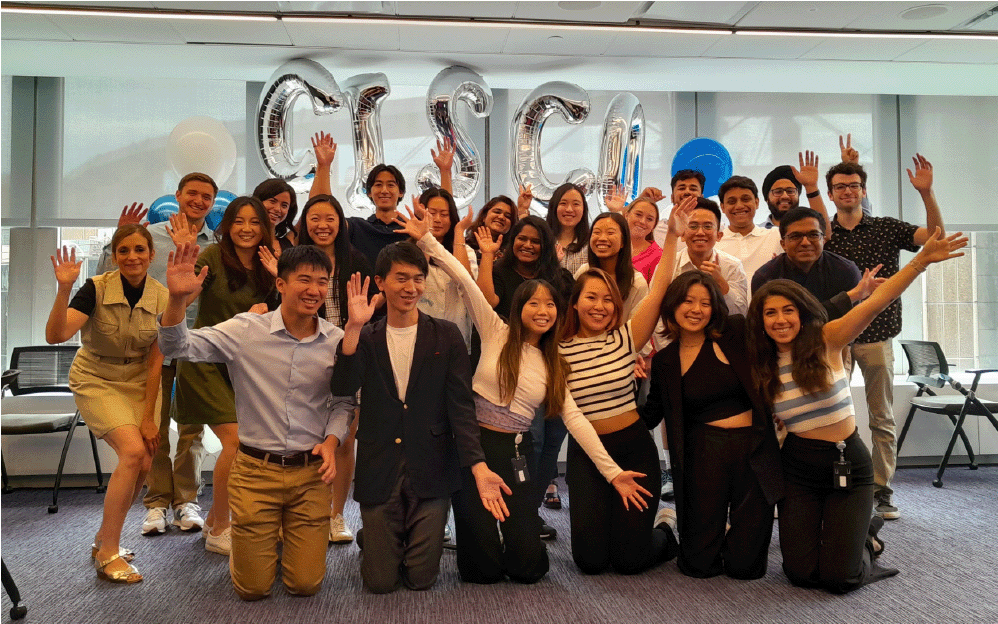 It gave me a glimpse of what hybrid work looked like in a big city. For someone like me who has only lived in the suburbs of Michigan it was exciting and new. I fell in love with the chaotic energy of NYC and enjoyed the flexibility in choosing where I wanted to work every day.
Project autonomy
Throughout the internship, I liked that I had a lot of autonomy in what direction I wanted to take each project. My manager and mentor guided me and provided feedback but trusted me to make decisions and conclusions based on my analysis.
Professional development
Lastly, Duo gave all the interns a professional development budget and with it I was able to receive Pragmatic Institute training on Product Management and Marketing. The training was insightful because it taught me about tech marketing, which was different from the traditional marketing classes I took in college.
I learned that in tech marketing, we should not focus on our products, but on the problems we can solve for our customers. It changed my whole perspective on product marketing and how I was framing my projects.