Industry News
6 Networking Tips for Building Connections at the Start of Your Career
Whether you are someone who has access to a wide variety of professional resources or you are a first-generation college student, networking plays a large role in career success. This article addresses the importance of networking and shares tips for how early-in-career talent can build a professional network as you seek out your first, second, or third internship.
The importance of networking
Building a strong network can give you insight into industry trends, employment opportunities, and professional development resources. Networking can also elevate your career helping to make lasting connections.
"It's 100% about who you know," said Brandan Montgomery, program manager on the Cisco Secure Employee Experience Learning & Development team. One of the advantages of networking is building relationships that help you stand out and land a role that aligns with your career goals and interests. The relationships you build through networking can influence your career, creating opportunities for you to learn and assess your current competencies, providing a benchmark for where you can grow professionally.
Leveraging your professional network can also open many doors to help you get ahead in the application process.
6 tips for networking
While networking can help get your foot in the door, networking is a privilege and privilege comes in different shapes and sizes. For some, your network starts at birth. For others, your network may come to fruition in high school, college, or later in your career. For those who don't have access to a wide network, getting creative and thinking outside the box can help you discover ways to build professional connections.
For those who are currently enrolled in a university or bootcamp, explore the professional services these institutions have to offer.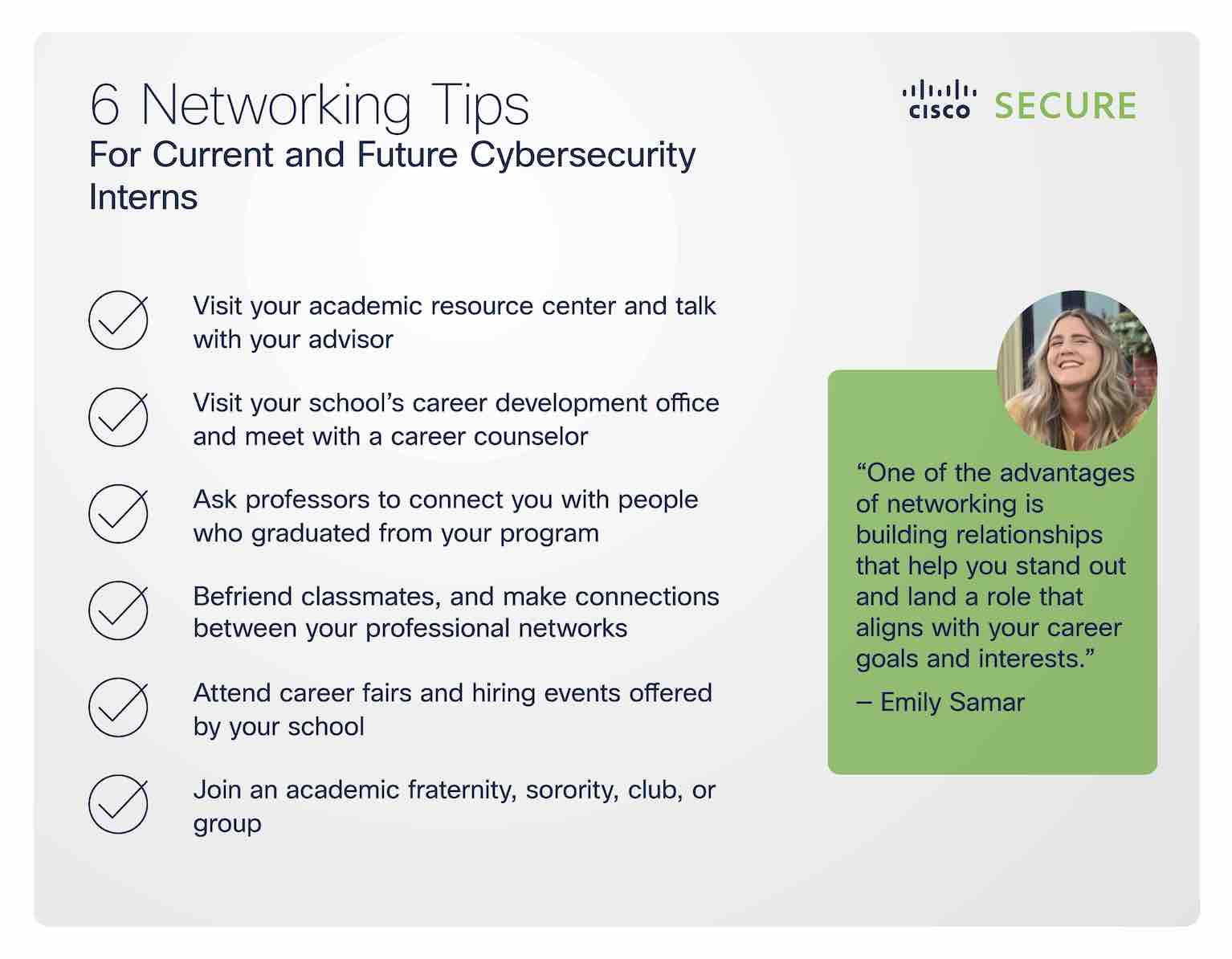 Actions you can take when exploring academic and professional services include:
Visit your university's academic resource center and talk with your academic advisor.

Utilize your university's career development office and meet with a career counselor.

Ask your professors to connect you with folk who graduated from your current program.

Become friends with your classmates! If you have a network, offer to make professional connections. If you are interested in building your network, connect with your peers and don't be afraid to ask for help

Attend career fairs and hiring events that your school facilitates

Join an academic fraternity, sorority, club, or group
Networking in your community
Another area to explore networking is through your community! Getting involved in your community is a great way to build connections personally and professionally.
Visit your community resource center or chamber of commerce to see what opportunities are available locally
Create a Meetup account; Meetup uses your personal and professional interests to help you explore opportunities to connect with like-minded individuals and discover company-sponsored events in your area

Research non-profit organizations who support early-in-career talent development. Below are a few examples of nonprofits Cisco Secure has partnered with and/or recommends
Making the connection
"Don't be shy, shoot your shot," said Veronica Toscano, Chief of Staff to the Chief Privacy Officer and Privacy Specialist at Cisco.
Following Toscano's point, take bold steps to make connections. One quick and easy way to create your network is by using LinkedIn. LinkedIn can help you discover industry leaders in your desired field and connect you to people who inspire you.
Before reaching out, create a short introductory script. This script can include a bit about yourself, how you found the person you're contacting and why you're contacting them. The why can include requesting an informational interview for you to learn about their role, company or their journey. The why can also ask for recommendations on reading materials and information to help you grow in your career. Whatever your why is, make sure to include it.
If you decide to connect in person or virtually, make sure to come with questions and talking points so you can make the best use of both parties' time. It says a lot about a person when they come prepared to a meeting. By putting your best foot forward, the person you're connecting with can see you shine.
Bonus networking tip: Once your meeting is over, send a note thanking your new connection for their time and reflecting on a piece of information they shared with you that you plan on implementing. This demonstrates professionalism and good manners.
Maintaining your network
Maintaining your network doesn't mean you have to reach out daily. An easy way to maintain your network is by checking in, asking follow-up questions and sharing updates on any major events that occurred since last you spoke. Another way is to share articles, learnings, and growth opportunities you've experienced that you think would excite your contacts.
Finally, if you and your new connection are working together to get a job within a certain company, share your hiring results! Your wins are their wins, and I can assure you that they will want to hear about your accomplishments.
Closing thoughts
At the end of the day, you are the only one who can take the steps to achieve your networking goals. The tips in this article will help you get started on building your professional network and provide resources to help you take action. By getting started and expanding your network, your future options multiply. Internships are another great way to build a professional network.
If you value growth and a hands-on learning experience, check out Duo's internship program!