Industry News
New Duo Blog Who Dis
The last Duo blog redesign was two years ago - launched in January 2016. Since then, Duo.com has undergone many changes, both driven by new content and design branding, as well as rapidly evolving strategic direction.
That's why the Creative team has launched the latest intentional redesign of the blog this week. You'll find several new components in this version, all part of a larger content strategy, with the objective of broadening the scope of the Duo blog to serve as a central news hub of Duo.com.
Keeping with our Duo values to simplify security and always remain transparent, we're bringing content from all of our channels to the forefront to help keep you informed about the latest Duo ongoings - from the newest product release notes in the Duo Community to our recently published customer stories and press releases.
Beyond the Blog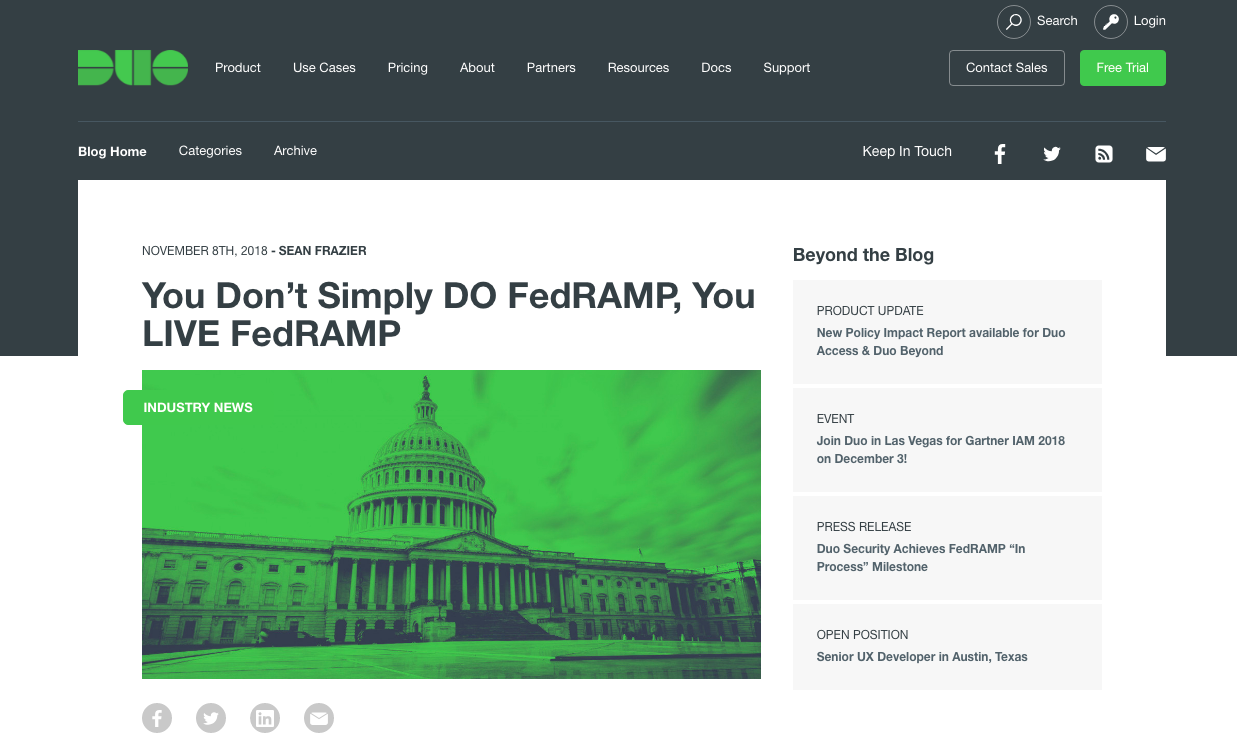 This section highlights the latest company innovations and ongoings, beyond just blog posts, from product updates to events to press releases and a rotating open Duo job position - bridging the gap between our different news outlets into one featured area on the Duo blog.

Changelog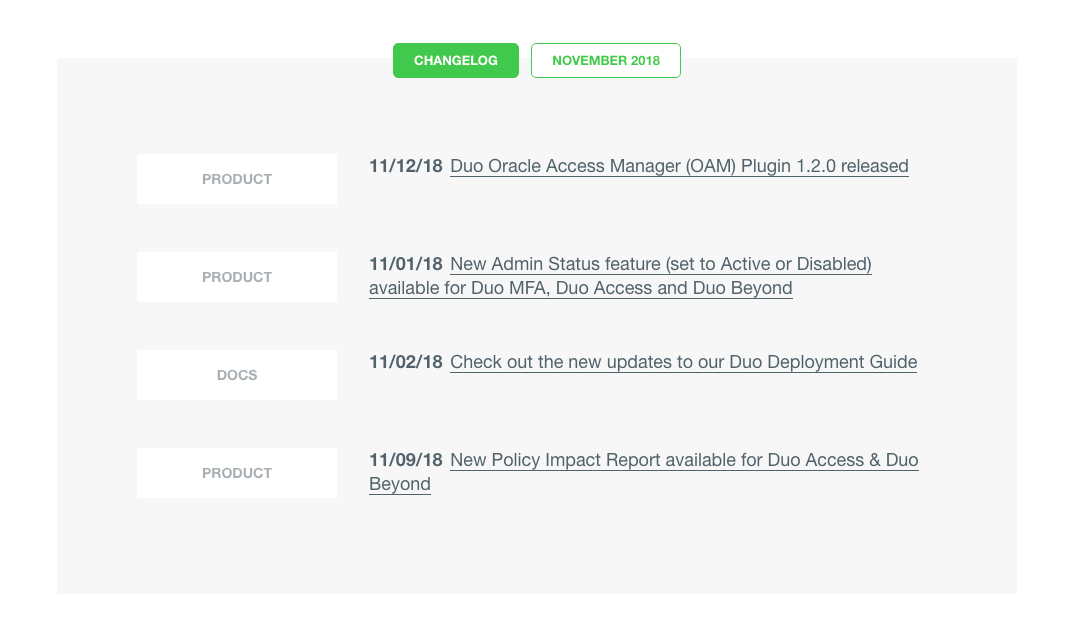 Updated every few weeks with new line items as needed, this content component features minor and major product features and updates to guides, docs and the Duo Admin Panel. It's a strategic way to surface otherwise buried releases and news.
Content Promotions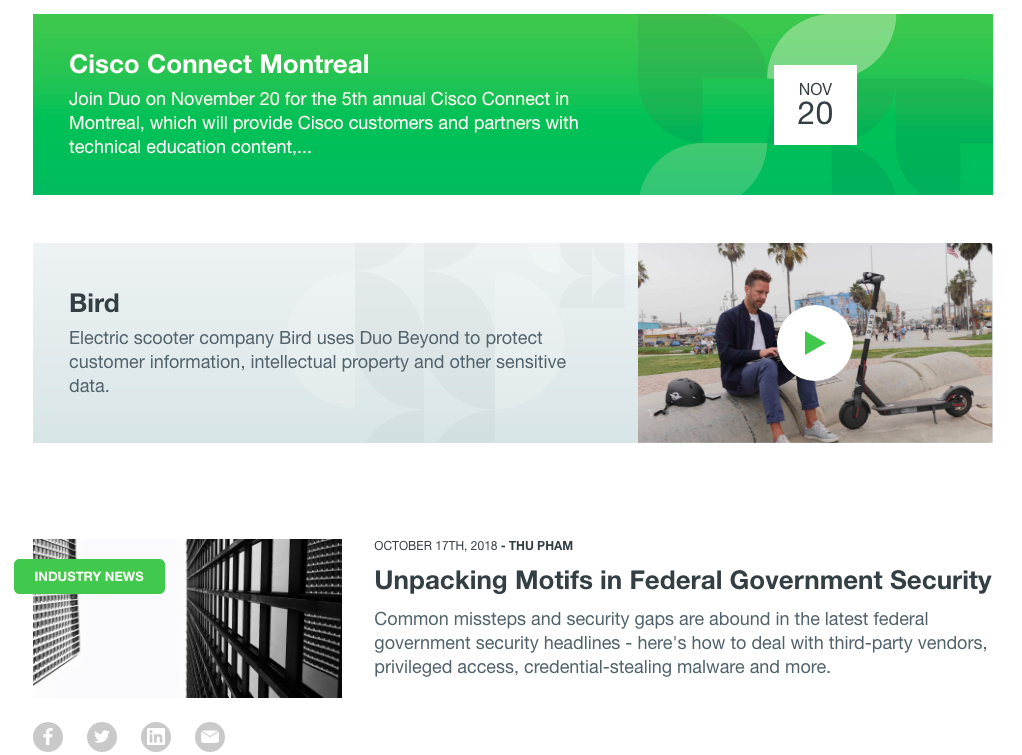 New to the blog are content promotions interspersed within blog post content - these are ways to promote and encourage further user engagement throughout our site, linking and featuring Duo's ebooks and guides, Decipher articles, upcoming Duo events/webinars, customer stories with our customers and more to help surface previously released content.
Twitter Content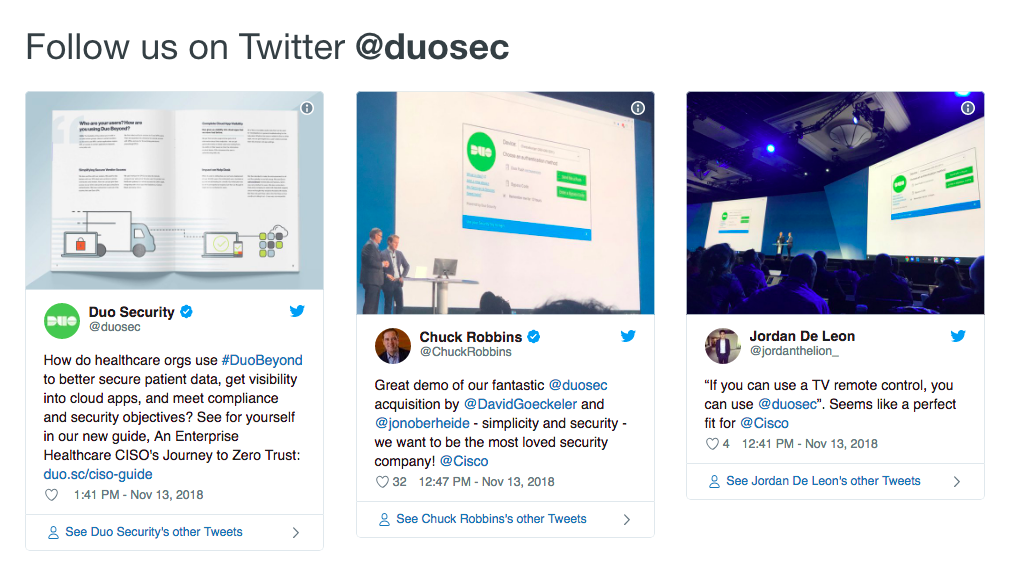 Finally, we end with some social proof - a feed of @duosec's latest tweets and retweets, and a call to action to follow us on Twitter, to better feature & promote social engagement.
Sleek New Article Page Design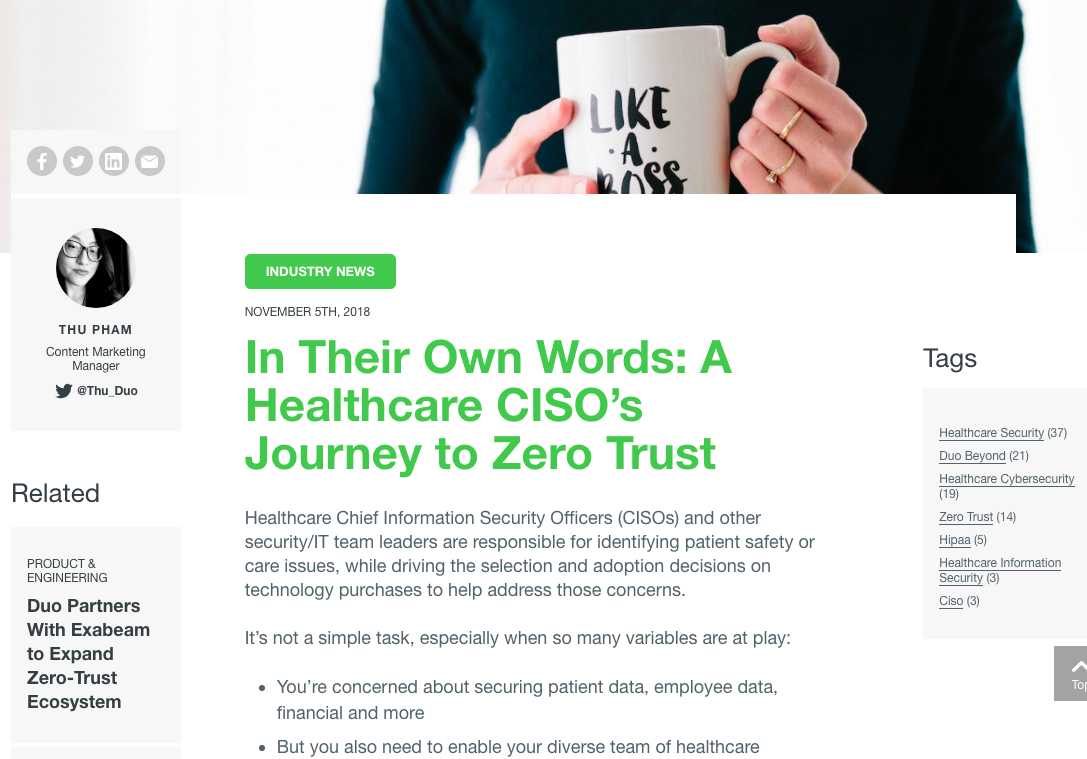 Click into an individual blog post and see the sleek new design (or, like, just look at this page you're on right now) - tags are now displayed on the right-hand side of the screen, with related content and author bio brought up higher to the left.
Other Updates
In addition to new content components and features, we've made a few other navigational and design changes:
Updated blog navigation with Categories & Archive dropdown


Pagination! No longer are you left hanging on the blog homepage 


Cleaner icon design + navigational elements (no 'learn more' but rather, header links)

Thank you to our Creative web development, web design and content teams for all their hard work on up-leveling Duo's blog and content marketing. We hope you enjoy the improvements, and know that we're always dedicated to providing (beautifully designed and developed) content of value.