Duo Labs
X-Ray, the Android Risk Assessment App, Receives New Easy Update Feature
Back in 2012, the Duo Labs security research team released the first-ever vulnerability scanner for Android-based devices known as X-Ray. X-Ray is an app anyone can download that safely scans for vulnerabilities on your Android phone or tablet, allowing you to assess your current mobile security risk.
Introducing X-Ray 2.1: Auto-Updater Mechanism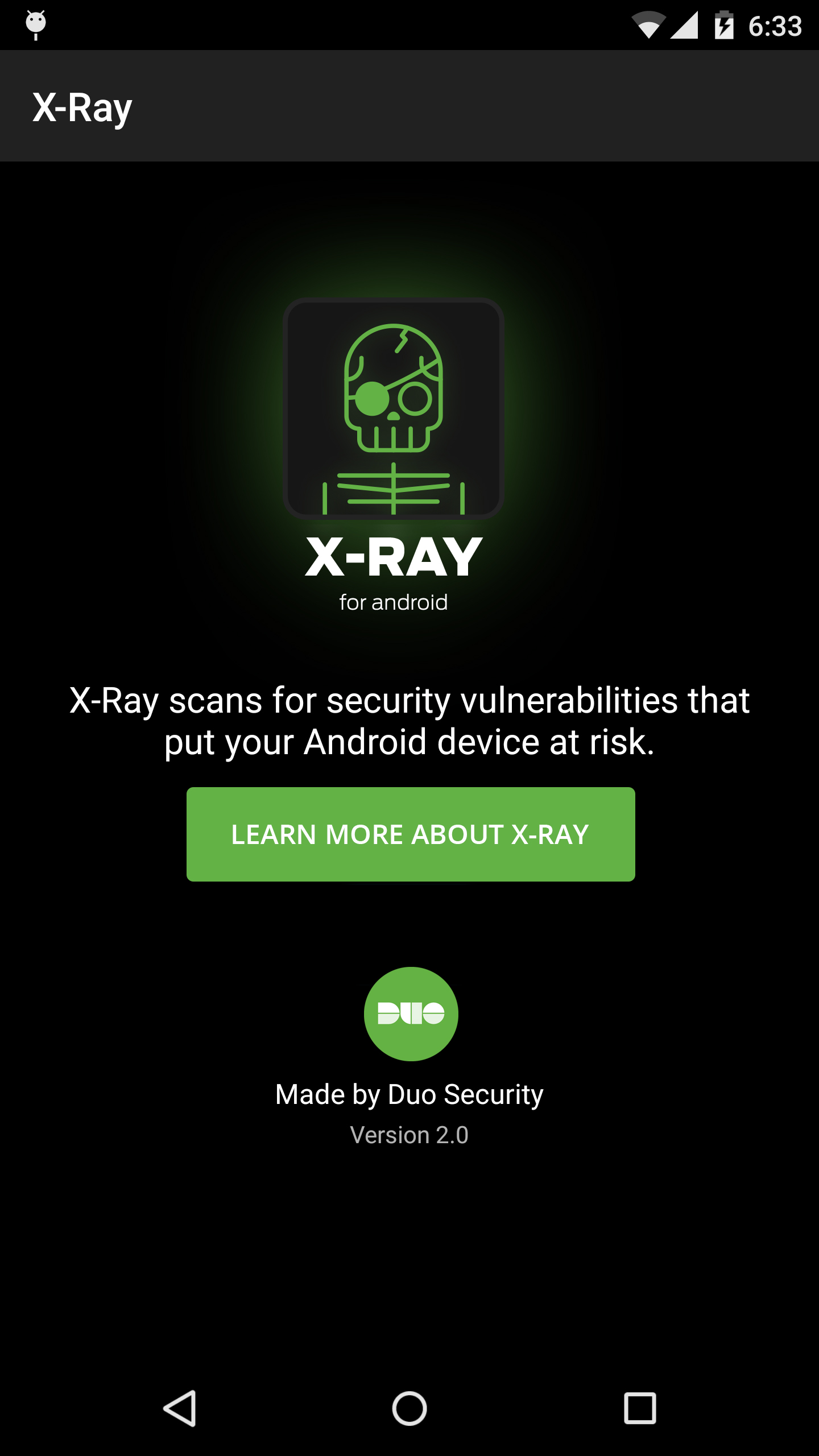 Earlier this year, Duo Labs integrated X-Ray with popular Android vulnerability assessment tools Android Vulnerability Test Suite (VTS) in the 2.0 release. While these changes meant that additions to VTS could easily be propagated to X-Ray, the actual process for downloading the changes was still tedious.
For one, users would have to manually check for updates by visiting the website; for another, in the event of an update, users were required to download and manually re-install the new version to their devices.
One of Duo's overarching goals is to make security simple, and dare we say, painless. As part of achieving this, we are excited to announce the release of X-Ray 2.1, which features an auto-updater mechanism to simplify the entire update process. Here's how it works:
Visit https://labs.duo.com/xray and download the new version of the app.
The next time you open X-Ray (while connected to the internet), the app will automatically check for updates.
If an update exists, you will be prompted to install it. (If you decide to update later, you'll see the same prompt when you restart the app.)
With your tap of approval, the new version will be automatically downloaded and then installed on your device.
Note: You might be asked to allow X-Ray to access your phone's external storage before downloading the update. The reason is that the new version has to first be downloaded to your device's filesystem before it can be installed.
As always, we hope you find the update useful and certainly welcome any feedback or questions at xray@duosecurity.com. For a list of all the vulnerabilities X-Ray scans for, or to download the app, head on over to https://labs.duo.com/xray.