Industry News
Paving the Way to Passwordless
Do you remember all the passwords to your various accounts and profiles? How many times have you forgotten your login details, attempted to reset your password, and faced the painful reminder, 'your new password cannot be the same as previous'?
I know I'm not alone with these frustrations and, with World Password Day on May 5, it would be nice to imagine a passwordless world where things remain protected while passwords become a burden of the past.
Every first Thursday of May is World Password Day – an opportunity to highlight the importance of secure passwords, promoting better password habits in our increasingly digitalized world.
Our passwords are the gatekeepers to our digital lives, from online banking and shopping accounts to social media platforms, a significant portion of our online accessibility is determined by the strength (and memorability) of our passwords.
Password management can be costly and burdensome as US-based enterprises allocate over $1 million annually to password-related support costs. Cumbersome password and authentication processes lead to poor user experiences and potential cyberthreats, putting the business and its people at risk.
No more lagging logins
We need to eliminate the countless forgotten passwords along with the risks we face using the same password across numerous accounts (I know many of us are guilty of this one). To create a more secure and convenient future, authentication must become passwordless.
Passwordless authentication (also known as modern authentication) is identity verification that doesn't rely on passwords to provide a single, strong assurance of users' identities. This includes solutions like biometrics, security keys, and specialized mobile applications that provides secure access for every enterprise use case, such as hybrid, cloud, on-premises, and legacy apps.
However, going passwordless isn't easy, especially when dealing with large network of users, apps, hybrid infrastructures, and complex login flows. While complete elimination of passwords is still far off, reducing reliance is already possible through multi-factor authentication, establishing trust in devices, leveraging single sign-on, and implementing adaptive-access policies.
According to the 2021 Data Breach Investigations Report:
Organizations that neglected to implement multi-factor authentication, along with virtual private networks (VPN), represented a significant percentage of victims targeted during the pandemic. The zero-trust model for access quickly became a fundamental security requirement rather than a future ideal.
Duo is innovating towards a truly passwordless future that balances intuitive usability with stronger authentication. Our mission is to provide users a frictionless login experience while reducing administrative burden, help-desk costs, and enterprise-security risks associated with password management.
Decreasing the administrative burden of password-related issues reduces the time and costs of IT management while eliminating frictions and frustrations. Going passwordless helps mitigate cyber risks and vulnerabilities without hindering user experience, accessibility, or convenience.
If you're anything like me, remembering passwords is a pain. And I could do without the sense of defeat I feel whenever I have to click the 'forgot your password' link on a login page. As technology evolves to be more intelligent, so should our means of verification to be simpler AND more secure.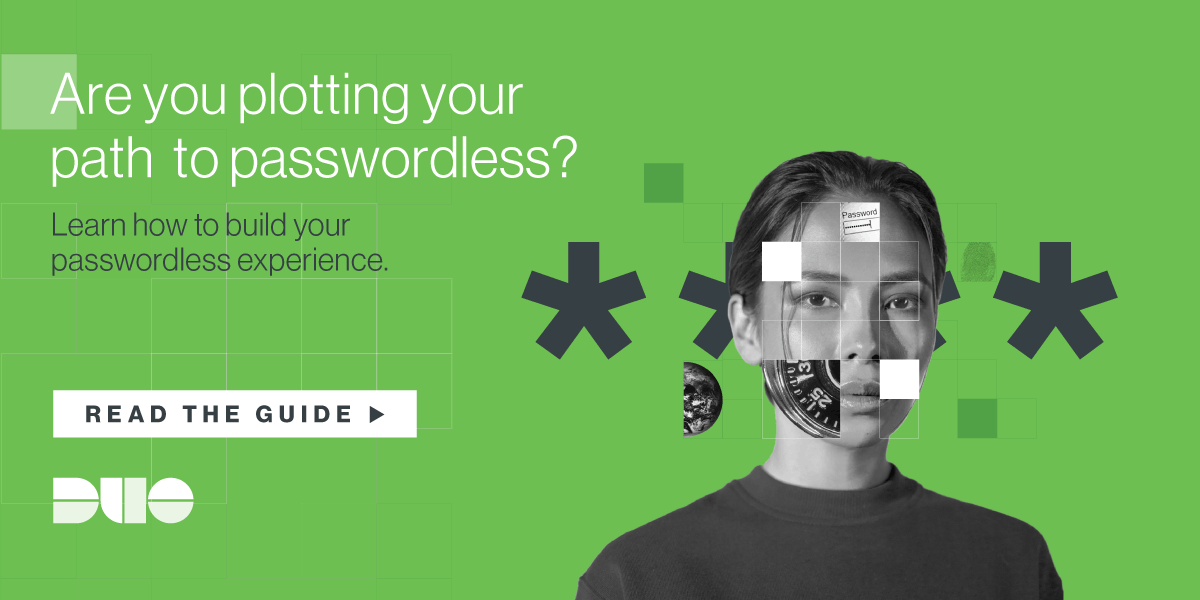 Try Duo For Free
With our free 30-day trial, see how easy it is to get started with Duo and secure your workforce from anywhere, on any device.