Product & Engineering
Protecting Microsoft Email With Duo
Duo's Trusted Access platform ensures that only verified users with secure devices are accessing your Microsoft email applications.
Many of our customers use Duo to secure their Microsoft email infrastructure, so I wanted to quickly share how it can seamlessly integrate with on-premises Exchange environments to protect Outlook Web App (OWA) as well as with cloud-based Office 365 accounts.
Duo & Office 365
With Duo, you can make sure that only trusted users with healthy devices are using Office 365 applications. You can insert Duo into the Office 365 workflow for both web-based logins and local Office 365 for Desktop applications.
By integrating with your on-premises or cloud-based directory service, you can even create granular, role-based access policies (like two-factor authentication) in Office 365 applications for different users and groups. It's easy to set up using the SAML 2.0 authentication standard with the Duo Access Gateway.
Here's what Duo integration with Office 365 looks like: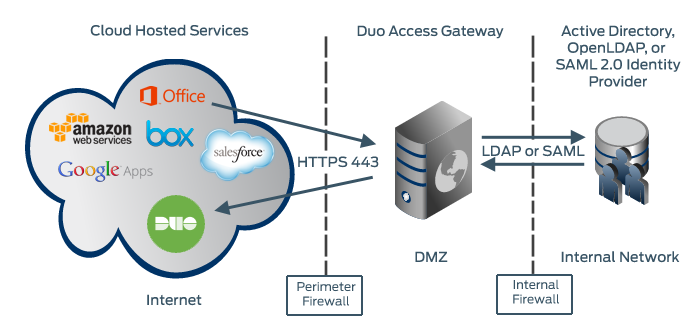 For full instructions on how to integrate Duo with Office 365, visit the Office 365 documentation page.
Duo & Outlook Web App
If you haven't migrated your email application to the cloud with Office 365, you can also use Duo to protect remote access to your on-premises Exchange environment. After deployment, you can set user- and device-based access policies for access to your Outlook Web App.
All it takes is running the Duo Security Installer package on any Client Access Service (CAS) servers that handle client connections to Microsoft Exchange from Outlook Web App. The installation takes less than five minutes.
Here's what Duo integration with OWA looks like: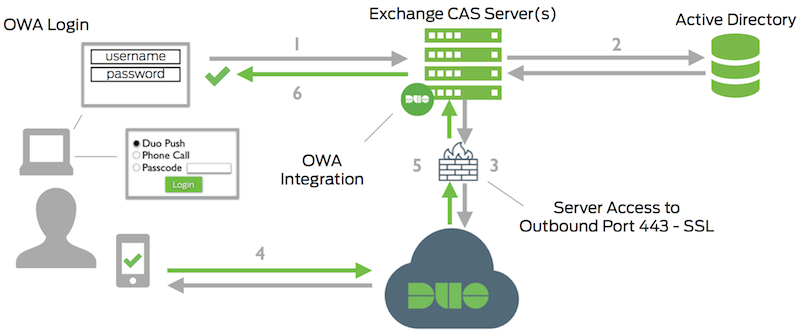 For full instructions on how to integrate Duo with your Outlook Web App, visit the OWA documentation page.
More than 3,600 organizations worldwide trust Duo to secure access into their Outlook and Office 365 applications. Try Duo free for 30 days to see how you can start protecting access to your Microsoft email infrastructure today.