Product & Engineering
Protecting Windows Installations with Duo Security's Strong Authentication
Microsoft Windows Remote Desktop protocol (RDP) is a popular and convenient means by which administrators and users alike remotely manage workstations and servers.
However, access to a given server is commonly protected only by primary credentials - just a username and password. Compromise of primary credentials (whether achieved via phishing, malware installation, or other means) puts not just individual workstations but entire ecosystems of servers and workstations at risk.
Analysis of data breaches show that compromised primary credentials continue to play a primary role in data breaches: 95% of breaches involve the use of stolen credentials, according to the Verizon 2015 Data Breach Investigations Report.
Adding Duo Security's two-factor authentication to the Windows Logon process helps secure your Windows workstations and servers from unauthorized access. Implementing two-factor authentication requires two different methods of verifying your identity when logging into your accounts.
Duo Security provides the two-factor solution that is the most effective because it is the easiest to use, easiest to manage, and easiest to deploy. Duo Security lets you choose from multiple authentication factors such as push notifications sent directly to your smartphone, phone callback, plus support for one-time passcodes (OTPs) and hard tokens. Your administrators and end users can choose whichever factor is most convenient for them and the immediate situation they are in. Logins are thus protected for any user and any device, from anywhere they may be accessing your network.
Two-Factor Authentication for Windows RDP
Duo Security's integration for Windows Remote Desktop Protocol (RDP) protects both RDP and local console logins for versions of Windows from Vista to Windows 10 clients, and Windows server operating systems from 2008 to 2012 R2.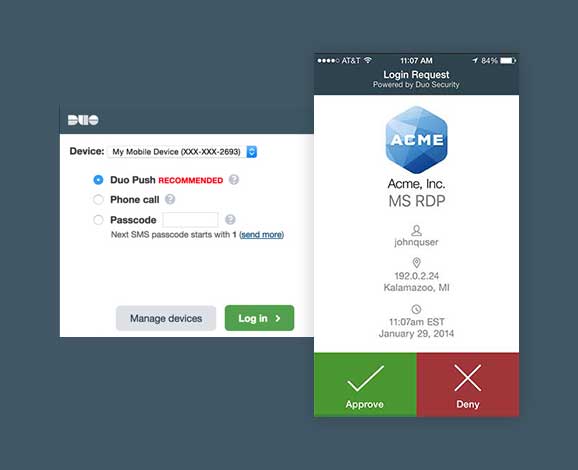 With no additional server hardware needed in your environment, you can be up and running in as little as 3 minutes! Learn more about Duo for Windows RDP in our Remote Desktop Protocol (RDP) - FAQ.