Product & Engineering
Site Reliability Engineering Spotlight: Powering Our Platform to Support Our Customers
Duo Security is now part of the largest enterprise cybersecurity organization, Cisco Secure. We're actively seeking both back-end and front-end developer and software engineering talent to help expand our reach even further. Duo's Site Reliability Engineering (SRE) team is particularly experiencing an increase in demand, in direct proportion with both technical advancements and Cisco's overhead expansion of cybersecurity investment. 
Back in 2018, Cisco's procurement teams made massive strides within the cybersecurity industry by way of multi-billion dollar purchase and acquisition agreements with cybersecurity companies like Duo Security and Umbrella. Today, modern security solutions like zero trust, Secure Access Service Edge and extended detection and response are evolving rapidly within Cisco Secure. As a result, there's an imminent need for more front-end representation.
By bolstering consumer accessibility (for example, ensuring the websites are working as effectively as they should), SREs at Duo play a vital role in keeping the world safe. The SRE team is a diverse, collaborative work environment that empowers its engineers both inside and outside of the workplace. In this post, we'll introduce you to some of our SREs.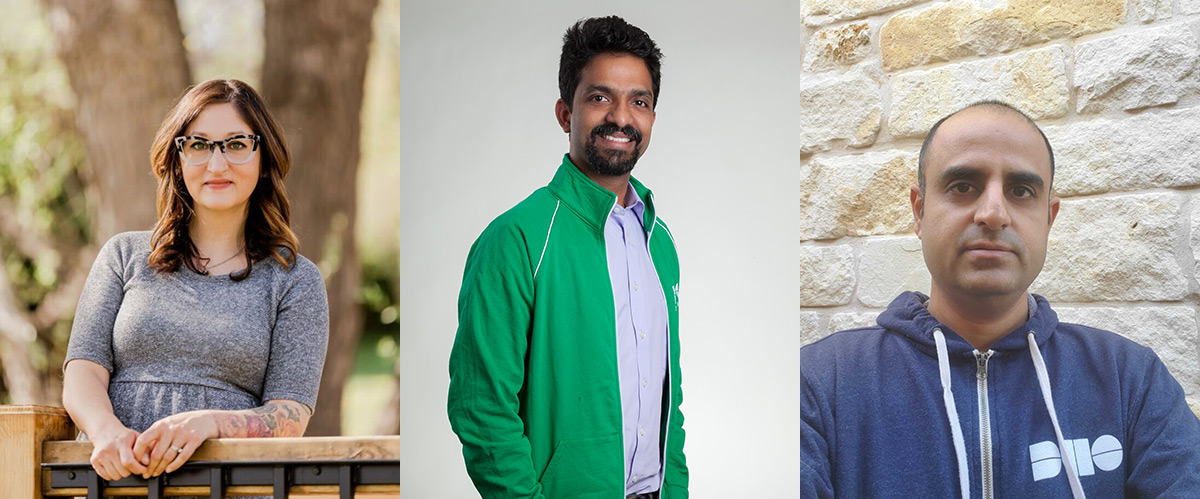 Laura Garza is a nature-lover, wife, dog mom and SRE at Duo. She explains how her job at Duo has empowered her as a changemaker not just within the industry, but also as a woman. Even with a large enterprise overhead, she feels that Duo's people-focused ethos has been anything but swallowed. Speaking to this feeling of empowerment within the company, Laura says her pride lies mainly in the fact that "Duo [and] Cisco Secure makes a difference; they 'do good' [for people]." 
Women who work in traditionally male-dominated industries often face unique roadblocks. While not exclusive to information security, underrepresented groups in engineering are often othered. They feel unwelcome, confront biases, and rarely see people like them in leadership. These issues surrounding equity, belonging and being heard often cannot be measured until the resulting discouragement drives away diverse talent. The resulting cost for companies is often loss of money, time, reputation and wasted potential.
Laura can attest to this. "Women in tech are often not taken as seriously," she says. What's different at Duo, however, is that workplace diversity is a priority. Laura says she's never felt as heard, as supported, or as important as she does here:
"This is such a diverse culture here at Duo! I've never worked in such a diverse cultural environment. Representation matters here; I like [working with] people who look like me!" —Laura Garza, Site Reliability Engineer
"Duo-Cisco is a great place for immigrants," Deepak Bhaskaran chimes in. "I'm still on a visa, and knowing that I have the same opportunities to grow as everyone else here has really put my mind at ease." A father of two, an amateur woodworker and our Director of SRE, Deepak spoke to the enthusiasm and support he felt throughout his hiring process. In stark contrast from other organizations that may have avoided even considering an immigrant for the job, Duo offered Deepak a sense of belonging that ultimately empowered him to become a changemaker in the workplace:
"I'm glad [my manager] took a chance on me and was willing to do the additional paperwork required to hire me all those years ago. And over the years, I've been able to be an informal resource for all our hiring managers, in all things immigration related. We'd be at a loss if we shied away from hiring the best people for the job because of a lack of understanding of the complexities of the US immigration system." —Deepak Bhaskaran, Director of Site Reliability Engineering
A diverse workforce is smarter and more profitable. While many companies fail to recognize this, Duo and Cisco are paving the way for other industry players to follow suit. Empowering underrepresented groups helps foster diversity of thought. When you bring together people with different thought patterns, ideas, problem-solving methods and mental perspectives, you make more innovative decisions, solve problems faster and boost team engagement.
Sanket Gajjar is an SRE and MBA student who works to empower people of color as they develop professionally, both internally at Duo and externally at his university. What Sanket loves most about being an SRE is the individualized support he feels both in his cultural pursuits and in solving workplace problems.
"We encourage individual contributors to work on their passion [while] solving complex business issues," Sanket begins. "We support them in sharing issues and their recommendations in solving them. We align all these with business, customers and employees." Laura adds that the workplace encouragement that Sanket described is one of Duo's key selling points for prospective hires, mentioning that  "tech is driven by individual contributors, which is attractive to engineers." 
Duo's SREs not only have a voice within their teams but also, as Sanket, Laura and Deepak collectively agree, throughout the entire organization. "We have a positive feedback loop," Sanket says, relaying that leaders on both Duo and Cisco sides of the house offer SRE team members a familial sense of transparency and support as they work. Laura says that it's the communicative, collaborative culture, plus the amount of resources she now has at her disposal, that make post-acquisition Duo engineering teams even stronger.
Cisco's enterprise overhead means that the sheer number of SaaS tools and application environments available to Duo SREs is immense. Laura and Sanket say that having access to every tool they could possibly need and the freedom to choose what works best makes their jobs easier. "We now have [more of a] democratic process with the Duo-Cisco merger [partly because] we have access to more resources under this corporate umbrella," says Sanket. 
Autonomy as an SRE isn't limited to tools, however. "We have internal mobility!" Sanket adds, as his colleagues nod in agreement. He provides a list to demonstrate just how many roles an individual contributor on the team could move into. Furthermore, he says:
"The culture is supportive in all possible ways one need to grow professionally and personally. We have quarterly talent reviews which is a forcing function for everyone to find opportunities to improve and develop. We have a dedicated education and training budget. We have [a] continuous learning culture with time and budget for it." –Sanket Gajjar, Site Reliability Engineer
Continuous learning is something that Duo's SRE's can attest to on all fronts. Engineers like Sanket are encouraged to pursue MBA and other higher education programs outside of work. He spoke of how tuition reimbursements and a focus on work-life balance have facilitated his choice to go back to school. For Laura and Deepak, work-life balance at Duo also plays a vital role in their professional and personal journeys. 
Laura says that she's found her career within this SRE team to not only be immensely supportive of her hiking passion, but also offers her the time to simply relax. "I love to hike and be with nature on my time off," she says. "My husband and our red setter are usually up for finding new trails and trees to hug!"
When Laura, her spouse and her canine companion aren't seeking naturalist adventures, she spends her free time relaxing at home with them, sometimes knitting or reading, too. She adds that she's taken to roller skating — a hobby that aids in her post-workday decompression, as well as speaks to the amount of time and energy she has to devote to her passions outside of work. 
Post-workday time and energy is also a priority for Deepak. "I am an amateur woodworker and tried a lot of different things before settling on scroll saw work and woodturning as my favorite things to do with wood," he says when asked how he uses the free time Duo offers. However, he explains that as he pursues his SRE career and woodworking passions, at the end of the day he's a father of two. Parents working outside of the home can attest to how some professional ventures can inadvertently eclipse their family life. But for Deepak, Duo has made fatherhood better than ever: "I have two young kids, and I love how present I'm able to be in their lives," he says. "At Duo-Cisco, doing well at work and career growth has never come at the expense of time spent with my family."
What many organizations fail to recognize is how much more effectively work can be done when people are happy. Duo's secure access solutions work from all angles because our teams do. We empower people to bring their authentic identities and experiences to the workplace because we believe people do their best work when they can be themselves. Duo is an organization that has always taken this seriously, so we continue to prioritize our team members' needs even after becoming part of Cisco. Through diversity, inclusion, individualism, access to resources – and so much more – SREs (and every other Duo employee) are as loved, supported and unique as our presence in the cybersecurity industry. 
Come Build With Us
Solving security challenges through our focus on simplicity and effectiveness is what inspires us every day. Want to make the world more secure? We're seeking top talent for the SRE team and beyond.