Industry News
A Tech Career for Non-Engineers? From Baking Cups to Ergonomics, the Inner Workings of Tech Art Design
For Art Director Steven Samuels, a background in industrial design, design history and human factors has helped him thrive working on Duo for seven years. Samuels' family legacy of design and art have also contributed to his passion. His journey illustrates how many tech careers there are for non-engineers that give them the opportunity to collaborate with engineers and product managers to make designs that are innovative, and most importantly, useful.
Samuels has felt empowered by Cisco's culture of inclusivity and cultivates daily rituals and routines that enhance his work and his life. If you are curious about tech careers, please visit our open roles.
To learn more about Samuels' philosophy about design and security, look forward to our continued conversation.
What brought you to Cisco, and what has kept you here?
Steven Samuels: I was employee 150-ish at Duo, and I'll be hitting seven years this month at Cisco. Duo is a very design-centric organization. I grew up with design, especially industrial design, the design of physical products that centers very much around ergonomics and human factors. Experience really plays into the graphic design and the brands that I've worked on, because that is all human factors and ergonomics and then also in an experiential, mental and emotional sense.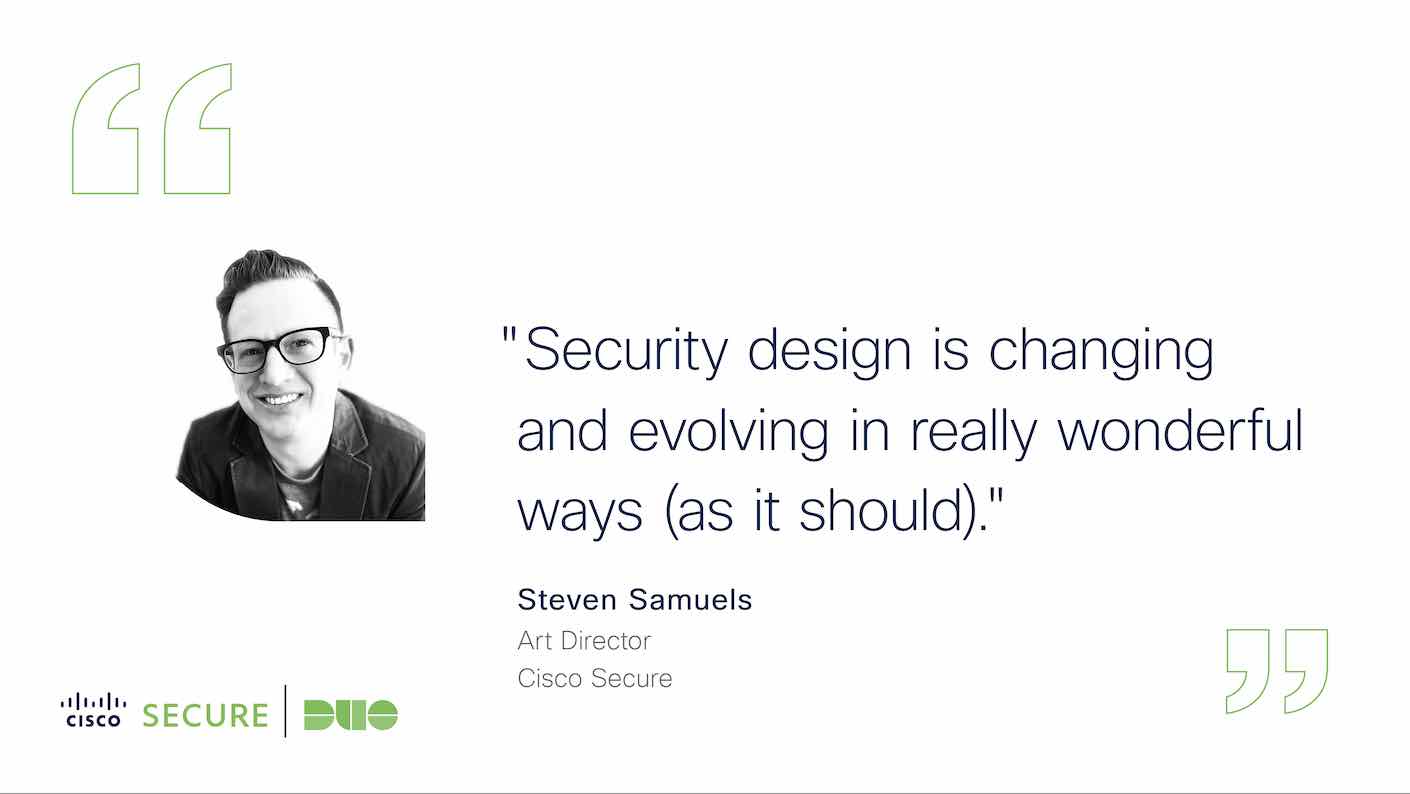 So bringing all those things together at a tech company like Duo was really important to me. Part of what brought me to Duo is what has kept me here at Cisco, because we've always been doing very interesting work from a design standpoint in terms of not just doing stuff to sell something, but doing stuff to explain something so that people want to buy it and can benefit from it.
What has also kept me here is the idea of what is possible, what Cisco can create and connect between various technologies. It's really interesting work that blurs the boundaries of what we have come to expect, just like work has changed in the last couple years for everyone. Security and design and product are changing in really wonderful ways.
How has your family impacted your passion for design?
Steven Samuels: I like to call this stuff the family business. My grandpa on my mom's side was a Madison Avenue ad guy who was the director of advertising at Alcoa, the Aluminum Corporation of America. He was part of Reynolds Metals and claims to have named Reynolds Wrap, which is awesome. He went on to found Baker's Choice. There he made baking cups (think of the wrapper on a cupcake) but in aluminum foil, so it was fluted and not made of paper. Doesn't seem like a big deal now, but that added structure to the wrapper that one could bake in, directly. No more specific pan required. Put the batter in the cups and bake on a standard sheet pan. The notion of simplification then, is very apt now.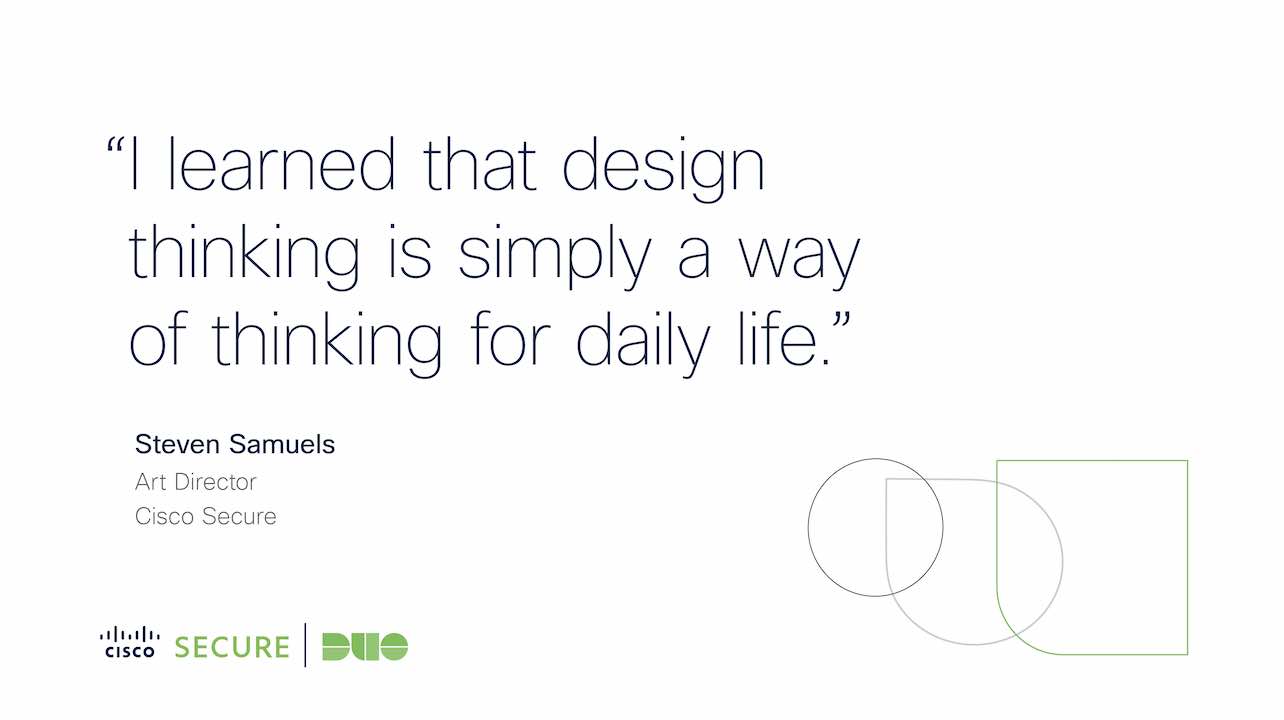 My grandma on that same side was a textile designer and was proud to see her patterns on dresses in the movies. My paternal grandpa was a painter and a tinkerer, too.
Most directly, my dad is an industrial designer. As a pioneer of design thinking, he taught industrial design at the University of Michigan for over 40 years where he was also the dean of the School of Art and Design. I also went to school there as did others on our creative team — I even had him as a professor. 
I learned that design thinking is simply a way of thinking for daily life. My mom is a realtor, but she would often remind me that she was an English major and worked at a newspaper. So playing with words is important and fun for me. I like to bring all these things together.
My home is Ann Arbor, Michigan, with my family. My wife has spent the majority of her career working in development for the American Cancer Society-doing important work centering around health equity. While she works for an organization that has a 93% brand recognition rate, she takes pride (and I do, too) in her personal brand. I am also the father of four kids. My oldest daughter is 15, I have a 12-year-old son, and six and three-year-old daughters. We also have a golden retriever, Frida, and Drake, our little parakeet. Life is loud.
What is a typical day for you, given the breadth and depth of what you do and how you do it?
Steven Samuels: These days it's different than it's been before. I'm very open about having ADHD. I was diagnosed just before COVID, and so that's been a learning curve for me to figure out what works for me to just do things that before were very normal or just routine to sometimes things being different than they used to be.
I thoroughly appreciate the support and supportive culture around neurodiversity here at Cisco, which is stronger than anywhere else I've worked. We're making meaningful, sincere efforts towards bringing the benefits of neurodiversity and support needed into view as the way everyone works has changed.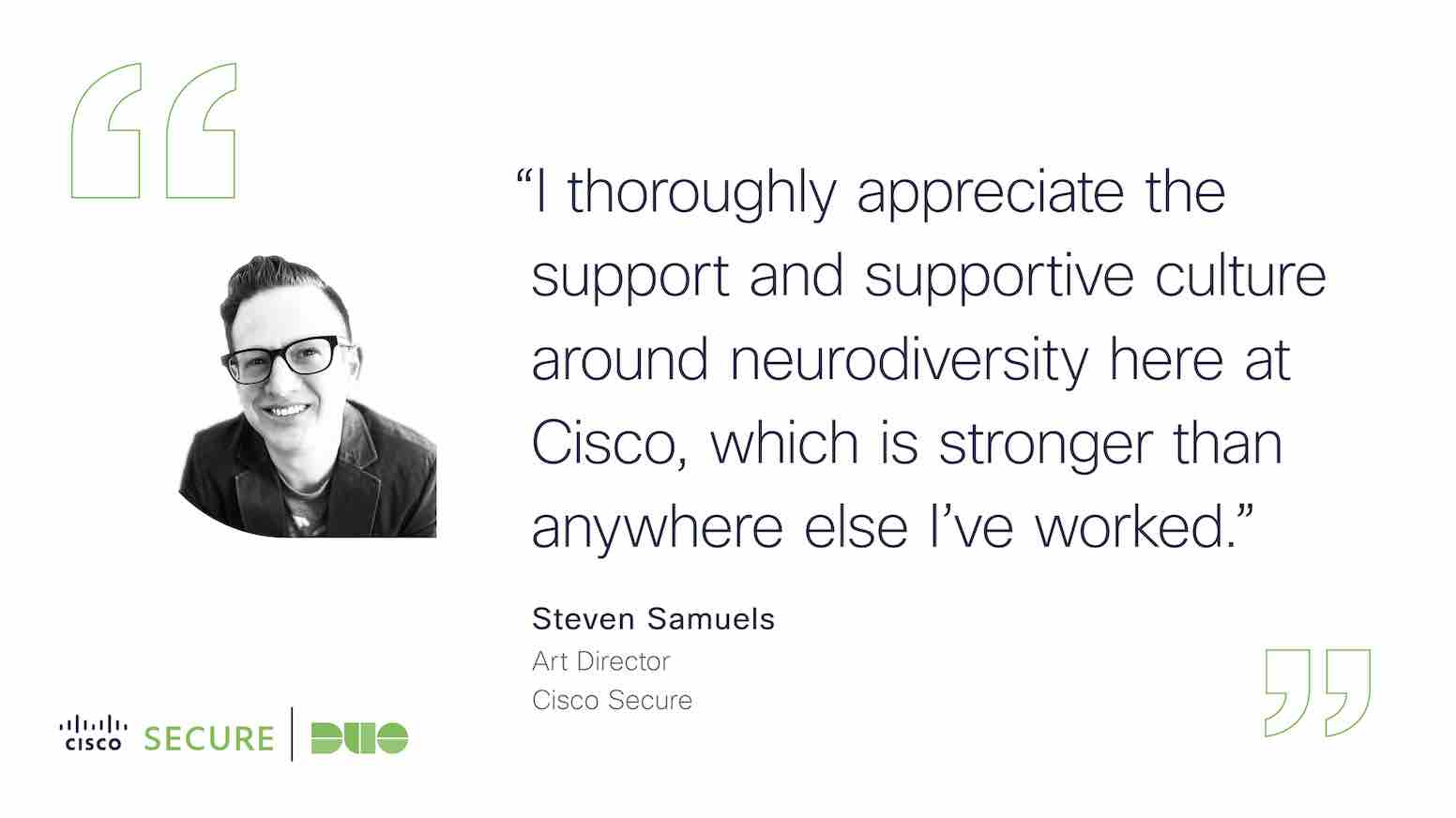 My typical day is different than it used to be because I have found that things like exercise, meditation, even eating, have taken on more importance and significance in my daily life. These routines, in addition to others, are fundamental for me to bring my best self to work and home.
How do you nourish your creativity?
Steven Samuels: One of the things that I like to do is go to the thrift shop near my home. I love seeing what draws my eye. I often find tons of wonderful, incredible things like notable designed objects (I have an extensive mid-century modern design collection), prints, studio pottery.
I have a good knowledge of design and design history, so I end up finding really remarkable things for 50 cents, and then learning from them. They are like a puzzle; sometimes I am just curious, other times I try to decode why I picked it up - especially when I find it to be somehow significant due to the designer or historical context.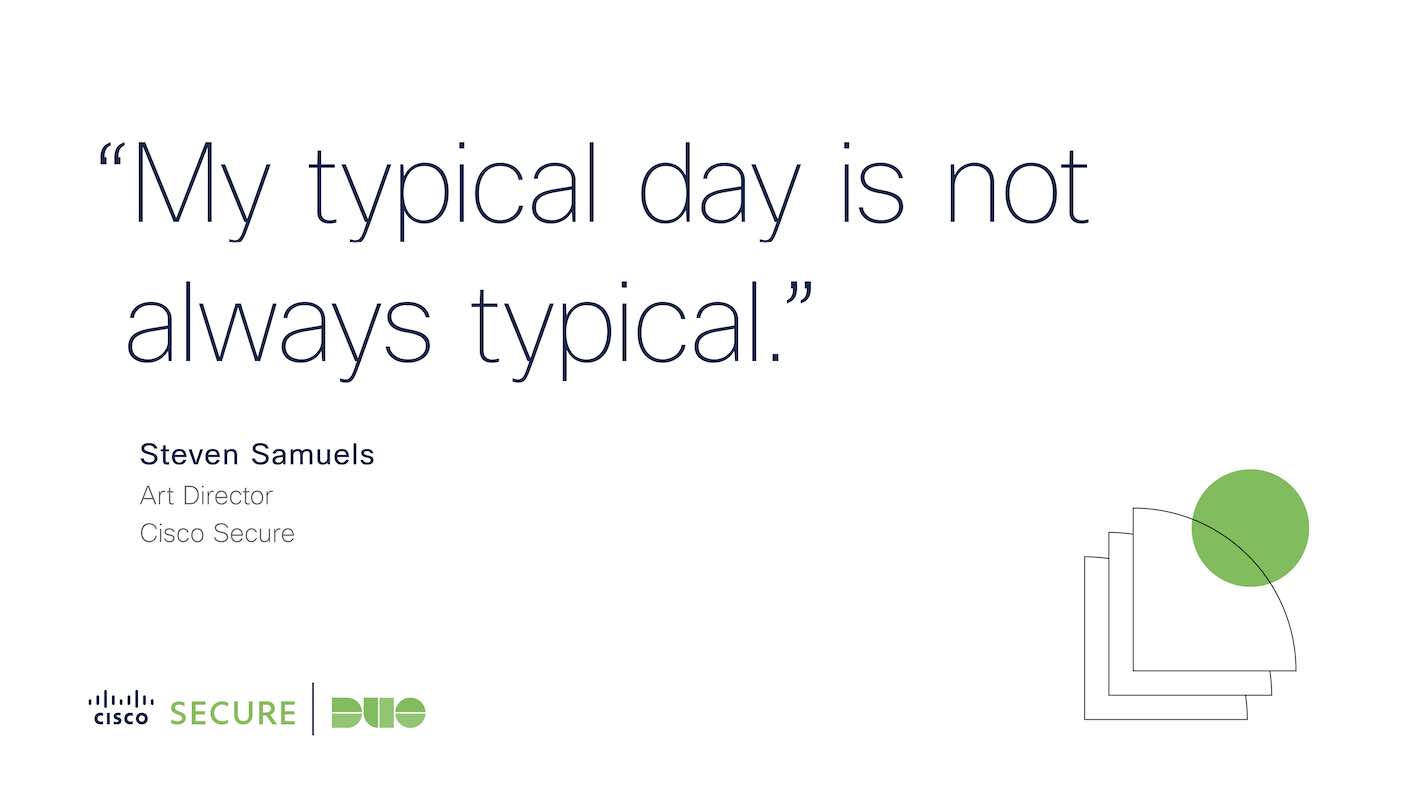 I always end up learning something from these objects and observations. I enjoy considering how we can instill similarly compelling qualities into the experiences that we create for our audiences. As AI's influence grows, I enjoy finding lessons and value in this vein of organic intelligence. So my typical day is not always typical because these "detours" function as a fidget of sorts, but that's how I process information, so that is very important to me. A balanced practice in creative idleness leads us to meaningful, desired outcomes.
Are you a non-engineer interested in pursuing a tech career?
If you also value days that aren't typical and the opportunity to expand creatively, visit our open positions.